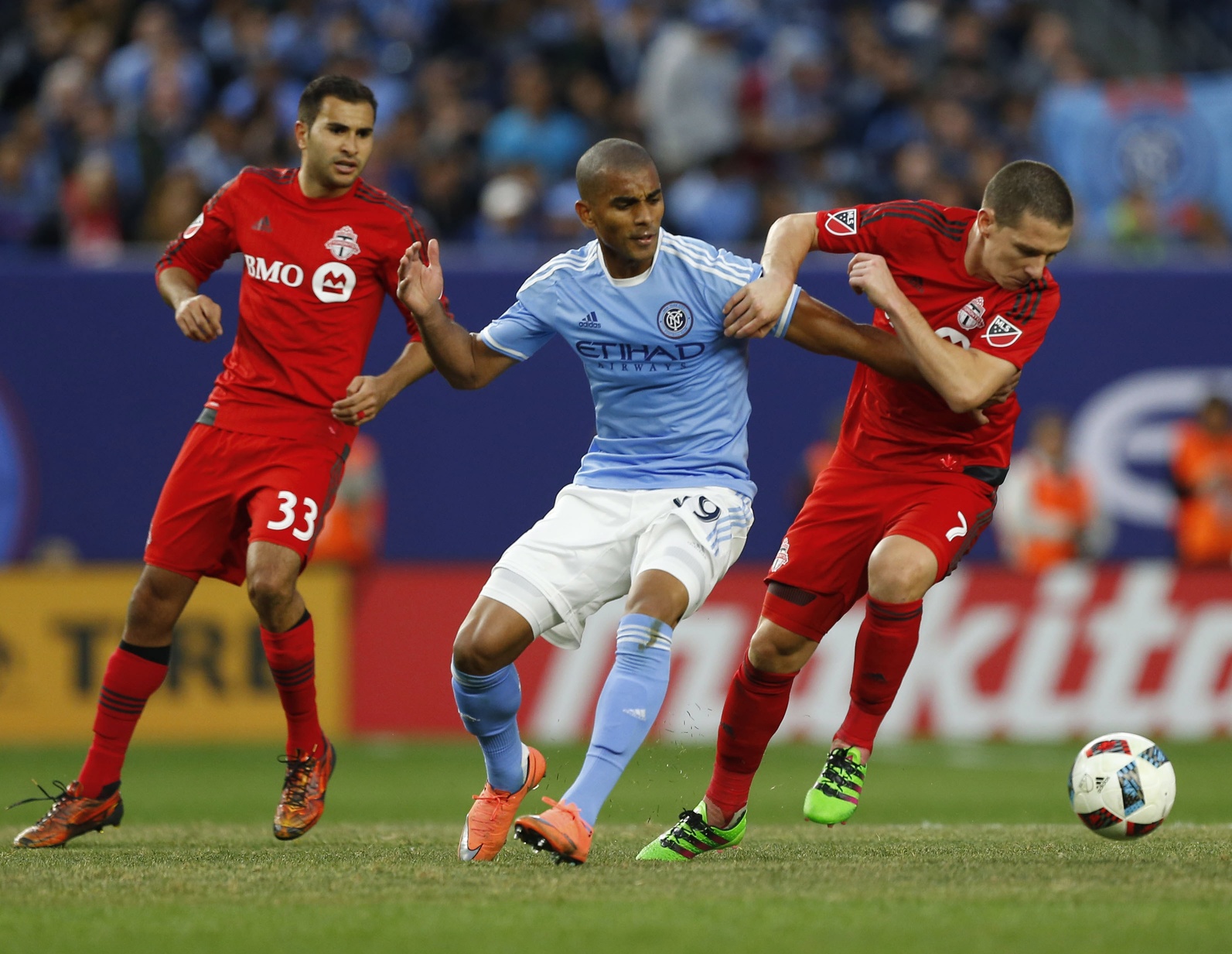 Each of the past several seasons, Toronto FC has gone into the market to revamp their roster in a major way. The 2016 offseason was no different, but this year's crop of newcomers has already provided positive returns in the form of four points through the opening two games.
In the season opener, it was a defeat and shutout of the reigning Supporters' Shield champions, the New York Red Bulls. Game 2 presented a come-from-behind 2-2 draw with New York City FC. In both games, TFC looked more likely to lose for an extended period of time, but in both, they emerged with points.
It was a far cry from the TFC of previous years. The old TFC was a team that found ways to give away games like the two that started the season. This year's team, at least through the first two weeks, has shown that they will not fall so lightly. With Sebastian Giovinco leading on the attacking end, TFC's new pieces have looked the part for the time being.
"We feel good about a lot of the things that have gone into these two games," said captain Michael Bradley. "There's still a lot that needs to be worked on, but given everything, to start the year with two difficult games on the road like this, to come away with four points, I think every guy should feel good about what we're doing while realizing that there's still a lot of room for improvement. That should be something that excites us. When you look on the field, most of these games, every guy can taste what it's going to be like."
Heading into the 2016 season, TFC addressed its biggest need: defensive depth. Drew Moor, Steven Beitashour and goalkeeper Clint Irwin were brought in to anchor the back line, while midfielder Will Johnson was brought in to help shield those behind him and allow Bradley freedom to roam.
Each new addition was tested mightily on Sunday. The TFC defense suffered its first setback of the year as Marky Delgado was called for a foul inside the box, yielding a David Villa penalty-kick finish. Just several minutes later, TFC was undone as Villa committed an apparent handball before firing past Irwin to put the visitors down two goals midway through the first half.
"Last year, I'd say a lot of it is we got ourselves in a lot of positions where we were behind, not dissimilar to today," said head coach Greg Vanney. "We really had to push to try to get an equalizing goal or get a game-winner or something, so we'd throw numbers forward. We gave away a lot of goals. This year, we know we can score goals and it's a matter of time, but it's not exposing ourselves in the process of doing so."
"When we went down, we said, 'listen,'" Bradley added, "Drew, Damien (Perquis), Justin (Morrow) and Steve, the main thing for us was that the mentality had to be that we weren't giving up a third and that we were going to keep things tight and make sure that we got the next goal to give ourselves a chance to really get back in it."
The defense stepped up mightily, with Perquis netting TFC's first just moments before halftime to get that all-important third goal of the game. Alongside Moor, Perquis stood strong on the defensive end, drawing the praise of Vanney. With a communicator like Moor alongside him, Vanney says Perquis can focus strictly on his defensive responsibilities while allowing Moor to play to his own strengths of organizing the back line.
Meanwhile, Johnson and Bradley faced a whole different battle in the midfield. With NYCFC emerging in a 3-4-3 that, at times, looked more like a 3-6-1. Johnson, Bradley and Delgado were given little room to breathe in the center of the field. Already limited by the confines of the Yankee Stadium pitch, the TFC midfield was suffocated as NYCFC jumped out to a lead in the first half.
Shortly before halftime, TFC made changes. Wingers Tsubasa Endoh and Jonathan Osorio tucked back inside to help swing the numbers in the midfield. With the two playing more centrally, NYCFC's centerbacks were given more time on the ball, but midfielders like Andrea Pirlo were given less as TFC was determined to stop being picked apart from the center of the field.
"The last few minutes of the first half, we got some momentum and organized ourselves a little bit better in the midfield," Johnson told SBI. "We just accepted that we were down two goals. After the first goal, our heads dropped a little bit, which led to the second goal. We stopped feeling sorry for ourselves and got it sorted out tactically.
"I'm still trying to fine-tune my role and to play off of Michael and play off of Osorio last week and Delgado this week. I'm understanding what guys' tendencies are and when I can get forward and help out Giovinco. It's trying to find my role and my balance and making sure that the defensive side of the ball comes first, but I'm trying to get myself into the attack and help out there."
Even with the pair of difficult road results, TFC's work is just beginning. With renovations to BMO Field ongoing, the Canadian club is on the road for the first eight games. Matches with five more playoff teams remain, including the defending champions Portland Timbers, as TFC's newcomers experience a trial by fire to start the season.
To this point, TFC is content. The defense has allowed just two goals in as many games, while Giovinco's MVP form will be enough to give teams headaches on most nights. From now on, it's all about consistency as TFC looks to put itself in a good position heading into the summer months.
"I think we're on a good way," Perquis told SBI. "We had a base during the preseason, and we are working, and I think we are doing well. Today, it's a penalty and, unfortunately, a handball, but we don't concede on too many occasions. We are strong, but we have to keep it for the rest of the season."
"We're OK. Four points from two games on the road is a good start," added Johnson. "It doesn't mean a whole lot, other than that. We just look at the next one. We have six more games on the road. We're only 25 percent done with this road trip. We have to keep taking it one game at a time and keep scrapping and fighting for points to try and be as close to the top of the table as we can."