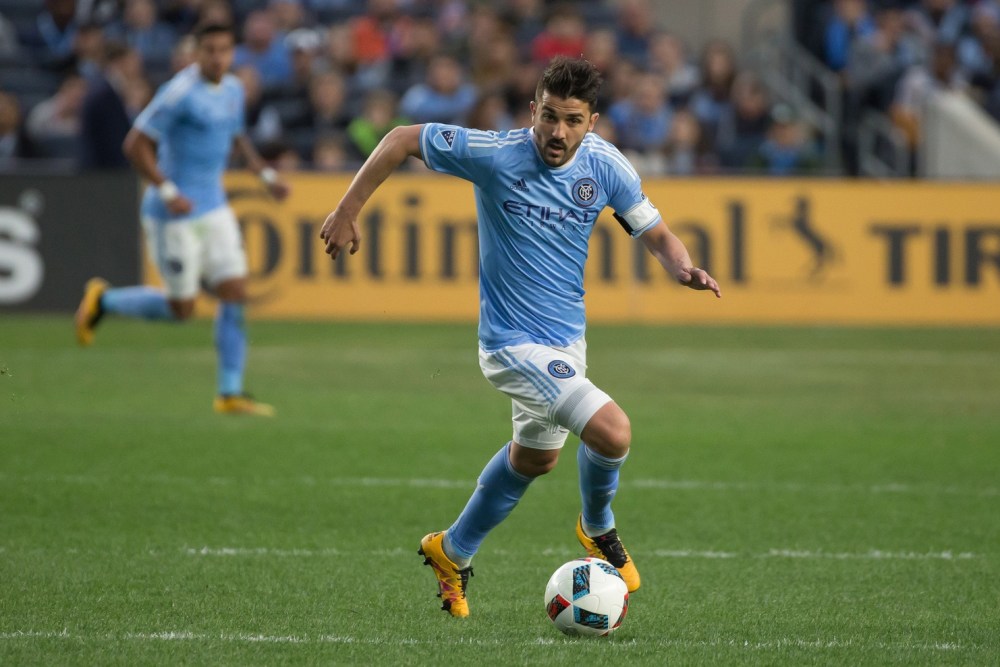 NEW YORK — New York City FC let a good chance to start its season with consecutive wins slide against Toronto FC on Sunday, yet the atmosphere after the 2-2 draw at Yankee Stadium was more optimistic rather than frustrating for the second-year club.
"When we were up, 2-0, we weren't looking for the tie, we were looking for the win," said David Villa, who had put his team ahead with two goals in the opening half-hour. "But if we hadn't made the error when it was 2-1, we would've walked away with the win. We worked really hard during the game and we would've liked to end it in a better way, but we are not disappointed in how it ended."
The man responsible for crashing the party was none other than the reigning MLS MVP, Sebastian Giovinco, who had also spoiled another contest last season in the Bronx as he recorded a hat trick in a span of nine minutes during a wild 4-4 draw between these two sides.
This time, the Italian forward contributed an assist and a goal to rally his team back from the early deficit.
"We conceded the goals at the wrong time, especially the first one," NYCFC head coach Patrick Vieira said. "The goal we conceded before halftime gave them the momentum and a little more belief going back to the dressing room. At 2-0, it would've been a completely different game."
Giovinco whipped in a cross on a free kick from the right flank in first-half stoppage time, and Damien Perquis got on the end of that pass to tap the ball past goalkeeper Josh Saunders, giving TFC something to hang its hat on despite getting dominated by NYCFC in the first half.
"It was a big first half," Villa said. "We had a lot of chances to score a lot of goals. Obviously, when Toronto scored its first goal, it's a moment important for them to get in the game … Had we gone into halftime with it being 2-0, it would've been a different game in the second half, but we went in 2-1, and the team we played is a very good team."
NYCFC had several opportunities to extend its lead in the second half, but after failing to capitalize on those chances, Giovinco made the home side pay in the 76th minute with a goal that seemed to sneak up on its defense.
After some buildup from the back, Will Johnson whipped a short pass to Giovinco, whose fine first touch allowed him to take four dribbles into a tight space amid the NYCFC defense before he unleashed a quick, rolling shot with his left foot that beat Saunders to his left.
The timing of the goal brought back a familiar theme from last year's team, which led MLS in goals conceded after the 75th minute, but head coach Patrick Vieira was confident that this was not a ghost returning from the past.
"I don't think it's a mentality problem," Vieira said. "I think it's just about how can we deal in this situation when we are under pressure. This is what we need to get focused on, but I don't think it's a mental problem. I think it's just about the other team and the goal and try to put us under pressure. I think we just sometimes have to accept that the other team is playing better in certain parts of the game."
Despite dropping the two points at home, NYCFC nevertheless remained upbeat in getting a result against a side like Toronto FC on Sunday.
"When you lead 2-0, we have to control the game better," Vieira said, "but I think you have to give them credit for the way they played and I think as a team, we will get better … This team, with the way they work, will get better and better and stronger and stronger. And I think as a team, we were better today than we were against Chicago, and we will be even better against Orlando (on Friday) because I'm really pleased with the commitment and the hard work from the players."