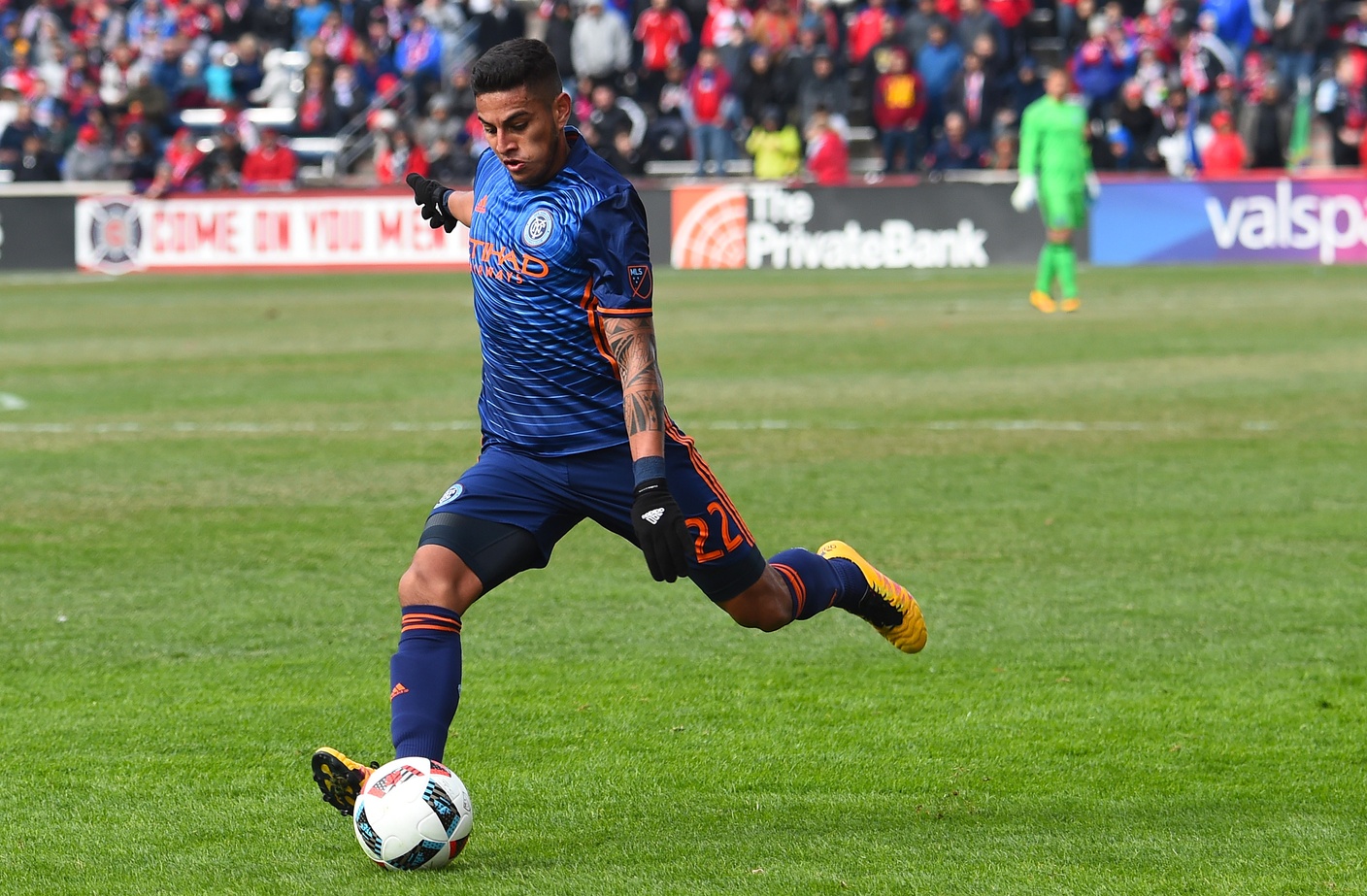 NEW YORK — Ronald Matarrita was considering leaving his homeland for teams in Europe this past winter, but ultimately chose to pass that up so as to sign with an MLS club that he believed had plenty to offer him at this early stage in his career.
Matarrita joined New York City FC this past January via a full transfer after four years at Costa Rican powerhouse Alajuelense. NYCFC used Targeted Allocation Money to acquire the 21-year-old left back, but it was not just the MLS side's keen interest in Matarrita that convinced him to make the move.
Sure, he was intrigued by some of the star players that he could learn from on the squad, but it was not until after he spoke to compatriots about the league that he decided to explore this opportunity in the United States.
"I talked to several teammates from the national team that were already here doing big things," Matarrita told SBI. "Their support, and the influence they have in the growth of MLS helped me make the decision. I anticipate that it will be one of the best decisions in my life.
"At the time, I had a pair of options in Europe, but here I'll have some incredible people to learn a lot from, whether it be players or other people," added Matarrita. "That's what I'm trying to accomplish here: to learn as much as possible from them, and help them as much as I can on the field as well."
So far, Matarrita has done just that. The promising youngster with international experience has started in each of NYCFC's two games thus far in the 2016 MLS season, and has helped the club pick up four points. New York City FC's defense has not exactly been stellar thus far, giving up five goals in two games, but Matarrita has avoided any major blunders in his 180 minutes of action.
Helping to solidify an NYCFC defense that was largely lackluster in 2015 may be the primary reason Matarrita was brought over from Costa Rica, but he is also being counted on to do his share of attacking. The 5-foot-9 Matarrita has shown his offensive qualities in spurts in the opening two weeks of the campaign, even while playing in an unfamiliar position as part of a three-man back line in this past weekend's 2-2 draw with Toronto FC.
Still, he is only expected to demonstrate even more of those attributes as he gets more comfortable with his new teammates and new league.
"It's a very different soccer, different than in Costa Rica, and it took me a few days to adapt to the rhythm," said Matarrita. "You have to run a lot here, so I'm working a lot on that. I feel good so far, and I can now say that I feel fully integrated into the group."
A rising star in his native land, Matarrita made the jump from Costa Rica youth national teams to the senior side in 2015. He earned all six of his caps at the top level last year, including starts in November's World Cup Qualifiers vs. Panama and Haiti, and is poised for more in a busy 2016 that has more qualifying games and the Copa America Centenario on tap.
Some up-and-comers might already be salivating at the thought of playing in such important matches, but Matarrita already understands the importance of not looking too far ahead and taking things game by game. That might be chalked up to his time at Alajuelense, where he both honed his skills and learned what is was like to be a regular contributor after making 67 league appearances since making his debut as a teenager.
Matarrita's experience, his motivated and focused mindset, and qualities make it easy to see why NYCFC rated him so highly in the offseason, and why the club still does now.
"He's a great kid, and we needed a player of his style at left back," said Villa, NYCFC's captain and star striker. "Honestly, he could play in the attack, too. He's very offensive-minded. The other day he assisted on a goal for me (in training) playing in a more advanced position. He's a great kid, he can help us a lot, and he's young, too. He's a great signing for New York City FC."
Matarrita is not short of ambition, either. A stated goal of his is to play for one of the biggest clubs in the world, but he knows he has to concentrate on trying to grow as a player with NYCFC while attempting to help the MLS side reach its maximum potential.
He is certainly off to a solid start in his new surroundings, and is only craving to accomplish even more.
"The adaptation has been good so far," said Matarrita. "I've had teammates who have helped integrate me into the group, and I've met people who are super humble and super friendly and are helping me learn about the city. It's a beautiful city, but I'm here to play soccer."