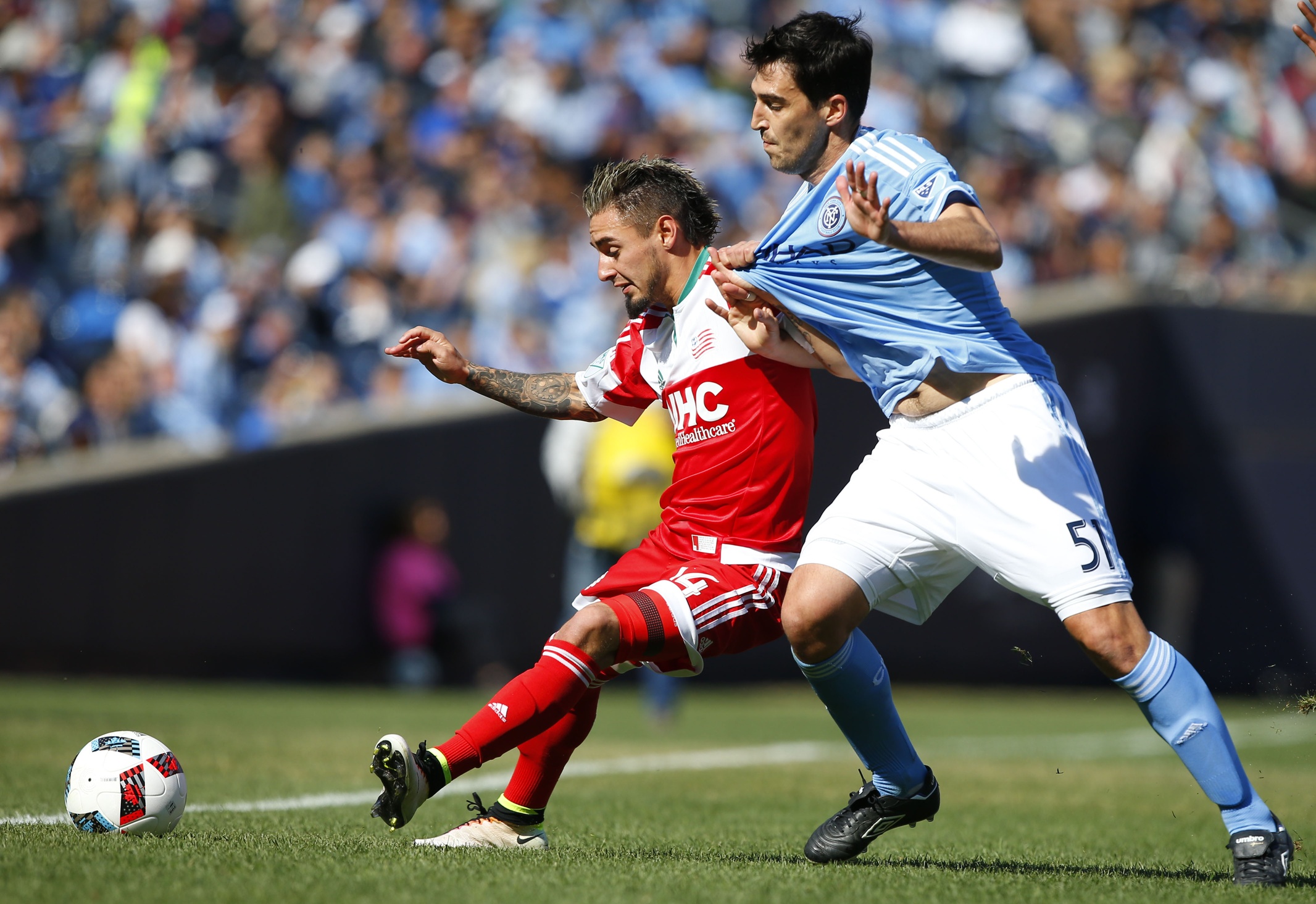 NEW YORK – Even as his team was dropping points, Patrick Vieira was able to find positives in the performances of New York City FC throughout his first few games. On Saturday, he found no such joy.
Despite being up a man for nearly the entire second half, Vieira's NYCFC failed to muster much of an attack in a 1-1 draw with the New England Revolution. Following positive efforts against Orlando City and Toronto FC, Vieira was visibly disappointed by the play of a team that was given every chance to win.
From Vieira's point of view, NYCFC made it easy on a Revs team that had their backs against the wall. Reduced to 10 men, the Revs had the better of the second half, and had several chances to win the game throughout the last half an hour.
"It may be a step back," Vieira said. "Today was a really frustrating feeling, because when we played our last game against Orlando, I was positively disappointed, because, the way we played, we deserved to take more from the game. Today, we didn't play at all and we got a draw… I think our performance today wasn't good at all.
"We didn't play. We didn't play at all, and, when you don't play, it's difficult to expect something from the game. "
Even up a goal in the game's opening minutes, Vieira said he was far from pleased with the decisions that both he and his players had made to start Saturday's action.
Featuring his now-common three-at-the-back formation, the French manager opted to remove defender Jefferson Mena just 28 minutes into the game to switch to a back four. Vieira says the decision had nothing to do with Mena's performance and rather the team's as a whole.
Vieira was forced into making a decision as he realized things were going wrong. Wide midfielders Steven Mendoza and Tony Taylor were struggling with their defensive duties, and NYCFC in general was not doing a good enough job controlling the Revs' width.
"It's me that has the responsibility," Vieira said. "I'm the one who chooses the players to start the game with the system tat we're going to play, and that's my responsibility. I decided to change because I believed we didn't do well. I had to make a decision, and one could have been to take of Mena, but I could have taken off Tony or Mendoza or anybody else.
"I decided to take off Mena because that was the decision that I thought was the best and, if I had to do it again, it may be different, I don't know, but regarding the game, it was a decision I had to make."
However, with the tactical issues sorted early in the game, Vieira was still left disappointed with his side's efforts as the game wore on.
"As a team, we didn't play at all," Vieira said. "If you don't play as a team, it's difficult for players to express their talent. That's why it's important for the players to understand that you express your talent through the collective. If the collective is not good, any type of players, it will be difficult for them to play. Today was a perfect example.
"We didn't have our normal passing. We didn't have our normal discipline and we didn't respect our plan, and when you don't do that you make it easier for the opposition. I believe that we made it easy for them."
Captain David Villa echoed his head coach's comments. Following a win over the Chicago Fire, NYCFC has now collected just two points from a trio of home games.
The Spanish star says he is certainly concerned by his team's home form, which NYCFC will have a chance to remedy against the Fire next time out.
"Our games against Toronto and Orlando, we definitely played better," Villa said. "This was a step back for us. We have a lot of time left and we want to win. We're going to keep going for the rest of the season.
"I think if you're going to pretend you're winning games, you need to play," Vieira added, "and we didn't play so we couldn't pretend we were getting anything more than a draw. When you analyze the game properly, we should be happy with the points we took tonight because I think New England deserved more from the game because they created better chances than we did. That's something we need to work on because two points from three games is not good enough for a football club like New York City. "