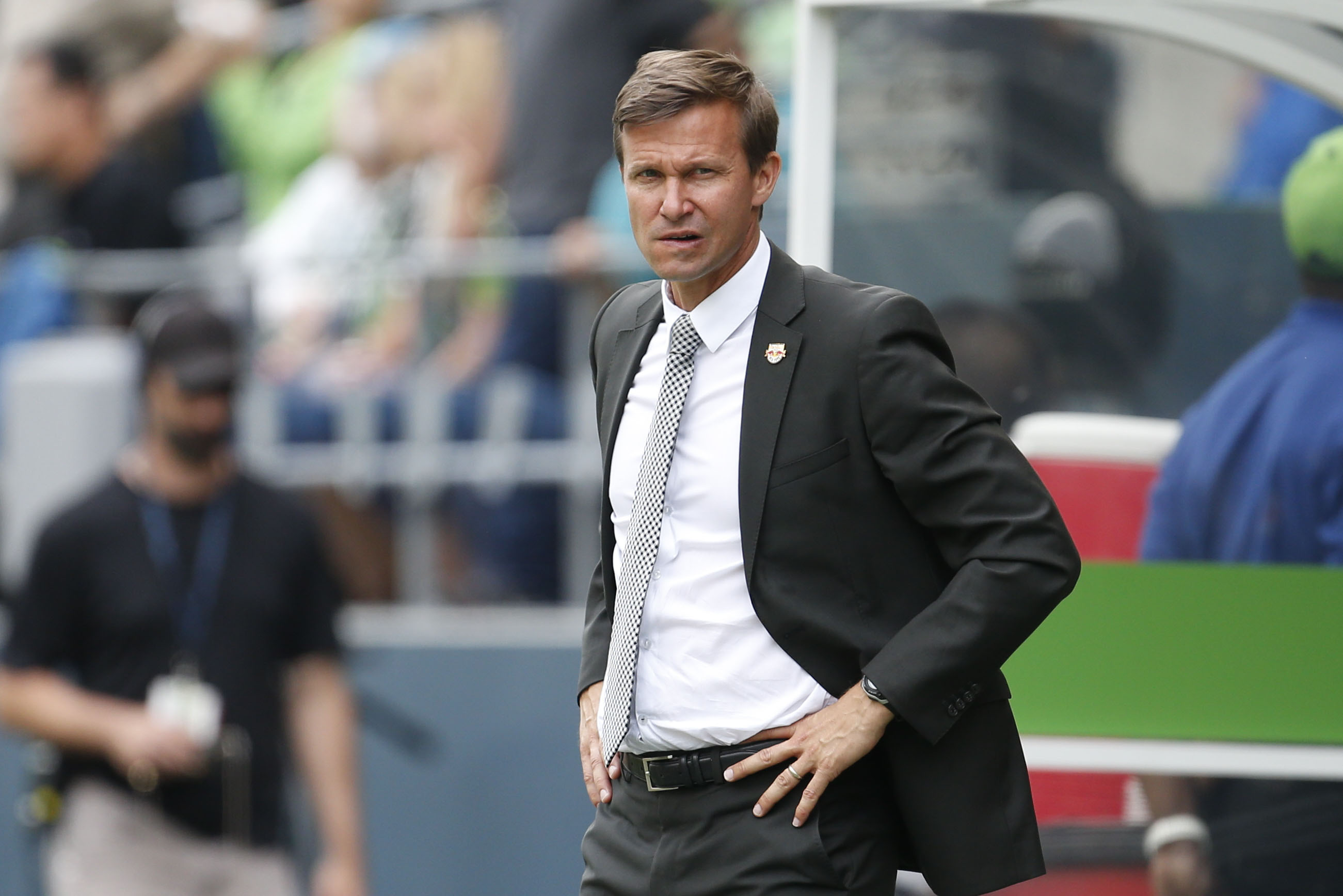 The New York Red Bulls have only won in Montreal one time, and the man on the opposing sideline for that victory will now look to lead them to their second road win against the Canadian club.
Jesse Marsch led the Montreal Impact in the 2012 season and, following a Week 1 loss to Toronto FC, the Red Bulls head coach will look to pick up a victory at a familiar venue. Saturday's clash is set for the Olympic Stadium, which will see the two sides compete on turf that will keep Didier Drogba sidelined for another week.
Marsch has an appreciation for the venue, and for the team that calls it home. With players like Ignacio Piatti and Dominic Oduro looking to cause problems, Marsch is wary of a talented Impact team heading into the weekend.
"We had probably eight games at the beginning of the year, including the Canadian Championship, at the Big O," Marsch recalled of the Olympic Stadium. "It's an old stadium, but when it gets filled, there's a lot of energy in there. Whether it was Champions League last year, or some of the first games we played, we played the Galaxy when Beckham was there, the stadium is pretty electric. We'll expect a raucous crowed. We know the conditions aren't perfect, but no problem. We're ready for the task.
"Montreal had a really good result and a good road win in their first game. We know from the second half of last season that they got their momentum going and that they're a good team. We saw them in preseason. Playing in the Big O is not always easy and the turf's not great. It will be a big challenge, but we'll be ready about it."
Here are some more Red Bulls news and notes:
RED BULLS LOOKING FOR SHARPNESS AFTER MISSED OPPORTUNITIES VS. TFC
Despite falling to Toronto FC in their season opener, the New York Red Bulls aren't panicking quite yet.
In a game that saw the Red Bulls control their share of possession, the reigning Supporters' Shield winners were undone by a pair of late-game goals. Having had a few days to reflect, both Marsch and captain Dax McCarty praised Toronto FC's gameplan, while revealing their disappointment with their lack of sharpness in front of goal.
"That part doesn't concern me," Marsch said. "We played that game on our terms for the most part and they came in with a gameplan to keep things compact and make it hard on us. Especially, early in the year, when we're not quite our sharpest. That type of tactic will be more effective than it will be later in the year. I thought Toronto came in with a gameplan and executed it, and it's always easier to execute a gameplan that's sitting back while leaving one guy up while that one guy is Giovinco. I still think nothing has changed on our outlook with who we are and what we're about."
"It's just being a little bit sharper in every aspect of the game. I thought we played fairly well," McCarty echoed. "I thought it wasn't surprising what Toronto did, but they played their gameplan and did what they wanted a lot better than we did. We just didn't execute. On the day, we weren't sharp, and it cost us."
McCarty went on to joke that the team wasn't planning on blowing everything up following one loss. However, Marsch does acknowledge that there are improvements to be made and tweaks to add following an early defeat.
"I think it's more about executing the gameplan specifically and for the entirety of the game," Marsch said. "In the end, we let a few little plays slip away from us, and that's what cost us the game. I think if we're sharper on another day and we create enough opportunities in the attacking part of the field, it will add up on other days more than it did on Sunday. There's no concern. That's where we are right now, and we just have to keep pushing to get better and better."
SAM, ZUBAR, VERON CONTINUING HEALING AHEAD OF IMPACT CLASH
Lloyd Sam, Ronald Zubar and Gonzalo Veron have been viewed as key contributors to the Red Bulls ahead of the season, and it appears the trio could be ready to suit up on Saturday despite recent injuries.
Both Sam and Zubar departed the loss to TFC early, while Veron has been pushing to return from a hamstring issue. All three could be in contention to go this weekend if all goes according to plan.
"Lloyd will be ready to go. Ronald's ready to go, and we're a little bit day-to-day on Gonzalo," Marsch said. "We're holding out hope, but we're not sure yet. He was out today aside from the team. There's a chance he'll be ready, and we're not too worried about the turf. We'll treat it like any other game."
Even if Zubar is held back as a precaution, Marsch says he has faith in centerback Karl Ouimette to step in. The Canadian international, who will be playing in front of friends and family in Montreal, made 11 appearances last season.