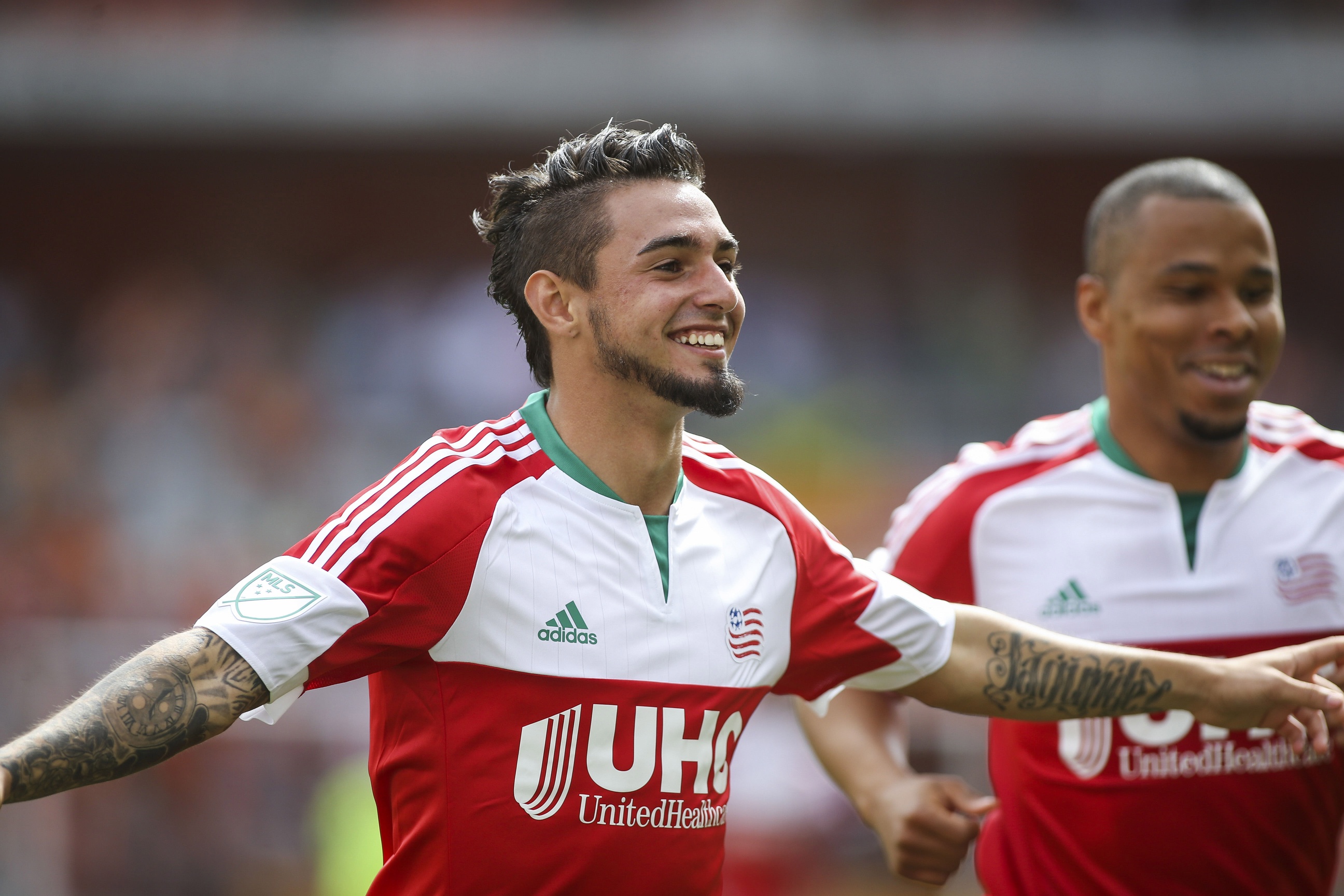 One goal, two assists, and a game-changing impact. Diego Fagundez and the New England Revolution are both hoping his Week 1 performance is a sign of things to come this season.
The Revolution opened up the 2016 campaign on a positive note on Sunday, as they went on the road and grabbed a point in a 3-3 draw against the Houston Dynamo. The Eastern Conference club was far from perfect, especially on the defensive side, but avoided a defeat thanks in large part to Fagundez's contributions.
The 21-year-old attacker not only scored a stunning, unassisted goal from distance in the third minute of the game, but also set up Charlie Davies' equalizer after halftime and Daigo Kobayashi's result-saving header in the final seconds of stoppage time. Fagundez also found himself on the ball repeatedly, and connected on the majority of his passes.
It might be hard for him to have that same kind of outing every week, but the Revolution were encouraged to see him leave such a big imprint on the match and are looking for more of those type of all-around performances this year.
"With experience comes the ability to change a game. That's what he was able to do," Revolution head coach Jay Heaps told SBI. "Early in his career, he could always change the game, but now it's impacting the game and playing and getting touches and helping our group from the entire standpoint of start to finish, defending when we need to defend, attack when we need to attack, and then adding those big moments of scoring a goal or adding assists like he did.
"For him, he could always score the goal or add the assist, but now we want to add the entire package. Last year, I thought he was great at it, and this year it's now putting all facets of the game together and I think that's what we're hoping and expecting for Diego this season."
What helped Fagundez enjoy such a strong season opener while playing on the left side of the Revolution's 4-2-3-1 formation was that he was well-rested. Whereas last offseason he prepared for and played in the 2015 South American Youth Championship with Uruguay, he spent this winter recovering from nearly two years of nonstop soccer. The respite was sorely needed.
Another factor in his standout showing was that he was able to score early. Following a poor clearance from Dynamo right back Jalil Anibaba in the opening moments, an unmarked Fagundez trapped the ball with his chest and, in one fell swoop, hit a sizzling effort on the half-volley that bent away from Dynamo goalkeeper Joe Willis and just inside the right-hand post.
The go-ahead strike was good for the Revolution and good for Fagundez's morale, especially considering that it took him until the end of May to score his first goal in 2015.
"When you score one early in the season, everything just goes forward and there's no knowing where they can stop you, so you just have to keep going," Fagundez told SBI. "Now my confidence is definitely boosted because having a goal from the first game is like, 'All right, the season started and I'm ready to play.'"
Fagundez demonstrated that throughout the rest of the match. He slipped in a neat through ball to Davies in the 52nd minute to help bring the game level at 2-2, and also found Kobayashi for the game-saving equalizer with a gorgeous cross from the right flank three minutes into stoppage time.
As good as Fagundez was against the Dynamo, there was still room for improvement. That is natural, of course, given that offseason cobwebs are rarely shaken off by most players and teams in Week 1, but is something Heaps pointed out in his post-game comments when he said there was more for the technical Uruguayan to give.
You see, expectations are as high as ever for Fagundez now that he is in his sixth season as a pro.
"I think Diego had a couple of turnovers in areas of the field where he normally doesn't," said Heaps. "I think if he puts together those passes that he's trying to make or shots blocked then we would've seen even more. I think you could've seen another goal or assist. I still think he hasn't hit his full stride and has improved from last year. He had more touches in the game than he's been getting in the past.
"We just want him, when he gets in the final third, to be himself. I think that's really the point, that he normally is lethal down there and that's where we've got to keep getting him the ball."
For Fagundez, consistency is now the key. Young players can go through extreme changes in form during the early parts of their careers, but he now has plenty of experience to try and maintain a high level for much of 2016.
He delivered a strong Week 1 outing, and now the focus shifts towards building on that impressive season opener. After all, both Fagundez and the Revolution want more of those type of efforts.
"There are a lot more games to go," said Fagundez. "It's now just a matter of improving little by little and doing well."