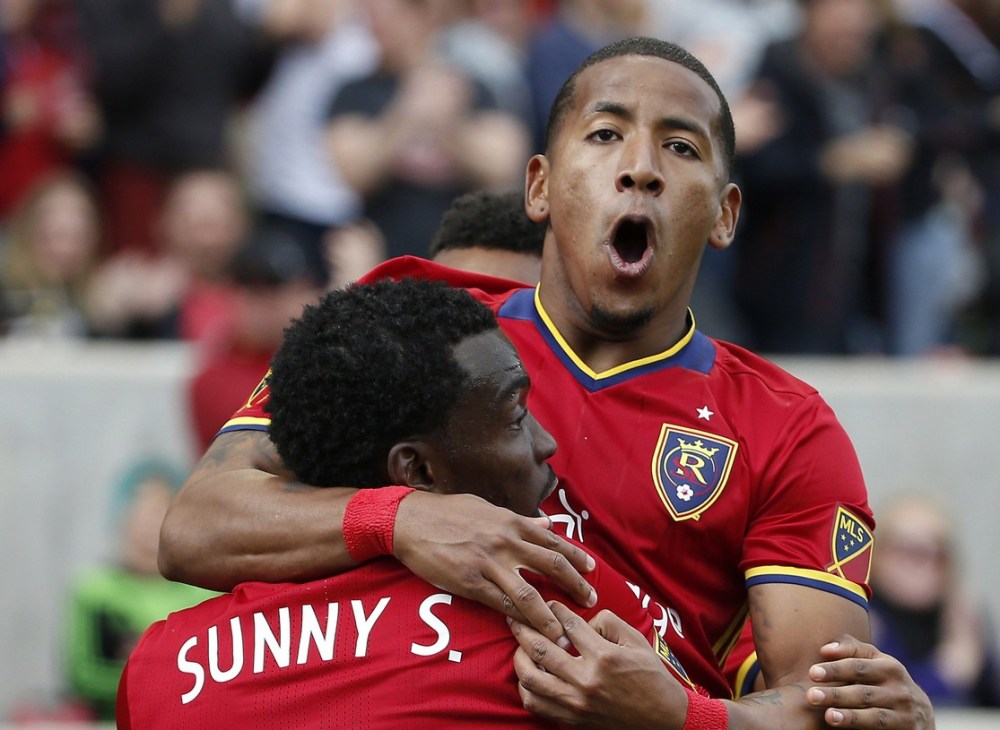 The Seattle Sounders were minutes away from their first point of the season at Rio Tinto Stadium, but a controversial no-call on the goal line saw all three points go to Real Salt Lake.
Defender Jamison Olave provided the game-winning goal to give RSL the 2-1 win at home on Saturday, but many of the Sounders players were up in arms after center official Juan Guzman held his whistle on the play.
Keeping his eyes on Juan "Burrito" Martínez's cross from the left wing, Olave soared high and made contact with rookie goalkeeper Tyler Miller before scoring the decisive goal. The Sounders netminder claimed he was fouled, but the goal stood, and RSL now has four points after two games.

The Sounders' breakthrough came in the 28th minute, when Jovein Jones sent in a dangerous cross from the left wing, and Nelson Valdez flicked a shot towards Nick Rimando. The U.S. international parried it right into the direction of Osvaldo Alonso, who scored at the back post.
Joao Plata nearly fired in the first goal of the game minutes before Alonso's strike, but Miller made the save of the game. The blast was heading to the top-right corner of Miller's goal, but the rookie quickly dove to his right to push the ball over the crossbar.
Stephen "Sunny" Sunday, who turned in an impressive shift in the defensive midfield, scored the game-tying goal moments before halftime. The Nigerian powered in a superb header from a Plata corner kick.
The Sounders will head back home to play host to Cascadia rivals Vancouver Whitecaps next Saturday, while RSL will face off against the Portland Timbers at Providence Park that same day.
Here are the highlights of RSL's win:
Man of the Match
While he will receive a lot attention for scoring Real Salt Lake's first goal of the game, Stephen "Sunny" Sunday looked better than his partner, Kyle Beckerman, on both the attacking and defensive ends of the midfield on Saturday. He made two interceptions and one clearance in key areas of his own side's final third.
Moment of the Match
The game seemed destined for a 1-1 tie, but Juan Guzman's decision not to call a foul on Jamison Olave's crucial header certainly impacted the outcome.
Match to Forget
After a solid showing for a little more than 85 minutes, Tyler Miller was ultimately not strong enough in the air, and it cost the Sounders a point. Olave's goal proved to be the difference, and Miller could have better to prevent it.
—
What do you think of RSL's victory? Think a foul should have been called on Olave before the goal was scored?
Share your thoughts below.