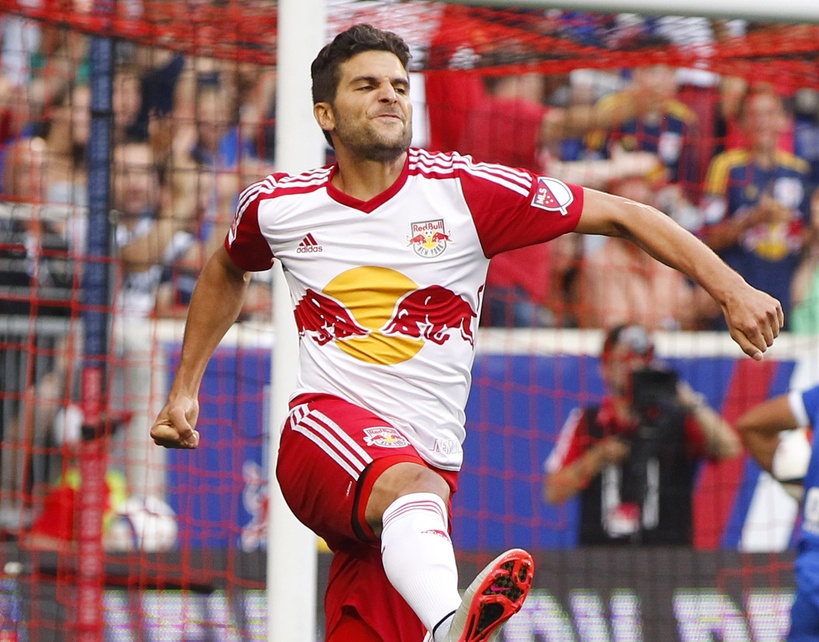 Despite landing with his fourth team in six seasons, Sal Zizzo has not only found stability with the New York Red Bulls but at a new position.
After primarily serving as a winger throughout his professional career, Zizzo has made, what he describes, a seamless transition to wing back. Zizzo made 26 appearances for the Supporters' Shield champions Red Bulls last season. He started in 14 of those matches, including the postseason.
The 28-year old, who was acquired by the Red Bulls after a trade with rival New York City FC in 2014, recognizes the challenges that arise from playing a new position. However, his confidence continues to build.
"I definitely feel comfortable playing in the position, especially in the system we play," Zizzo said. "There are a lot of situations and areas of the field where in a traditional 4-4-2 style you'd find yourself in as a midfielder. I think to some degree that this is my natural position when it comes to all of the attributes that I have as a player. It's a little difficult because I've found this out later in my career, but I definitely feel comfortable."
As someone that is used to getting forward on a regular basis, Zizzo now faces the challenge of picking and choosing when to move up the field and when to hang back. It's something, he says, that comes with continuing to grow and learn the ins and outs of his new position.
"There's going to be decisions on the field where I'll be tempted to get forward, but that's being a soccer player," Zizzo said of his decision-making. "Ultimately, you have to make the right decision. As far as when to attack, I think that if it's available to me then I'll take it. A lot of the situations depend on whether Kemar (Lawrence) is high up the field and he and I have to find a balance.
"When I'm on the ball, I feel just as comfortable as I do without it. My ability to read the game defensively has taken time, but I understand that it's a process. I know that it's a transition and I need to work on things, but I'll continue to establish the right feel of when to attack and when to hang back."
While Zizzo will likely be tabbed as the Red Bulls' starting right back against Toronto FC in the team's opening match of the 2016 MLS season on Sunday, the defender does have his work cut out to maintain a first-team role.
Chris Duvall, who began 2015 as the team's first-choice right back, is coming off of a season-ending leg injury last season, but finally appears ready to make a push for his old spot. Homegrown product Connor Lade has also seen significant minutes for the Red Bulls over multiple seasons with the team, including starting 16 times in 18 appearances for the club a year ago.
For Zizzo, though, the competition at outside back is something the Red Bull welcomes and believes makes him and his team a significant threat to the rest of the league.
"It's a position that we're definitely very deep at," Zizzo said. "We talked about it at our team meeting today, and between me, Kemar, Connor and Chris we have a really deep team as outside backs, but also throughout the entire squad.
"We just need to be supportive of one another. Regardless of who is starting on any given day, we have our own mini team on defense and we need to root for each other. I think it goes along with us all being friends and good people on and off the field. I think it's in our personalities."
Head coach Jesse Marsch constantly challenges his players to be better and emphasizes the importance of competition. Now in his second year with the Red Bulls, Marsch says he is proud of how Zizzo has handled the change and it is his willingness to learn that makes him so coachable.
"Sal is a guy that is really easy to coach because he is willing to take on challenges head first," Marsch said. "He has welcomed his new role with this team and he has excelled in it. He's obviously a very good player, which is why we wanted to bring him here, but the fact that he can be used in different positions makes him all the more important for us.
"I think that like any other transition, we'll continue to give him pointers and his teammates will help him out, but he's been doing great on his own. He may have the instincts from previously further up the field that tell him to play higher up, but he has unbelievable discipline and is really working hard to fill his new position."