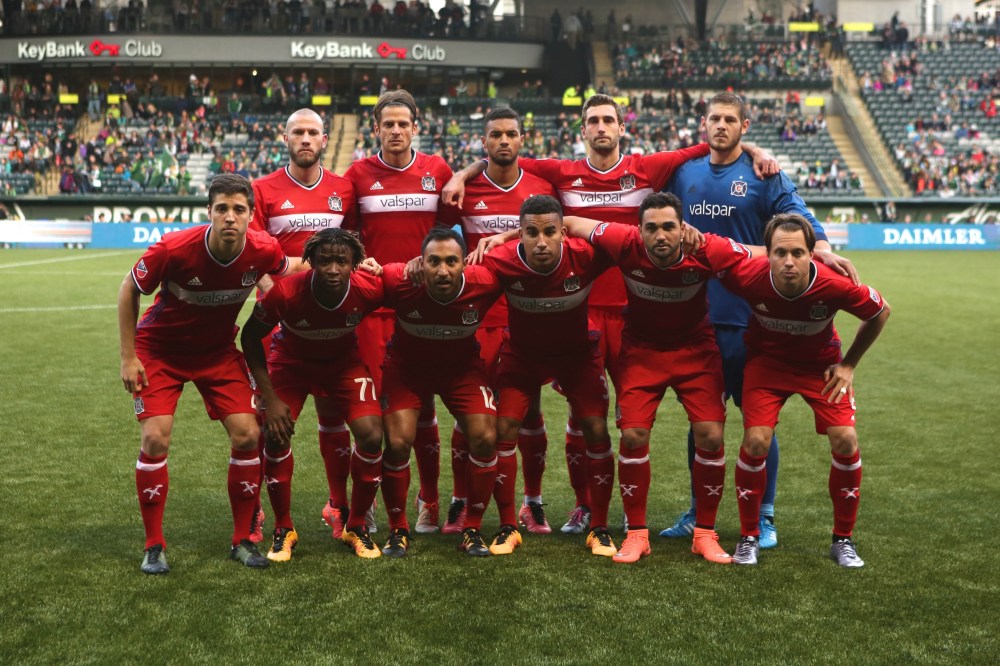 After a 2015 season that saw significantly more lows than highs, the Chicago Fire are looking to bounce back with new head coach Veljko Paunovic, along with a surplus of young talent.
The Fire finished with the league's worst record, picking up just eight wins and a total of 30 points in 34 matches. Additionally, the Fire went winless on the road in 2015, posting a record of 0-12-5.
All four of Chicago's most consistent defenders, Lovel Palmer, Jeff Larentowicz, Adailton and Joevin Jones, have each exited the club, leaving it up to newcomers like Brandon Vincent and Jonathan Campbell, both of whom were selected by the Fire in this year's MLS Draft.
With a complete turnover on the back line, Paunovic recognizes the challenges that lie in front of him and his team; however, the Serbian coach remains confident in his side's capabilities ahead of the new season.
"It's obviously this is a different team from what people saw last season," Paunovic told SBI. "We are focused on how we can be best we can be. Some of our young guys, especially, have performed very well during preseason. I think it's been a very important time for us because our players have accepted the challenge to adapt to a new style.
"We won't look back when it comes to players that are no longer here, but we do know that we have to work to continue in being better. We don't just focus on defense or attack, but we want to be better in all phases of the game."
With an entire new back line expected to start on opening day against New York City FC, the Fire will be hoping for better fortunes after conceding 58 goals, which ranked last in MLS, in 2015. The learning curve for Paunovic and the young players in his team is evident, so it will be up to the side's returning members to keep the club organized.
Here's a closer look at what to expect from the Chicago Fire in 2016:
CHICAGO FIRE SEASON PREVIEW
2015 FINISH: 8-20-6, 30 points (last in Eastern Conference)
KEY ACQUISITIONS: Brandon Vincent, Jonathan Campbell, Michael Harrington, Nick LaBrocca, Johan Kappelhof, John Goossens, Joey Calistri, João Meira
KEY LOSSES: Harry Shipp, Mike Magee, Joevin Jones, Jon Busch, Jeff Larentowicz, Lovel Palmer, Adailton, Ty Harden, Patrick Nyarko
NEWCOMER TO WATCH: Brandon Vincent. A top-five selection in this year's MLS Draft, Vincent has already had a whirlwind 2016. The young defender arrived late to Fire preseason after spending time with the U.S. Men's National Team during January camp. Head coach Veljko Paunovic told SBI that he is very impressed with Vincent's progression, and that his form from national team camp has clearly carried over to the Fire. He expects big things from the versatile wing back.
PRESSURE IS ON: Kennedy Igboananike. With a plethora of new faces in the team, particularly on the defense, Igboananike will be one of the team's most critical pieces up front. Coming off of a seven-goal season in 2015, the Nigerian ideally needs to get into double-digit if the Fire want to enjoy any type of success this year. With support up front from David Accam and Gilberto, the 26-year old has the talent around him to make things happen for the Fire, but it will ultimately be up to him to help the team string together victories.
OUTLOOK
Change is difficult, but the Chicago Fire were in desperate need of it following a forgetful 2015 MLS season.
From the inception of the Paunovic Era as head coach to the exit of midfielder Harry Shipp, arguably the face of the franchise, the Fire are looking for a brand new identity in 2016. As a club that isn't seen by many, if any, as a legitimate playoff contender heading into the season, Chicago will be forced to rely heavily on its youth to get them back to the successes they once experienced.
The Fire, who began their MLS tenure by qualifying for the postseason in 11 of its first 12 seasons, have since missed out of the playoffs three consecutive years and five out of the last six campaigns.
"We are looking forward to the future and learning from past experiences," Paunovic said. "The guys that have been here for awhile have seen differences and are open to trying new things that will help us succeed. We want to give our fans a successful team. That's our number-one priority.
"Playing in this league at the end of my career helped me understand better what to expect when I got into coaching. You always need to adapt to the rules, but for me it was great learning experience. I'm learning, just like a lot of our players are, and we'll figure things out together."
Goalkeeper Sean Johnson holds down the fort in the back, but he'll be playing with many new faces in front of him. After key defenders Larentowicz and Jones each left the club this offseason for roles in Los Angeles and Seattle, respectively. MLS Draft first-round selections Campbell and Vincent will certainly figure into what Paunovic and the Fire put out on the pitch.
Additionally, the offseason acquisitions of Dutch duo Johan Kappelhof and John Goossens could prove to be huge for the Fire as well. Kappelhof is already likely to be penciled in as a starter, while Goossens dazzled during preseason, particularly when he scored a phenomenal goal from distance against the University of Portland.
In the midfield, U.S. youth international Matt Polster enters his second season with Fire, after posting an impressive rookie year. Given the concerns that surround Chicago's new back four, Polster and fellow central midfielder Razvan Cocis will each play critical roles in how they assist the defenders that sit behind them.
"We're not concerned about what happened last season," Paunovic said. "We feel that our team will be able to compete with everyone, regardless of the opponent. Yes, we have a lot of new players, but they are very capable."
While the back line remains a concern, particularly after the team was tied for the league-lead for goals allowed last season, the Fire do boast positive signs with their attack. Accam, who led the Eastern Conference side in goals a year ago with 10, will be expected to perform well up front alongside Gilberto and Igboananike.
In a season full of disappointments, the fortunate acquisition of Gilberto does bode well for the Fire and their attack moving forward. In just eight starts with Chicago in 2015, the Brazilian-born striker posted five goals and two assists, which will absolutely be an encouraging sign heading into the new season. The added danger of Gilberto, coupled with Accam and Igboananike, will give opposing defenses something to consider in their preparation to face the Fire.
"All of our guys have been great, but Gilberto remains very committed to what we're building," Paunovic said. "He wants to prove to people how valuable he is and that he can be great for our team. He's not really looking for the spotlight, but I think he will gain attention within MLS because he's a young guy who is very passionate and emotional but can channel it into the right direction on the pitch."
While Gilberto and the rest of the Fire will have to adjust to new tactics implemented by Paunovic, the team's coach is ready to bring some of his success from his time with Serbia to MLS.
"We've brought a new style and methodology," Paunovic said. "We're trying to implement some of the things we did in Serbia and had success with. Nobody can guarantee they'll make the playoffs, but we can promise we'll give our best and believe we can make the playoffs. That's all we can say. Everything we've done in preparation has us ready for this season, and if we play up to our potential each week, then we can grab some people's attention."
PROJECTED LINEUP