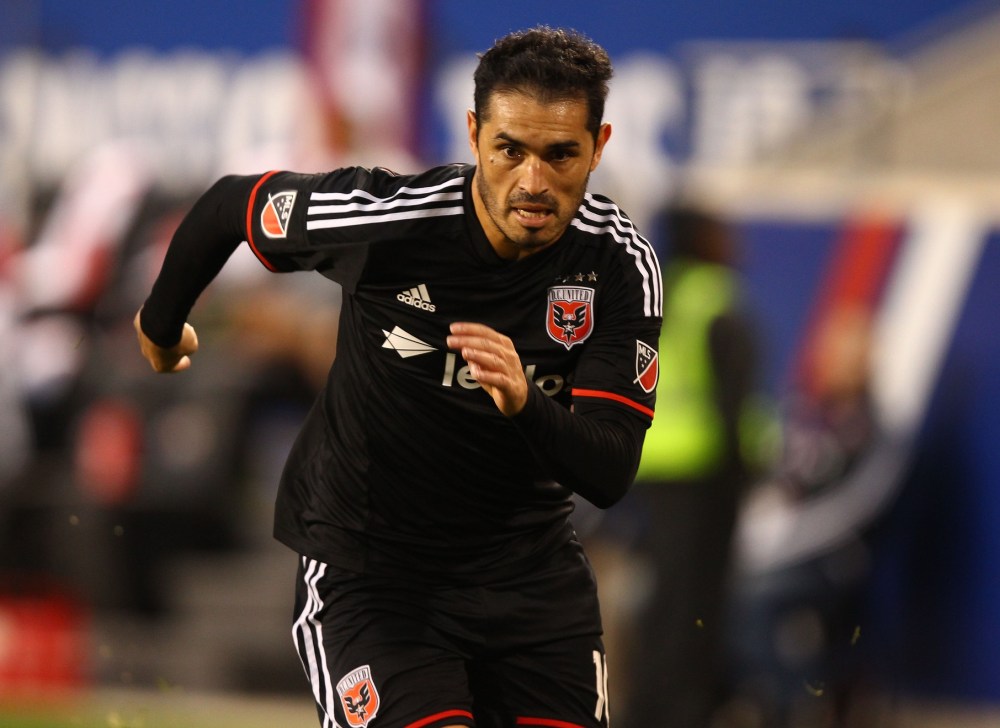 Following yet another playoff defeat to the New York Red Bulls, Ben Olsen had to ask himself a question. The D.C. United head coach wondered aloud if his club had peaked, if it had reached its plateau in an increasingly competitive Eastern Conference.
According to Olsen, the answer was no, but the D.C. United boss understood that changes needed to be made. Maybe it wouldn't be a full rebuild, but D.C. United certainly needed some sort of reconstruction to remain among the list of playoff contenders.
Gone are familiar faces like Perry Kitchen and Chris Pontius. In their stead, D.C. added a combination of MLS veterans and young international stars looking to step in and compete from day one.
"Some of the stuff is circumstantial," Olsen told SBI. "You have to step back for a little bit and evaluate the season as a whole. I did come to the conclusion that we needed to mix things up around here. We think we did that in the right way. We think we added some new pieces that have changed what we're about a little bit, some fresh faces.
"A fresh hunger is always needed in this league. It's a balance between moving the team forward and changing things up, but also keeping the culture and the spirit that our group has had over the last two years. We'll see if we accomplished that during this year."
Here's a closer look at the 2016 D.C. United:
D.C. UNITED SEASON PREVIEW
2015 FINISH: 15-11-8, 53 points (2nd in Eastern Conference)
KEY ACQUISITIONS: Luciano Acosta, Marcelo Sarvas, Lamar Neagle, Patrick Nyarko,  Julian Büscher, Charlie Horton
KEY LOSSES: Perry Kitchen, Chris Pontius, Jairo Arrieta, Michael Farfan, Connor Doyle, Eddie Johnson
NEWCOMER TO WATCH: Luciano Acosta. The 21-year-old playmaker joins D.C. United on loan from Argentine powerhouse Boca Juniors. Olsen says he expects to use Acosta in a variety of ways alongside incumbent starter Fabian Espindola. A player that can play either as a No. 10 or a second forward, Acosta's ability to generate chances will be a welcome addition to a  D.C. United team that could really use that extra bit of creativity in the final third.
PRESSURE IS ON: Markus Halsti. As the club's prized acquisition last offseason, Halsti failed to live up to the hype in year one with D.C. Hampered by injury throughout the season, the Finnish star never really got going in making just 14 regular-season appearances. With Perry Kitchen now gone and Davy Arnaud still dealing with concussion-related issues, Halsti will have to step up and take command of the midfield in his sophomore effort in MLS.
OUTLOOK
Heading into a 2016 full of change, Ben Olsen insists there was no magic "eureka" moment. There was no singular incident that showed him the need for change. Rather, it was a peak at the team's body of work that pointed Olsen towards a reconstruction of his team.
Olsen is quick to admit that he got things wrong last season, as every coach does. Despite some successes, D.C. fell short again and failed to reach the club's ultimate goal. However, Olsen insists that there is no creeping doubt or sense of gloom. He is confident in his team and the pieces that have been brought in to enhance it.
"We had some stuff to replace," Olsen said. "Davy Arnaud's status is still up in the air. We knew Perry Kitchen was going to move on, so we knew centrally was a spot that we had to fill and hopefully upgrade. Pontius was moving on and we knew that was going to happen, so there was another spot out wide.
"We brought in guys to stretch the field, help us in possession a little bit and also increase our depth. The last two years, part of the reason we struggled down the stretch was because of a lack of depth, and I think this year, hopefully, we've addressed that."
With some of the club's most recognizable faces gone, Olsen opted to bring in several veterans to go with 21-year-old playmaker Acosta. MLS veterans Patrick Nyarko and Lamar Neagle have been brought in to add depth out wide. Olsen says both Nyarko and Neagle have fit in "very nicely" on and off the field, as the duo provide a bit of individual skill and versatility that was lacking a bit in recent years.
In the center, two-time MLS Cup winner Marcelo Sarvas steps in to fill the gap left by Kitchen's departure while adding some much-needed leadership in a crucial position.
"Marcelo Sarvas is a guy that has a real presence about him in the locker room and on the field," Olsen said. "It's one of the reasons I brought him here. I know we'd be missing a little bit of that and he adds to some of the veteran leadership. He's a guy that has been around the block both in CONCACAF and in this league. He's been on championship teams and on teams that haven't played well and haven't had success, which I think is a very important thing. Not just always being on a championship team, but seeing the other side of it. Now, I think he's excited for a fresh start here too.
"We have a lot of new attacking pieces, so that takes time to gel to figure out what combinations work. That's what we spent a large part of our preseason doing. That's going to continue in the first quarter or first half of the season. We're still going to be finding out who we are on the offensive end."
D.C. United's depth will be tested in what has long been the club's strongest position. Bill Hamid, 2014 MLS Goalkeeper of the Year, is set to miss several months with a knee injury. In his stead, Andrew Dykstra steps up, and Olsen insists that he has plenty of faith in the MLS veteran to hold down the fort until Hamid's return in "a month or two."
Easing the transition to Dykstra will be the presence of one of the league's more consistent back lines. Sean Franklin, Bobby Boswell, Steve Birnbaum and Taylor Kemp all return for another year in which they are expected to lead the way for D.C.
"The tricky thing with veterans is, 'how do you make them better?'" Olsen asked. "They figure out the league and understand how to go about a season. Asking them to do more and push themselves, even when they've been around the block, is something I've asked for. I think that's part of it.
"I brought in some competition. Kofi (Opare) is ready to start competing for a starting spot. When (Chris) Korb gets back, he'll be competing for an outside back position, as well as Luke Mishu, a guy we believe in. I would hope, from a defensive back four standpoint, they continue to be one of the best in the league and now try to push themselves to be the best in the league. That's what we're asking."
While players like Opare, Korb and Mishu will continue to push towards the lineup on the defensive end, Olsen also feels confident in his stable of youngsters in the attack and midfield. Olsen says he expects Miguel Aguilar to step up this season, while newcomer Rob Vincent and Homegrown product Collin Martin could also play legitimate minutes. First round pick Julian Buescher is also waiting in the wings as a player that has shown to be "super talented" in his early days of professional soccer.
"It's the best group of youngsters that the team has had in a long time," Olsen said. "At some point, they have to make it difficult for me to keep them off the field. I also have to trust in them and make sure that they're getting the right minutes and are put in situations to learn and then put back in those situations to learn again. That's sometimes a tough thing to do."
Olsen's job is now to blend the group of new faces, both young and old, to an existing culture and system that has found success in recent years. The D.C. head coach is quick to state that the Eastern Conference has improved vastly this season, but is also sure to point out that he believes his club has too.
With that in mind, the faces may have changed in D.C., but the aim hasn't, as Olsen looks to lead his club to the postseason for the third straight season.
"I can't give you a date on when we're going to gel, but our goal is to make the playoffs," Olsen said. "It's about amassing points, improving as a group and pushing each other to peak towards the end of the season and be in a position to play in the postseason.
"Do we want to win the MLS Cup? Of course we want to win the MLS Cup. If and when we make the playoffs, we'll focus on that."
PROJECTED STARTING LINEUP