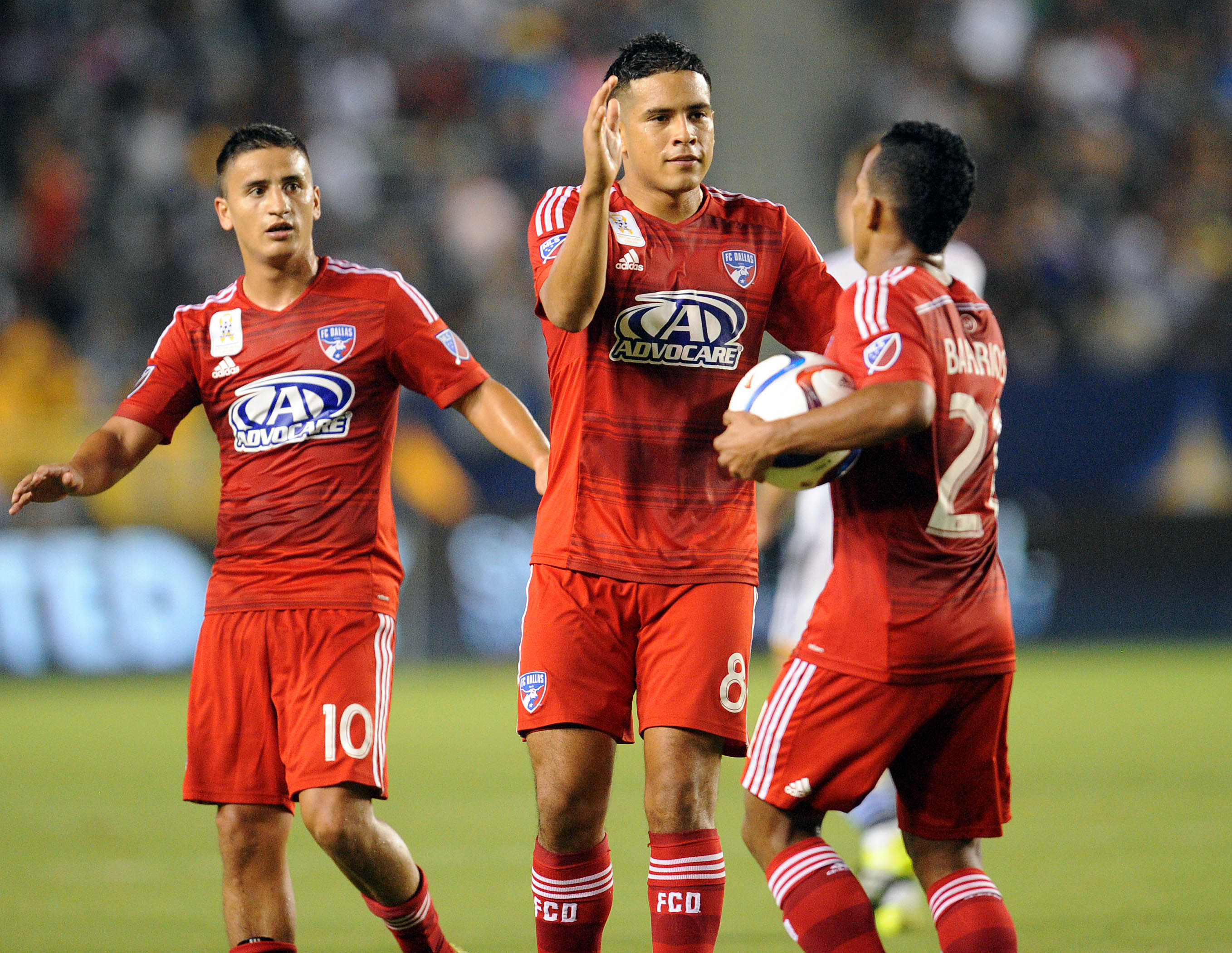 If there was one thing to take away from FC Dallas' season in 2015, it was that the club has plenty of promise.
FC Dallas enjoyed a strong campaign a year ago, and did so with a bit of a different formula than most other teams. Buoyed by a number of Homegrown Players and fellow youngsters who stepped in to play significant roles, FC Dallas finished just shy of both winning the Supporters' Shield and making it to the MLS Cup Final.
That young, energetic core group that found so much success has been brought back, and FC Dallas has doubled down on its approach by adding a number of other promising up-and-comers rather than adding a host of seasoned veterans.
"The new players that have arrived are fitting right in, and we are going to continue this process that we have started," FC Dallas head coach Oscar Pareja told SBI. "We're optimistic, and have worked very hard in preseason. Right now, we feel like we are headed in a good direction."
If FC Dallas can grow even further this year as a unit, thoughts of taking the next step and lifting the MLS Cup will be realistic. The club has both dynamic and blue-collar players that are mature beyond their years, and they are hungry to once again show that a young team can be a championship team.
Here's a closer look at 2016 FC Dallas:
FC DALLAS SEASON PREVIEW
2015 FINISH: 18-10-6, 60 points (1st in Western Conference)
KEY ACQUISITIONS: Maxi Urruti, Maynor Figueroa, Mauro Rosales, Carlos Lizarazo, Juan Esteban Ortiz, Carlos Gruezo
KEY LOSSES: Blas Perez, Je-Vaughn Watson, David Texeira, Dan Kennedy, Michel
NEWCOMER TO WATCH: Carlos Gruezo. A 20-year-old Ecuadorian international, Gruezo will be expected to perform at a high level in his first season in MLS. Gruezo was given a Young Designated Player contract in January, and his versatility combined with the experience gained from having most recently played for VfB Stuttgart have him poised for big things.
PRESSURE IS ON: Jesse Gonzalez. One of the league's revelations during the 2015 campaign, Gonzalez, 20, is set for his first full season as a starting goalkeeper. Gonzalez showed well after earning the role of incumbent late last August, but will need to prove that he can be even more consistent by handling the ups and downs that come over the course of an entire campaign.
OUTLOOK
FC Dallas has shown significant growth in each of Pareja's two seasons in charge, and you can expect more improvement as the regular season Western Conference champions look to take that final step toward becoming a true championship contender.
Impressed with how his youngsters have fared when given significant roles, Pareja plans to once again rely heavily on his tried-and-true method of fielding promising players that are at the beginning of their careers. In fact, only six players on the roster are 28-years old or older, and only three are older than 30.
FC Dallas isn't all youngsters though, as several veterans are expected to handle key roles. Argentina midfielder Mauro Rosales and Honduran defender Maynor Figueroa were acquired via trades this offseason, and the versatile Atiba Harris should again play a part after featuring in 27 games in 2015.
Still, the bulk of the responsibility for enjoying another strong campaign will fall on the young guns. Talented and dynamic duo Fabian Castillo and Mauro Diaz will once again lead the Hoops attack while Gonzalez and Matt Hedges will help anchor the defense. There are also Kellyn Acosta and Victor Ulloa, both of whom showed well in midfield last year and look set to achieve even more success this season.
Other younger players recently added to the squad are also expected to have positive contributions. Gruezo was brought on board to help further bolster the FC Dallas midfield, reigning MLS Cup champion Maximiliano Urruti was signed to give the front line another capable scoring option, and Carlos Lizarazo was acquired via loan from Cruz Azul to give Pareja another dangerous attacking weapon.
"I think all of the players bring something different," said Pareja. "Some bring experience, others bring leadership and experience, and there are others who bring young legs. They all have technical qualities that will serve the group, because my objective this offseason was to bring over technical players that can improve the way we play with the ball on the ground. I think we will get better in that aspect."
While FC Dallas wants to improve how it keeps and moves the ball, you can still expect the club to stick to most of its principals from last year. Pareja does not want to deviate from what allowed for so much success, and still wants his side to be dangerous and quick on the counter, defensively organized, smart, and energetic.
It might be a challenge to replicate the strong performances from a season ago, though. A few of the perceived heavyweights in the Western Conference have gotten stronger on paper, including the LA Galaxy, Sporting Kansas City, and even the MLS Cup-winning Timbers.
"I know from the five years that I've been here that the league gets tougher and more competitive each season," Castillo told SBI. "I think this is going to be one of the most difficult seasons in the league, but I think we have all the qualities to jump out in front with the group we have. That's what we're going to work for this entire year, without a doubt, and I think the most important thing is to maintain the confidence we have as we take on the complicated road ahead."
FC Dallas might not have the biggest or most recognizable names like the Galaxy or Seattle Sounders do, but the 2015 season showed a young team without big-name stars could win the loaded Western Conference.
The Hoops should still be plenty motivated, too, especially after nearly winning the Supporters' Shield on the last day of the season and making a deep playoff run to the conference finals. Those experiences have given FC Dallas the belief that a more memorable year could be in the cards in 2016, and the club is certainly not being shy about this year's goals.
"I always strive for the best, and I'm looking for us to win all three competitions," said Pareja, referring to the Supporters' Shield, U.S. Open Cup, and MLS Cup. "That's where my dream begins and that's where my job begins. How you play determines your destiny, but I think that teams that do not start off by thinking about winning start off losing."
PROJECTED STARTING LINEUP