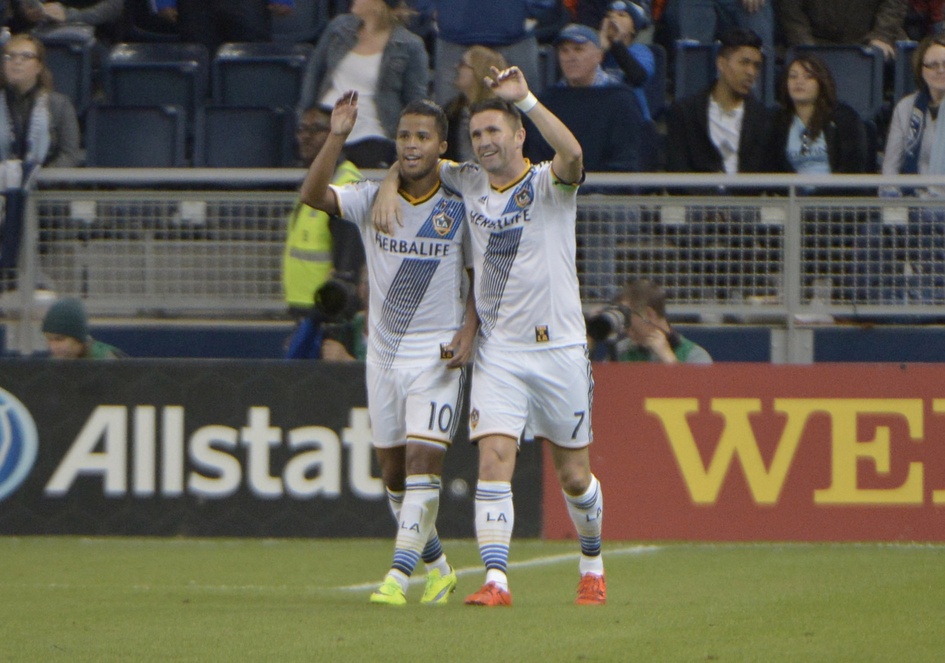 A team with three championships in the last five years isn't the most likely candidate to undergo a massive overhaul to their roster.  But after losing eight of their last nine to close out the 2015 season, including an ugly defeat in the rain in Seattle to end the season, the LA Galaxy have done just that.
The Galaxy begin the season with nine new players on their roster, including European internationals Ashley Cole, Jelle Van Damme, and Nigel De Jong.  They also returned Galaxy fan favorite Mike Magee, and signed veteran goalkeeper Dan Kennedy, Ghanaian winger Emmaneul Boateng, and two Galaxy II players,
"We put eleven guys on the field, and the goal is to win.  These are all very good soccer players, and they've all been doing this a long time" said head coach Bruce Arena.  "These are veterans, professionals, and they don't need to be told by me what to do."
But if the roster has changed, the goal remains the same: win the MLS Cup.  While most MLS teams make offseason moves in hopes of improving and/or reaching the playoffs, the LA Galaxy, winners of five MLS Cups, more than any other MLS franchise, continue to set a higher bar.
"It's always challenging, but it's a nice pressure to have" said Arena when asked about the perennial expectations in Los Angeles. "We think we should win competitions.  That's our challenge every year, and we deal with it."
LA GALAXY SEASON PREVIEW
2015 FINISH:  14-11-9, 5th place Western Conference
KEY ACQUISITIONS: Ashley Cole, Nigel de Jong, Jelle Van Damme, Dan Kennedy, Mike Magee, Jeff Larentowicz, Emanuel Boateng
KEY LOSSES: Omar Gonzalez, Juninho
NEWCOMER TO WATCH: The three man tandem of de Jong, Cole, and Van Damme.  All three Europeans are veterans and internationals. Now all three will be asked to work together to prove that they are not retirees and can meet the unique demands of the MLS and produce the silverware that Galaxy supporters – not to mention the Galaxy front office – expect.
UNDER PRESSURE: Giovani Dos Santos. Of all the new, high profile signings made by the Galaxy in the last year, only one player is committed to a long term contract.  Giovani Dos Santos is still only 28-years-old, and is expected to be the face of the franchise for the next half a decade.  He has failed to live up to expectations elsewhere, and in his first half a season with the Galaxy last year, Dos Santos showed flashes of quality upon arrival, but ultimately fizzled out in the final two months of the season. Robbie Keane may be captain, and Steven Gerrard may be more famous, but it is Dos Santos who is expected to carry the club into the next decade.
OUTLOOK
Upon the arrival of Gerrard and Dos Santos last July, the Galaxy launched a spectacular run of form that saw them score 28 goals in six games, and put them into a tie for the Supporter's Shield at Labor Day.  But the form vanished as suddenly as it arrived, and the Galaxy suffered an ignominious end, dropping from the top of the Western Conference into a fifth place.  The defending champions were put out of their misery in a weeknight wildcard match in cold, rainy, Seattle, and spent the offseason retooling their roster.
However this is Los Angeles, where there is no hall pass for a rebuilding year.  Despite all of the new faces, the Galaxy will be expected to win, and win now.  To achieve this end, the Galaxy have taken an unconventional route.  Already one of the older teams in the MLS, the Galaxy have actually gotten older in the offseason, and will feature six starters and at least two backups who are in their thirties.
When asked about his preference for veteran players, Arena was blunt: "It has nothing to do with age.  We try to put the best players on the field that we can at every position, whether they're old or young doesn't matter.  What matters is how your eleven guys play."
The Galaxy's eleven guys should be able to score goals.  The ageless Robbie Keane poured in 25 goals in all competitions last season, while Gyasi Zardes and Sebastian Llegett combined to score 15 more from the edges of the Galaxy attack.  Even Alan Gordon, who appeared primarily as a late game substitution, added eight finishes.
Despite the goals, there are question marks. Dos Santos and Gerrard joined the club halfway through the season, and after a quick start, both disappeared from the score sheet. Dos Santos contributed four goals in thirteen appearances, a respectable total, but hardly the Designated Player-level contribution the Galaxy will be looking for this season.  Mike Magee is also back in Galaxy kit, but after battle injuries for two years in Chicago, it remains to be seen if he can find the form that got him an MLS MVP award in 2013.
A bigger question mark will be the defense.  Panamanian international goalkeeper Jaime Penedo actually quit the team mid-season over a contract dispute, and his replacement, veteran retread Donovan Ricketts, was a pale shadow of his former intimidating presence, and was released within a week of the season's end.  The Galaxy hope they have managed an upgrade with the signing of Dan Kennedy, who if nothing else, has the veteran experience to help stitch together a brand new back line, and knows the StubHub Center pitch as well as any keeper in the league, having played over 100 matches there as a member of Chivas USA.
The Galaxy back line, which for most of the 2015 season was the league's stingiest, became emblematic of the Galaxy's overall collapse last season, surrendering soft goals in clutch situations down the stretch.  Center back Omar Gonzalez, once the Galaxy's showpiece American international star, flagged in form as the 2015 campaign wore on, first losing his spot in the USMNT lineup, and then finally being transferred by the Galaxy to Liga MX side Pachuca in the off-season.
In his place the Galaxy signed Jelle Van Damme, the controversial Belgian international who was once sued by teammate and former U.S. Men's National Team centerback Oguchi Onyewu for racist remarks.  Van Damme's behavior notwithstanding, his style of play is actually noticably similar to Gonzalez.  Both are tall, long-legged, aggressive defenders who are exceptionally strong in the air in front of either goal.
In addition to Van Damme, England and Chelsea hero Ashley Cole will take over at left back, pushing Robbie Rogers over to the right.  Cole brings an outstanding skill set and experience to the position, but even he openly admits he has lost a step (if not two) since his heyday at Chelsea.  In Arena's system of constantly overlapping his fullbacks for long forays into the attack, it remains to be seen if Cole will have the pace and stamina to be an effective ninety minute player.
Arena will now also have both infamous Dutch holding midfielder Nigel De Jong and MLS elder statesman Jeff Larentowicz to place in front of his back line to attempt to lend a hand to the newly built defense.
If nothing else, the Galaxy have addressed their issues of depth, especially in the defense, where they were so woefully thin last year that Arena was forced to use slowfooted central midfielder Baggio Husidic as his left back for a stretch of the season.  But depth alone will not be enough for the Galaxy to successfully navigate an MLS season.  No matter how many stars they put on the pitch, if last year proved anything, it's that team chemistry counts for more.
"We have players on the team who are leaders in their own right on teams that they played for" said Galaxy captain Robbie Keane when asked about the revamped roster. "The more games we play with each other, I think you'll see this team progress."
With so many new parts, it is legitimate to wonder if the Galaxy can gel at all, let alone on time for the end of the season, when the LA faithful will once again be dreaming of adding another MLS Cup to the trophy case.
PROJECTED LINEUP