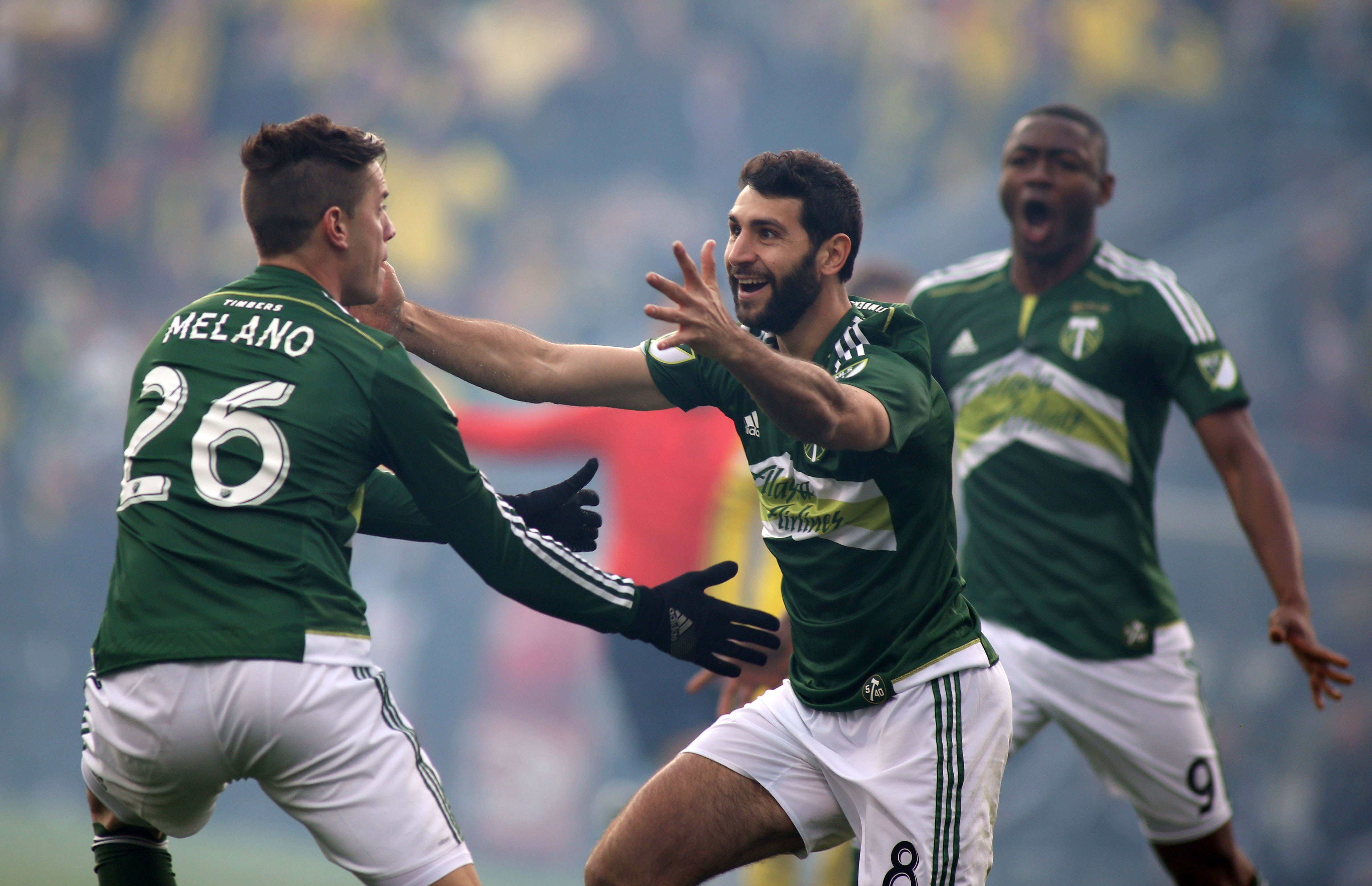 In 2015, the Portland Timbers ascended to the MLS mountaintop by claiming the club's first-ever MLS Cup. Now, the challenge comes in defending it.
Following an offseason full of parties, parades and praise, the Timbers are now set to begin their title defense by featuring much of the same. The club returns nine of the 11 MLS Cup starters as head coach Caleb Porter has stressed continuity and familiarity heading into a season where his club has become the hunted.
However, the Timbers have done their share of wheeling and dealing to plug gaps. In searching for additions, the Timbers stuck to the tried and true. With five additions, the Timbers have brought in 31 combined years of MLS experience to add a bit of hunger and competition to a team still regarded among the league's elite.
"There's a real method to repeating," Porter told SBI. "I haven't done it at the pro level, but I've done it at the college level. I've won multiple national championships and gone back-to-back. There's a psychology of it in how you lead the team, but also I've seen a formula in terms of enough continuity and enough turnover to get balance. There's enough balance in there. You don't want a lot of turnover, but you need some because you need an injection of new blood, new hunger. I found if you take the same team, all of the pieces exactly the same and try and roll it into next year, that's a recipe for trouble.
"We kept that core in tact, but we lost some of the depth pieces and we replaced them with guys that we feel are of that same level. They'll come in hungry and fresh. They'll spice up the team, which is a really important part of repeating."
It's been less than three months since the Timbers lifted the MLS Cup trophy on the field of MAPFRE Stadium, but the challenge of defending it is now set to begin.
Here's a closer look at the 2016 Portland Timbers:
PORTLAND TIMBERS SEASON PREVIEW
2015 FINISH: 15-11-8, 53 points (3rd in Western Conference)
KEY ACQUISITIONS: Chris Klute, Jack McInerney, Zarek Valentin, Jermaine Taylor, Ned Grabavoy
KEY LOSSES: Jorge Villafaña, Rodney Wallace, Maximiliano Urruti, Will Johnson, Norberto Paparatto
NEWCOMER TO WATCH: Chris Klute. Out of the group of Timbers' newcomers, the veteran fullback is the most likely to solidify a spot in the starting XI. Following the departure of Villafaña, Klute is expected to be the guy to step in and hold down the left side of the defense. The fullback has missed some time in the preseason due to surgery, which has stunted his progress with the team through the first few weeks. However, Porter says the plan has been to have Klute starting from day one with players like Valentin, Taylor and even Liam Ridgewell available to play out wide should the need arise.
PRESSURE IS ON: Darlington Nagbe. Now a part of the U.S. Men's National Team, the Timbers midfielder is in for a big summer. On the club level, Nagbe faces the pressures of being a star on a defending champion that is expected to bring it day in, day out. Meanwhile, the 25-year-old will have one eye on this summer's Copa America roster, a squad he could very much be a part of if he shows well for himself in a Timbers jersey.
OUTLOOK
Heading into his fourth season as head coach of the Timbers, Caleb Porter is glad to finally have some stability.
In year one, it was adjusting to a whole new set of players and systems. In year two, it was plugging gaps with four or five new starters, while year three saw several international additions to bolster what was already there. Now, Porter finds himself managing a Timbers team with a bit of stability, and an MLS Cup trophy to show for it.
Porter said that the mood in camp is "very business-like," despite an offseason that was anything but. Following several months of celebration, the Timbers return their core and, much to Porter's enjoyment, got straight back to doing exactly what led them to an MLS Cup last winter.
"It feels like we've literally picked up where we left off," Porter said. "The offseason was so short and the guys have come back mentally and physically sharper than in the four years. This is my fourth preseason. I'd say, for sure, this preseason, the guys just seem to be at a better level physically, mentally and just cohesively.
"I've enjoyed this preseason because I feel like, in other preseasons, I've had so many different new players that there was a lot to do to plug them in and get them up to speed and integrate them in the way we do things."
Heading into the offseason, the Timbers knew there would be at least some form of change. Porter said that the team expected several "cap-related casualties" that would certainly test the team's depth in all facets. Perhaps the biggest loss was starting fullback and MLS Cup star Villafaña, while wing option Wallace, backup striker Urruti and centerback Parparatto also moved on to new clubs.
In their stead come a slew of MLS veterans that Porter expects to push the envelope for those that led the way last year. With Villafaña's move to Liga MX, the Timbers added MLS veteran Klute and a returning Valentin, who recently plied his trade in Norway following several years in MLS. In addition, the club added former Houston Dynamo defender Taylor to further the depth in back. While Klute is projected to start the season as the top left back, Taylor and Valentin will provide valuable cover at both fullback and centerback, where the team returns the star tandem of Nat Borchers and Liam Ridgewell.
The midfield is bolstered by the veteran presence of Ned Grabavoy, who Porter could choose to use in a variety of ways in the center of the field. Perhaps the Timbers' biggest capture of all, though, was forward Jack McInrney, who has already scored 38 career MLS goals at just 23-years-old.
"We're pleased that we get a guy like Jack McInerney in that number two spot," Porter said. "He brings different things than (Fanendo) Adi. Similar to Maxi, he's a guy that looks to get behind and in the box. He's a good finisher. We looked at him and thought, 'young player, 23, similar to Maxi in the way he plays.' He'll be a great guy off the bench, a great guy to start in the league or Champions League. He's a proven goalscorer. He'll push Adi. He's an experienced player and a good player.
"With Champions League, international call-ups and just with the long season, we knew that those number two guys were going to be really important. With a short turnaround, we decided to go with MLS guys. We knew the transition would be quicker in. We wanted to balance out the makeup of our team. We had signed a lot of internationals over the last two or three years, so that's why we went that route. "
While the Timbers have added several pieces to supplement what was already there, a bulk of the heavy lifting will be done by familiar faces. Adi is set to remain a focal point up top following a 16-goal season. Meanwhile, Dairon Asprilla and Lucas Melano return to contribute on either side of Adi.
The Timbers best unit, their midfield, also remains intact. Diego Valeri and Nagbe return to lead the way on the attacking end, while Diego Chara continues to develop as one of the league's top defensive-minded midfielders.
One of the turning points of the 2015 run was the move of Nagbe inside, where he was given more time on the ball and more freedom to create. Now looking at a full season in the position, Nagbe will partner with Valeri to lead the charge while adding in some new wrinkles along the way.
"In this group, the front six, they've all been here," Porter said. "They know the way we want to play and they know their role. It's allowed me to go to that next layer of movement, combination play and some of those little finer details and nuances. I feel like that group has put in some really effective and attractive attacking actions together already. I'm excited about that.
"Darlington is a big piece. When we get Adi holding the ball and bringing into play Valeri and Nagbe, it's really difficult to manage. You mix that in with Asprilla and Melano, who bring pace and power on the wings, the five guys in particular create a lot of different dimensions and a lot of different threats that the opponent will have to solve. They're a big reason why we went nine games unbeaten at the end of the year. A big part of that were those dimensions: pace on the flanks and a lot of creativity from Nagbe and Valeri in that center channel."
With the team already clicking, Porter expects things to run a bit more smoothly at the start of the season. There will be no adjustment period, no kinks to work out. It will be about finding personal fitness and flow rather than finding your feet with a new group.
Despite the familiarity and successes of the past year, Porter doesn't see his group as complacent or satisfied. Instead, he sees a group that's hungry to return to the top from the opening kick of the MLS campaign.
"We've had some slow starts, but for me I'd rather have a strong end," Porter said. "The last few years we've had really strong ends of the season. That's the rhythm you want. The best teams have that. You don't want to be a team that starts well and fizzles out. You see that with some teams, but we want to be peaking at the end. We can pick up where we left off more because we have more continuity and stability in our starting XI.
"With this group, this is more continuity than ever. I've seen that and felt that with the group in preseason. I think we will start at a higher level than we have in years past."
PROJECTED LINEUP