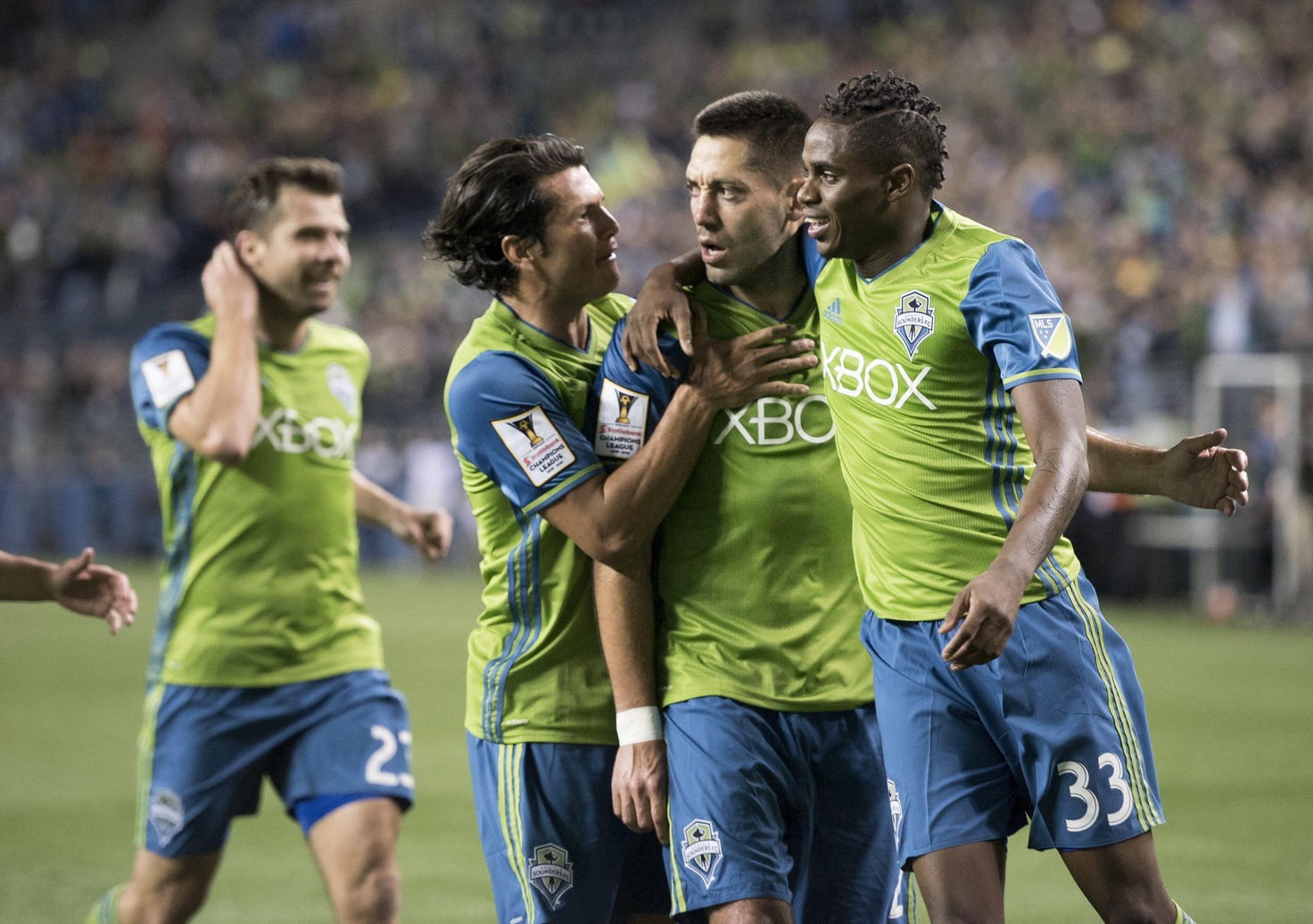 While one star forward came in, another went out, signaling an offseason of change for the Seattle Sounders.
The Jordan Morris era in Seattle has officially begun. The U.S. Men's National Team forward's rookie campaign is imminent as the Stanford product joins a team with plenty of talent. Led once again by Clint Dempsey, the Sounders add Morris to an attacking unit that includes veterans Nelson Valdez and Andreas Ivanschitz, who return for their first full seasons in MLS.
It was not an offseason without loss, though. Gone is star striker Obafemi Martins, who departs MLS with 40 goals in just 72 games played. While losing the Nigerian star certainly served as a body blow, the Sounders fully expect to fight their way to contention yet again.
"We believe in the guys that are here," general manager Garth Lagerwey said. "We were very, very close to advancing to the playoffs last year. Guys that went 15 games unbeaten at the end of last year. We talked in the offseason about getting younger and faster and I believe we've done that, and I believe you'll see it."
Here's a closer look at the 2016 Seattle Sounders:
SEATTLE SOUNDERS SEASON PREVIEW
2015 FINISH: 15-13-6, 51 points (4th in Western Conference)
KEY ACQUISITIONS: Jordan Morris, Michael Farfan, Joevin Jones, Tony Alfaro
KEY LOSSES: Obafemi Martins, Marco Pappa, Lamar Neagle, Andy Rose, Gonzalo Pineda, Leo Gonzalez, Chad Barrett
NEWCOMER TO WATCH: Jordan Morris. The Stanford product's role just got a bit bigger following the departure of Obafemi Martins. Morris has been deemed a potential star since earning his first U.S. Men's National Team call-up last year, and he will now be given every chance to make the leap straight into the starting lineup. A dynamic player with speed to burn, Morris can slot in either out wide or centrally while giving the Sounders an injection of youth alongside veterans Clint Dempsey and Nelson Valdez.
PRESSURE IS ON: Clint Dempsey. While Martins' departure opens the door for Morris to thrive, it also adds some pressure for the Sounders captain. Although the Sounders will look to replace Martins in a variety of ways, Dempsey's production will have to increase if the Sounders are to remain in contention for an MLS Cup. In addition, Dempsey's USMNT future has been anything but certain in recent months, making the first few months of the season vital for a player that still hopes to play a major role in this summer's Copa America.
OUTLOOK
The Seattle Sounders began a shift in personnel last season, and the club will be expecting its big-name additions to gel heading into the 2016 campaign.
Consistently among the Western Conference's elite, the Sounders have failed to get over the hump and into MLS Cup every year since joining the league in 2009. Additions like Nelson Valdez, Andreas Ivanschitz and Roman Torres were supposed to change that, as the Sounders reloaded in August with a trio of talented veteran pieces.
It didn't originally go as planned. Almost immediately, Torres was lost for the season due to a torn ACL. Valdez, who passed on offers from China this offseason, scored two goals in his eight total appearances, while Ivanschitz added two more in nine games. In the end, the Sounders crashed out of the playoffs prematurely to a rising FC Dallas team.
Torres will not return until July at the earliest, leaving a bit of a gap in the backline. Sounders head coach Sigi Schmid says Torres is in "phase two" of his rehab work and is slightly ahead of the initial schedule set for him. Valdez and Ivanschitz are now expected to play vital roles from day one as the Sounders look to strike a new balance following the departure of Obafemi Martins.
While Valdez and Ivanschitz provide leadership in the attack, rookie sensation Jordan Morris will provide plenty of excitement, both on and off the field. After starring at Stanford and throughout the U.S. Soccer system, Morris is set to step in and contribute to the Sounders alongside his veteran teammates.
"I think he's ready to play in the league. I thought he was ready to play in the league a year ago," Sounders head coach Sigi Schmid said in a press conference. "He made the decision to go back to university, which worked out well with him with an NCAA championship. He is what he is. He's a strong, powerful player. He's got good speed and he's the kind of guy that can stretch the opponents defense. He's a handful because he is stocky and hard to get around at times. He's a good hard worker, so he's a very good addition to our team.
"He's still a young player, and all young players are going to have ups and downs. We have to ride the downs and we also have to be there for the ups. The key with good players is that the valleys are short and then you're off to another plateau. I think that's the thing with Jordan. "
Morris is far from the Sounders only addition set to contribute. Michael Farfan steps in to provide depth in a midfield that lost Marco Pappa and Gonzalo Pineda, while fullback Joevin Jones joins the club and should contribute immediately.
Schmid says Jones brings plenty of pace and an ability to get forward and cause havoc from out wide. In addition, Schmid believes the former Chicago Fire fullback is a bit better defensively than many expect.
Jones is likely to step into a backline that returns plenty of talent despite the injury to Torres. Brad Evans and Chad Marshall return to anchor the central defense, while Tyrone Mears emerged as a top MLS fullback throughout the 2015 season.
"The communication side, guys are still getting to know each other," Schmid said. "Jordan hasn't trained with us all that much. Getting to know him, Joevin Jones has played a lot, but it's still more time with him in conjunction with the centerbacks and the conjunction with whoever is in front of him, whether it's Dempsey or Morris.
"The coordination in the midfield is a little bit better because this three have been able to train and play together this reason. You have to add Christian Roldan to that mix because he's shown that he can step in and we don't miss much of a beat when he steps in. The overall cohesion is pretty good."
While Schmid alluded to more minutes for Roldan, the second-year player will be pushing to break into a tough midfield group. Osvaldo Alonso is a player that Sounders say could be a DP or a TAM player, and the Cuban star expects to return to form following a bit of a down year last season. With Ivanschitz leading the attack, the third spot in the center of the field is likely to fall to veteran midfielder Erik Freiburg.
The midfield dynamic may change in the future. With Martins' departure, the Sounders have the resources to add to their already talented roster, and expect to do so as the club looks to remain among the league's elite.
"We're going to replace Oba. Maybe not position for position, or player for player," said general manager Gareth Lagerwey. "Some of the replacement is going to come from the group in terms of how we collectively play. I also think we're going to add some more talents. We have some roster and some salary cap flexibility to add some players. In a perfect world, I don't want three DP forward. I don't think we want that when arguably our best young player, Jordan Morris, is also a forward. We want to have some balance in our team. Those are some of the things we'll look at.
"The timing is not ideal. I think that's stating the obvious," Lagerwey added. "When you lose a player that's had such an impact on your club the last couple of years, that's not how you choose to do it, but it is what it is. You have to adjust. We have a lot of good players here. We feel good about our team."
PROJECTED LINEUP