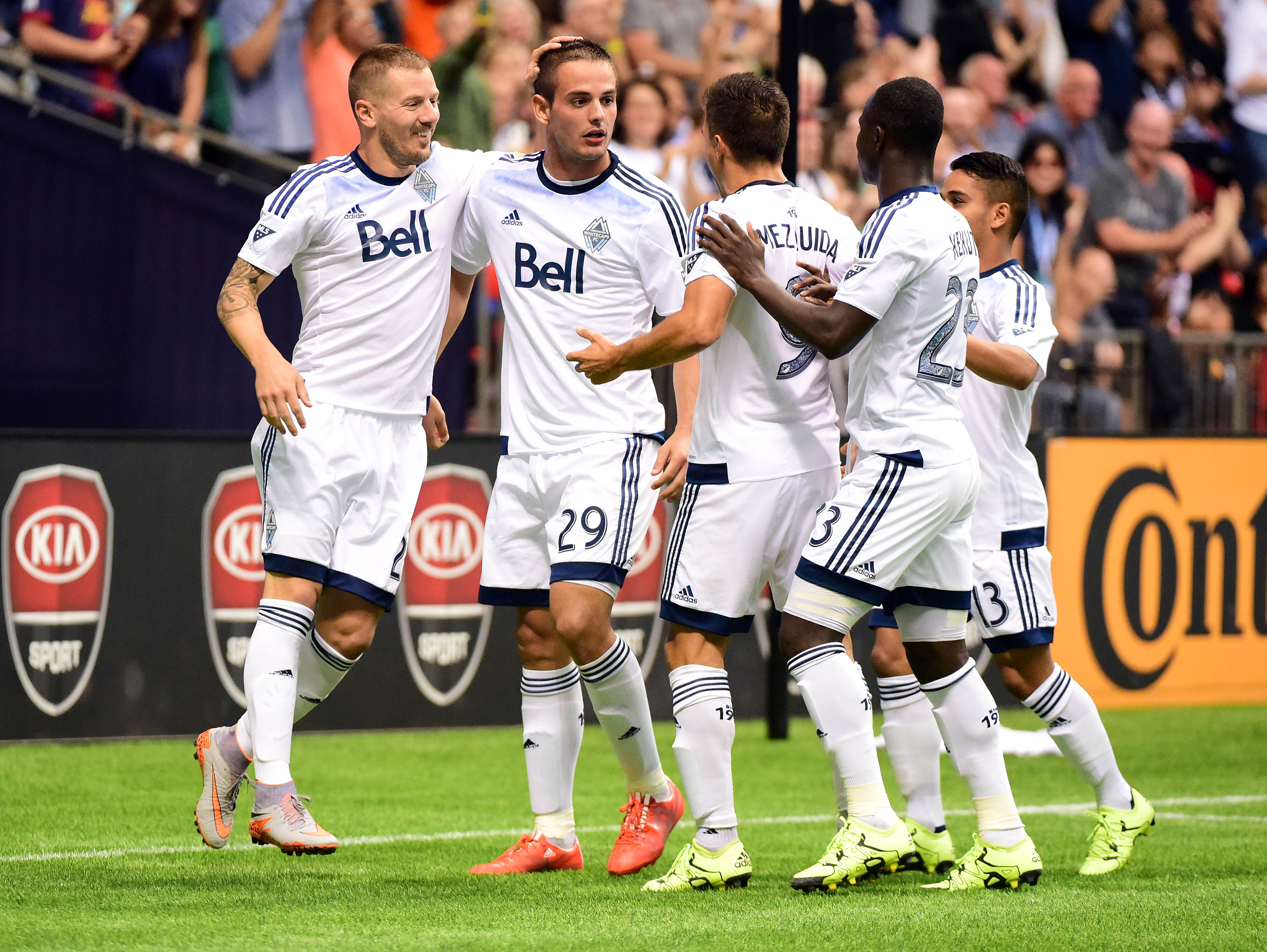 The Vancouver Whitecaps have proven to be a formidable foe in the Western Conference over the past two years, but their aim is to finally carry the team's regular season success into the playoffs.
The Whitecaps had a very strong campaign in 2015, as they finished second in the west ahead of the big-spending LA Galaxy and Seattle Sounders and eventual champion Portland Timbers. The Whitecaps hit a road block in the postseason, however, and were eliminated early for the second consecutive year.
Looking to prevent that from reoccurring this time around, the club has added a number of attack-minded pieces to its roster this offseason. Much of the occasionally-dynamic offense is still in place, but the belief from within is that the Whitecaps will be able to take things up a notch with their new reinforcements.
"We didn't score enough goals last year, so we tried to bring in players that we think can help us in the final third because that's what the game is about," Whitecaps head coach Carl Robinson told SBI. "The game is about scoring goals, and that's what people like to see without giving up what you've accomplished on the back-end of the pitch. The needs were to try and bring in more influential attacking players to help complement the group that we already have."
Combine that with the fact that several of the Whitecaps' young attackers are a year older and more mature, and the club might just have what it takes to finally get over the hump and make a deep run in the postseason.
Here's a closer look at the 2016 Vancouver Whitecaps:
VANCOUVER WHITECAPS SEASON PREVIEW
2015 FINISH: 16-13-5, 53 points (2nd in Western Conference)
KEY ACQUISITIONS: Christian Bolanos, Masato Kudo, Fraser Aird, Blas Perez
KEY LOSSES: Steven Beitashour, Mauro Rosales, Gershon Koffie, Robert Earnshaw
NEWCOMER TO WATCH: Christian Bolanos. The Costa Rican international brings another attacking weapon to an arsenal that is already well-equipped, but he brings the type of experience that not all the other options have. Bolanos does not have to be a difference-maker for the club, but rather a dependable veteran who can lead by example.
PRESSURE IS ON: Octavio Rivero. Scoring 10 goals in your first season in MLS is nothing to scoff at, but Rivero's inaugural campaign seemed to dominated by talk of his misses rather than his finishes. If the Whitecaps are to improve offensively, Rivero will need to be more reliable and do a better job of producing in front of goal.
OUTLOOK
Defensively, the Whitecaps appear to be in good shape once again. Starting right back Steven Beitashour may have been traded to Toronto FC, but has been replaced by a promising talent in Fraser Aird. The rest of the back line will consist of familiar faces, as David Ousted will continue to stand in goal while hulking centerback Kendall Waston leads and organizes the players around him for a third straight season.
The midfield should also be mostly the same as last year's. Matias Laba will be responsible for helping clean up things in front of the defense while the likes of Pedro Morales, Cristian Techera, Kekuta Manneh, and newcomer Bolanos help pull the offensive strings.
At forward, Rivero still seems to be the primary option in the preferred 4-2-3-1 formation. The Uruguayan could be replaced, however, with either Blas Perez or Masato Kudo should he continue to struggle to put away chances.
Some observers might look at all the names on the Whitecaps' squad and consider the overall group to be a bit too young and inexperienced to make a serious push for an MLS Cup. The Whitecaps do not see it that way, however, as they believe there is a good balance between promising talent that is maturing and grizzled veterans that can help provide guidance.
"Every team has their own philosophy, and we want to develop younger players," said Robinson. "We can't compete sometimes with the resources of other teams and we're not trying to. I understand that. My goal is to try and get as many Homegrown Players as I can through the program to be successful for a number of years, but without losing the will of wanting to win this year.
"We seriously want to compete this year. We know what our goals are – every team has the same goal of trying to go as far as they can in the competition – but we'll work on a daily basis to fill these young players with confidence and try to make them better individually. If they become better individually and collectively, then you're moving in the right direction."
The Whitecaps took a step in the right direction in 2015. They finished as runners-up in the regular season in the west a year after just sneaking into the playoffs, and their stingy defense was largely responsible for that after limiting opponents to a league-best 36 goals.
While that unit and much of the rest of the team was brought back in an effort to have continuity, other teams in the Western Conference reloaded so as to try and make up the lost ground. The Galaxy added European veterans like Ashley Cole and Nigel de Jong, Sporting Kansas City landed long-time MLS servants Justin Mapp and Brad Davis, and the Timbers bolstered their championship side by acquiring Ned Grabavoy, Zarek Valentin, and others.
All those moves should make the wild west even wilder, but the Whitecaps are up for the challenge of trying to outdo the nearby teams so as to finish near the top of the standings again.
"Our conference is tough, but it's better this way," Waston told SBI. "It's always nice to have rivals of a great level and that always make it competitive, because you always have to fight for something. That's the only way as a team and as an individual that you can grow."
Still, the Canadian club will not truly be satisfied with 2016 unless it makes a good run in the playoffs. The Whitecaps have shown that they can have success in the regular season, but have yet to demonstrate an ability to get it done when the lights are brighter and pressure is more intense. In fact, they got painfully shut out in their season-ending series vs. the rival Timbers a year ago.
This upcoming campaign represents an opportunity to put an end to that once and for all, and the Whitecaps believe they have the pieces in place to do so, no matter how youthful some of them may be.
"We're not trying to get a shortcut to success. We want to try and build here," said Robinson. "Numerous (media) outlets have said that we have too many young players. Well, I don't buy that because we're trying to build here not just for one year, but for 3-5 years. The plan is to try and be successful in MLS for a number of years.
"It's not easy, but you've got to start somewhere, and we think we've given ourselves a good base and good platform without losing the objective of trying to win."
PROJECTED LINEUP