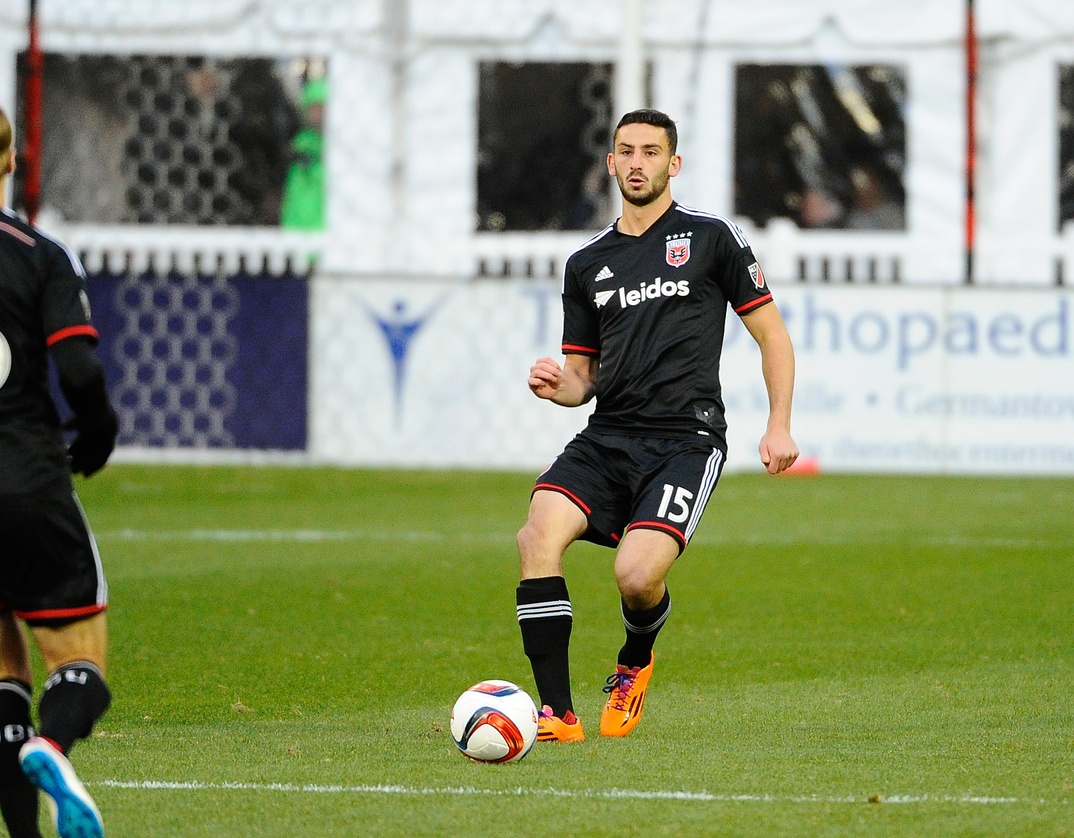 Following a goal-scoring performance with the U.S. Men's National Team, Steve Birnbaum enters the 2016 season with a bit of momentum. The D.C. United centerback is now looking to utilize that momentum to become a better player and leader on both the club and international stage.
A January camp call-in for the second straight season, Birnbaum made the most of his USMNT opportunities to start 2016. The 25-year-old centerback kickstarted the campaign with a last-minute game-winning goal against Iceland before earning his third international cap against Canada in the camp finale. The goal, in particular, was a dream come true. With friends and family scattered throughout the StubHub center, the California native's headed finish led his team to victory while giving Birnbaum's loved ones a chance to see his first international goal.
Birnbaum says the whole USMNT experience gave him a major jumpstart into preseason. Even before an MLS ball is kicked, Birnbaum feels like he is "flying" as he gets set to begin what he believes will be a big year in terms of his development as a person and player.
"I think my mentality was just a little bit different," Birnbaum told SBI. "I had been there before, so I knew what to expect. I think I just tried to be more vocal and more of a leader. I'm not a younger guy there. There were a bunch of younger guys. I didn't feel like it was my first time, because it wasn't. I felt good and the same goes with D.C. It's my third year, so I'm trying to take a little more of a leadership role and I think that translated into my game.
"You always have to thrive on momentum. I have some going right now, but I just want to do the best that I can to help our team in D.C. That's what means the most to me. All of the other stuff comes second. I'm excited for the year to come and what our team could do."
While with the USMNT, Birnbaum was given another unique opportunity to get ahead of the game with his preseason fitness while also picking the brain of some of the USMNT's most respected players.
Physically, Birnbaum was looking to improve his one-on-one defending, while also furthering his game with the ball at his feet. As a player looking to make the jump into the league's elite centerback pool, Birnbaum knows that limiting mistakes is vital if he is going to continue his growth into a consistent USMNT call-up.
But, more importantly, Birnbaum says this season is about developing as a leader for both club and country. While with the U.S., the D.C. United centerback sought out veterans Michael Bradley and Matt Besler, who pulled him aside on certain occasions to offer tips and tricks on being a better defender and commander of the back line.
Following an offseason of changes, D.C. United could sure use Birnbaum's leadership abilities. The club's longest-tenured player, Chris Pontius, has moved to the Philadelphia Union. Midfield veteran Davy Arnaud's status remains up in the air due to a concussion issue, while Perry Kitchen has left the club.
With those losses in mind, Birnbaum knows D.C. United head coach Ben Olsen expects him to step up in a major way in his third MLS season.
"I think it's good for me and the team," Birnbaum said. "We have Bobby Boswell there, who is obviously our captain and a big-time leader. I've taken things from his game and tried to apply them to mine, but I'm trying to be just as big of a voice back there, and I think I've done that this preseason and in the first game and hopefully that can continue for the rest of the year. I'm 25-years-old. I'm not a spring-chicken any more."
"Just keep growing. He doesn't need to rush anything right now," Olsen told SBI. "He doesn't need to do anything different. He just has to continue to have high concentration, work on his distribution out of the back, continue being a force on set pieces and increase his role from a leadership standpoint. He's a young guy, but he's got real leadership qualities. I've asked him to start to increase his voice in this team."
Birnbaum still feels he has a lot to prove, for both club and country. The 2015 season was not always easy, as the centerback felt his play was limited by injuries. Birnbaum missed two months in 2015 with an ankle injury, limiting his time on the field while halting any momentum generated from a breakout rookie year.
In the aftermath of a successful January camp that included a dream goal in front of his family and friends, Birnbaum is expecting to rebuild some of that momentum while helping to keep D.C. United among the league's top teams.
"I don't think it should be anything short of an MLS Cup. That's always the goal," Birnbaum said. "We're looking at getting to the playoffs first, and that's the biggest step. Winning is the biggest thing no matter what. If we're winning, other things will come. That's all I'm focused on. I don't want to let any goals in. The less goals we have against us, we're better off.
"That keeps me going, confidence-wise, and that will keep me on my toes for the whole season I think. No matter what game it is, no matter what situation, I think I'll be ready."