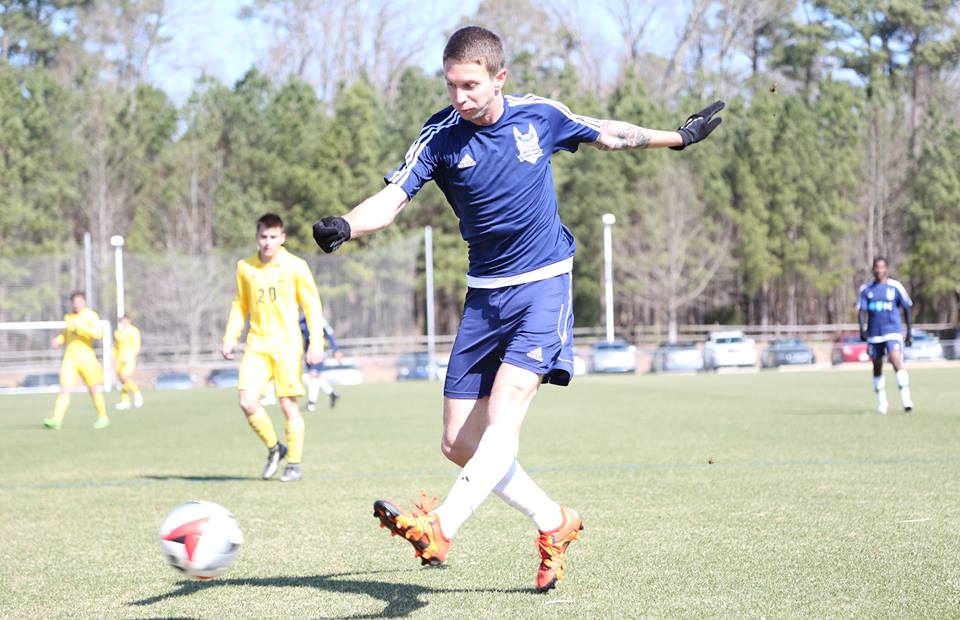 The Carolina RailHawks will celebrate their 10th year as a club in 2016, and ambitions are high despite numerous changes to the roster from a season ago.
The RailHawks were unable to reach the postseason in 2015, and the club's top goal-scorer in Javier "Nacho" Novo is now gone ahead of the 2016 Spring Season.
Yet, head coach Colin Clarke has assembled veterans of the league, including a few former NASL Best XI selections, alongside stalwarts like defender Connor Tobin and Tiyi Shipalane in order to qualify for postseason soccer in the NASL for the first time.
"It's consistency," Colin told SBI when asked about the final hurdle needed to reach the playoffs. "Depth-wise we're better. We have a better group coming together, and (it comes down to) some of those things that you can't quantify. You look at the likes of Leicester right now, what is it that Leicester has got that other teams haven't, and it's finding that magic ingredient that breeds confidence.
"We need to start off in a positive way and have belief and confidence in each other, trust in each other, and all of those little details that make a difference to win a championship. So we feel we are moving definitely in the right direction. We've got a great squad, a positive squad, and we can't wait for the season to start."
Here's a closer look at the 2016 RailHawks:
2016 CAROLINA RAILHAWKS PREVIEW
2015 FINISH: Overall – 9-8-13, 35 points (6th in Combined Standings); Spring Season – 3-5-2, 14 points (3rd in Spring Season); Fall Season – 6-3-11, 21 points (7th in Fall Season)

HEAD COACH: Colin Clarke, fifth season

KEY ACQUISITIONS: Brian Shriver, Aly Alberto Hassan, James Marcelin, Steven Miller, Kareem Moses, Drew Beckie, Paul Black, Marvin Ceballos, Billy Schuler, Matt Watson, Simon Mensing
KEY LOSSES: Neil Hlavaty, Jamie Dell, Chris Nurse, Hunter Gilstrap, Simone Bracalello, Austen King, Jack Coleman, Gabriel Da Silva, Mamadee Nyepon, Bradlee Baladez, Javier "Nacho" Novo
NEWCOMER TO WATCH: Brian Shriver. The last time the 28-year-old American forward suited up for the RailHawks he scored 15 goals while leading the club to the most overall points across both Spring and Fall Seasons. He wasn't able to find that same form in the past two seasons with the Tampa Bay Rowdies, but the RailHawks will be hoping his return to North Carolina reignites his superb goal-scoring capabilities.
PRESSURE IS ON: Connor Tobin. The defender played the most minutes for the RailHawks last year, but he could not prevent his club from conceding the most goals (39) among all teams during the Fall Season. Clarke and the RailHawks have brought in a many new faces in order to bolster the back line ahead of the 2016 Spring Season, and Tobin's spot could be in jeopardy if performances do not improve.
OUTLOOK
The RailHawks' best season in history came in 2013, and the 2013 NASL Golden Boot winner was a major reason why they were so successful. Fast forward to 2016, Clarke has re-signed forward Shriver in the hopes that he will help lead the North Carolina club to yet another highly successful season.
"He was very successful when he was here," Colin said. "He's a player we rated very highly, and we were obviously disappointed that he went to Tampa, but we understood the reasons, and it's great that he's back with us."
The RailHawks most recently used Shriver as the lone striker in a 4-2-3-1 formation. Including a potential 4-4-2 formation with Billy Schuler as a second striker, there are many options available to Colin, who thinks this squad is one of the deepest he has ever had.
"(The 4-2-3-1) is something we've been working on, but we also feel we have options," Clarke said. "We're able to change things because with our depth, there's different ways that we can play people. Having that ability to be flexible is important to us."
Tiyi Shipalane, arguably the RailHawks' best player in 2015, returns to Clarke's roster, and will be expected to contribute and combine with Shriver. Shipalane, who scored seven goals and provided nine assists in 2015, has the ability to beat defenders one-v-one in the final third, and should prove to be a superb attacking companion to Shriver.
Shipalane, who came off the bench for the RailHawks in Saturday's preseason game vs. Mexican club Toluca, has been dealing with flu symptoms recently. While Shipalane should recover in time to start in Saturday's meeting with Minnesota United FC at WakeMed Stadium, Colin was more than pleased with how other players stepped up.
Marvin Ceballos and James Marcelin, who will play as the defensive midfielder for this RailHawks side, are two notable offseason signings. Ceballos should offer a creative spark, while the 2015 NASL Best XI selection will undoubtedly boost and bolster a defense Colin hopes performs much better this year.
"We weren't happy with last year, conceding a lot of goals," Colin said. "In a lot of ways, that's down to defenders, but it's also about the group in front as well. You don't defend with just four and you don't attack with four. It's a group effort. We feel we've added a little bit of steel not only in defenders, but in central midfielders as well — a little bit of protection in front."
Kupono Low, a key part of the RailHawks' spine in recent years, re-signed in the offseason and could factor into Clarke's back line once again in 2016. Low, who holds the all-time record for most appearances for the club, started 22 matches last year.
Yet, Clarke is likely to use captain Tobin and offseason addition Drew Beckie, who appeared in 15 games for Soccer Bowl runner-up Ottawa Fury FC in 2015, to start the season. Mensing is another defender who is more than capable of creating a stronger back line for the RailHawks this season.
Brian Sylvestre, who spent most of 2016 with on loan with the Philadelphia Union in MLS, and Akira Fitzgerald will battle for the No. 1 spot in the Spring Season.
That battle for a starting spot is just one of many on a RailHawks roster with players more than capable of competing in the NASL.
"We've added quite a few players, but I think the biggest change for us, and the most important, was getting a new ownership, a focused direction of where this team, where this club is going," Colin said. "That has enabled us to have a new investment.
"When we turn around and look at our bench, we've got a lot of good players that at any given day may not be playing, so it's a very competitive situation, which is what you need in this league."
PROJECTED LINEUP
—————Shriver—————
Shipalane—Ceballos—da Luz
——–Perez—-Marcelin——–
Moses–Beckie–Tobin–Black
————Fitzgerald————