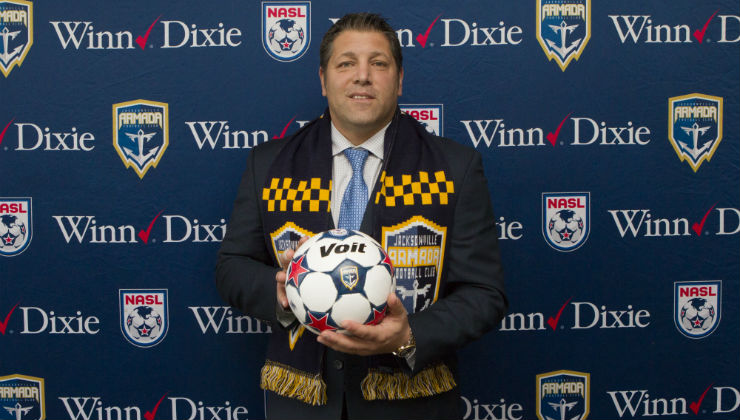 After an extremely disappointing inaugural season, Jacksonville Armada FC is in the middle of a complete transformation.
Owner and President Mark Frisch dismissed general manager Dario Sala, head coach Guillermo Hoyos, and a slew of other technical staff members in an attempt to wipe the slate clean after the team finished dead last in 2015. Frisch brought in former USMNT goalkeeper Tony Meola to take over as head coach and technical director, and a new team began to take shape.
The club has had an extreme roster turnover in the off-season, with Meola electing to bring in several new faces from around American soccer and abroad. Proven NASL and USL stars have come in to bolster the Armada alongside experienced Finnish midfielder Pekka Lagerblom.
"I'm not sure I've made it my own just yet," Meola told SBI. "We'll see when games start what the group looks like and how we'll perform."
"We were in last place, so you would've been kind of foolish to think everything was going to stay the same," Meola added. "Now we've gotten to a point where there won't be very many changes, and we'll move forward from here."
Here's a closer look at the 2016 Jacksonville Armada:
2016 JACKSONVILLE ARMADA SEASON PREVIEW
2015 FINISH: Overall – 8-7-15, 31 points (11th in Combined Standings); Spring Season – 3-3-4, 12 points (6th in Spring Season); Fall Season – 5-4-11, 19 points (11th in Fall Season)
HEAD COACH: Tony Meola, First Season
KEY ACQUISITIONS: Pekka Lagerbloom, Richie Ryan, Matt Fondy, Bryan Burke, Junior Sandoval, Charles Eloundou
KEY LOSSES: Jaime Castrillon, Akeil Barrett, Lucas Trejo, Fabricio Ortiz, Marcos Flores, Bochy Hoyos, Lucas Rodriguez
NEWCOMER TO WATCH: Pekka Lagerblom. This versatile, experienced European midfielder arrives with high expectations to raise the Armada out of their mediocrity. Lagerblom started his career off on a high, scoring 13 goals in 55 appearances for Finnish club FC Lahti. That earned him a move to Werder Bremen, and the midfielder spent eight years jumping clubs in Germany. Armada fans will hope the link-up play and vision of Lagerblom can provide opportunities for their talented wingers and strikers to succeed.
PRESSURE IS ON: Matt Fondy. The goal scoring prowess of this American striker has been extremely stop-and-start. Fondy scored just twice in his first professional season in the USL Pro before moving to the LA Blues and tallying 14 goals in just 29 appearances. That explosion of goals earned Fondy a move to MLS, but he never scored in 16 appearances between Chivas USA and the Chicago Fire. But in 2015, the striker set a USL record by scoring 22 goals for Louisville City. Fondy arrives in Jacksonville with pressure to perform, because Coach Meola has options up front with Charles Eloundou and Alhassane Keita also available.
OUTLOOK
The Armada were a successful club off the field in their first season of existence, with the third highest overall attendance in the NASL. But a lack of identity and concentration on-field would see the team end 2015 in last place, letting down the new populous of fans.
In selecting Meola to steer the ship, the Armada ownership has given an American soccer legend a chance to kickstart his professional coaching career and turn the club and its players around. And in the buildup for his first season, Meola has focused on doing just that.
"We worked early on just on the attitude of the group," Meola told SBI. "We took over a team that was in last place last year, and it was important for us to make them believe that they can play, to make them believe in themselves, and to give them some freedom on the field and with the ball. I think that part of it they're really starting to grasp."
Although the rebuild of the Armada was much needed, they did lose some talent in the recent overhaul. Jaime Castrillon and Akeil Barrett are both moving on after contributing in big ways for the club in 2015. Attacking options have been added, though, in the form of last year's USL Golden Boot winner Matt Fondy, and former Colorado Rapid Charles Eloundou.
Fondy had the season of his life last year with Louisville City, scoring 22 goals and becoming an instant club legend. Eloundou, a 21-year-old Cameroonian, is an exciting prospect that will hope to finally bloom this year after scoring three goals in pre-season. One of these forwards will need to hit form alongside the talented Alhassane Keita if the Armada are to compete in 2016.
Talent is always necessary to succeed, but Meola has kept repeating two other words in this rebuild: attitude and mentality. Those factors were a vital component in reshaping his roster, and also in choosing veteran Richie Ryan as team captain.
"We sat down with the technical staff and it was pretty unanimous," Meola said. "He's such a great leader for the guys. He's been here before, he's been through it, and he'll do a good job for us."
Down the stretch, Ryan will partner with Lagerblom in central midfield to work as the engines of this new team, leading by example both on and off the field as Meola tries to start a winning tradition in Jacksonville. However, young guns will be tested to start out the year as the Finnish veteran will be injured to start the season.
"Pekka's obviously a very good player, but now we're just waiting for him to get back," Meola said. "He's probably got another month and a half before he's on the field.
"He's a quality player and an outstanding human being, he has been nothing short of professional and class. That was really what we wanted to bring in, was guys with good character, guys that knew how to be a pro."
While Lagerblom recovers, expect Junior Sandoval to take his place in the center of the park. The Honduran attacking midfielder was a success with the Atlanta Silverbacks in 2014 before spending last season in Colombia's top flight, and now returns to NASL with the chance to shine with the Armada.
Bringing in Sandoval, as well as the two strong options up front, adds some much needed depth to a team that lacked it in 2015.
"We had to get deeper," Meola said. "One of the things I heard when I got here was that when there was a red card, when there were international call-ups, anytime those periods came in we were really depleted.
"We've spoken about the long haul here, and we talked about playing in November and thats the goal. Slowly but surely we're getting there, and we'll just keep plugging away."
PROJECTED LINEUP
—————Keita————Fondy——————
—Millien—Ryan—Sandoval—Scaglia—
——Burke–Bahner–Jerome—Nicklaw——
————————-Gallardo—————————