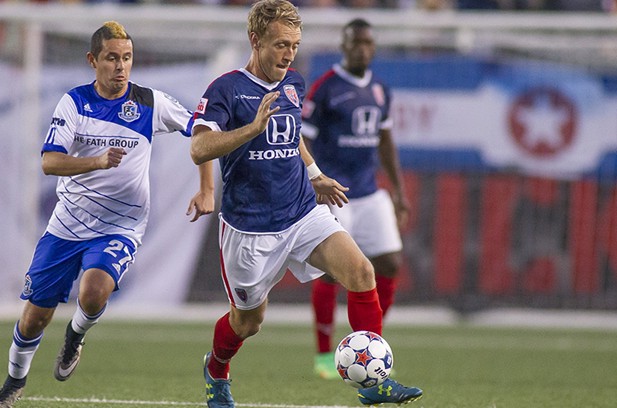 With a new coach and a very new look, Indy Eleven is hoping to finally make the leap into the NASL's elite in their third season.
Last year, the second of the club's history, was a disappointment. After holding steady through the Spring Season, head coach Juergen Sommer was fired in June before the club limped through the Fall campaign. Under interim boss Tim Regan, the Eleven finished ninth in the Fall Season, signaling a second straight year without postseason soccer.
Regan returns to the staff in an assistant capacity, as former Tampa Bay Mutiny, Colorado Rapids and San Antonio Scorpions coach Tim Hankinson has been handed the reigns for the Eleven. His first task: Rebuilding and retooling a roster from the ground up.
Gone are several players integral to the club's first few seasons. In their place, Hankinson adds experience from a variety of places, including familiar faces like Jon Busch, Lovel Palmer and Gorka Larrea.
"We sat down upon first getting together and basically gutted what appeared to be the starting lineup from last year," Hankinson told SBI. "We feel that the performance of the international players was not at the level we needed, and we needed to create international slots and cap room and set course to really replace the starting lineup with a better quality group of players, and I think we've accomplished that.
"We believe in the signings we've made and the experience that many of our new players bring. From that standpoint, we're excited about the potential of the group.
Here's a closer look at the 2016 Indy Eleven:
2016 INDY ELEVEN SEASON PREVIEW
2015 FINISH: Overall – 8-13-9, 33 points (8th in Combined Standings); Spring Season – 3-3-4, 13 points (5th in Spring Season); Fall Season – 5-10-5, 20 points (9th in Fall Season)
HEAD COACH: Tim Hankinson, first season
KEY ACQUISITIONS: Jon Busch, Gorka Larrea, Lovel Palmer, Sinisa Ubiparipovic
KEY LOSSES: Kristian Nicht, Kleberson, Sergio Pena, Dane Richards
NEWCOMER TO WATCH: Gorka Larrea. The former Levante, Real Sociedad and Montreal Impact midfielder is expected to slot straight into a deep-lying role. Larrea will be expected to sit in front of the back four and help control the pace of the game, where his passing ability could prove key to Indy Eleven's attacks from the back.
PRESSURE IS ON: Jon Busch. Following the departure of Kristian Nicht, Indy Eleven secured a major signing in longtime veteran Busch. The former MLS Goalkeeper of the Year has always been seen as a good organizer out of the back, but with a new-look defense in front of him, his leadership and expertise will be paramount in gluing together the team's defense to start the season.
OUTLOOK
Hankinson puts it quite bluntly: his first few months in charge of Indy Eleven have been less than ideal. However, with a difficult preseason now in the rearview mirror, Hankinson is ready to move forward with a new, yet familiar, spine.
The coach's first preseason in charge of Indy Eleven was one highlighted by setbacks. Due to poor weather, the club was forced to open training later than expected, and traveled to Arizona for preseason at less than full fitness. While there, the team suffered several injuries, as Jamiacan stars Stephen DeRoux and Dino Williams were each forced into surgery.
Hankinson, who has previously coached in the league with the Scorpions, is confident the group is healthy to start the season on the right foot. Leading the charge from the back will be veteran goalkeeper Busch, who joins the Eleven after 14 years in MLS. As the 2008 MLS Goalkeeper of the Year, Busch brings instant leadership to a back line reconstructed with new faces. Among those new faces is former Chicago Fire fullback Lovel Palmer, who is expected to take his spot on the left of the back line.
A player in particular Hankinson has been impressed with is forward Eamon Zayed. The Libyan international joins the club after spending a majority of his career in his birth country of Ireland while also making recent stops in Iran and Malaysia. With Zayed leading the charge in Hankinson's preferred, 4-2-3-1 formation, the head coach believes he has an attacking unit that can cause problems for teams throughout the NASL.
"One that's one of a few names in the league that will surprise people is Eamon Zayed," Haninson said. "He's an Irish and Libyan international. He played for Ireland for the U-21s, but one of his parents is Libyan, so he's played in the African Cup of Nations for his country. I've been watching him for three years, following him and watching him with a very good goal-to-game ratio wherever he has been. I think we're going to see some goals from him this year.
"Everyone looks at a system like a 4-2-3-1 as only having one striker. Really, depending on the personnel, you utilize more. All three of those players have the potential to be goalscorers. Instead of playing one striker, we're playing four."
While familiar faces like Dragan Stojkov and Brad Ring return to hold down positions in the midfield, Hankinson sees a trio of players plucked from Ottawa Fury FC as key to constructing his team's shape.
Helping to anchor the spine of Hankinson's new-look Eleven are a trio of players that helped Fury FC reach the NASL final last season in Sinisa Ubiparipovic, Colin Falvey and Nicki Paterson.
"We brought in two centerbacks, if we talk about the spine of the team, in (Nemanja) Vukavic and Colin Falvey," Hankinson said. "Colin has been successful wherever he's been, whether it's captaining Charleston Battery or playing in the India Super League or with Ottawa. Vukavic has some MLS experience with Columbus (Crew) and helped them win a championship in the first year under Preki with Sacramento. We're very pleased about that.
"There's another Ottawa player, as we go up the spine, in Nicki Paterson, who played in Charleston with Colin as well as in Ottawa. Sinisa is also from Ottawa, a playmaker. Through the middle, you have some new players, but players that are familiar with each other. That's been very important for us."
While a majority of Indy Eleven's additions provide experienced, veteran talent, Hankinson is expecting one player to make a major leap in 2016.
The head coach said 22-year-old winger Duke LaCroix has emerged as a standout this preseason. Having played plenty of minutes ahead of the start of the spring, LaCroix has proven to be a player that Haninson believes "can force the hand of defenders" as he continues to develop.
"I think most of it is taking players on," Hankinson said. "He's got that dimension over some of our other attacking options. We have pretty good players that are able to play in combination, but Duke's individual quickness is something that some of the other players don't bring. I would like him to stay hungry and take risks and also know when to let go of the attack and know what his defensive responsibilities are. There's a two-way player there."
With his roster assembled and preseason nearly done, Hankinson is ready to leap into his first season in charge. Following two disappointing seasons for the club, Hankinson is looking to become the man to finally lead Indy Eleven to success.
"This has been the highest attended team the last two years. Yet, the finishes have typically been in the bottom four," Hankinson said. "I think it's a realistic goal to say that, if this group gels, we should be able to build over the Spring and Fall to be in the top 4. If you're in the top 4, you're in the playoffs and you get a chance to play for the championship. Being able to get off the bottom and start to move towards the top is certainly very realistic for us."
PROJECTED LINEUP
—————–Busch—————–
Franco–Vukovic–Falvey–Palmer
————Larrea—Ring————-
Stojkov——Ubiparipovic——Lacroix
——————-Zayed——————-