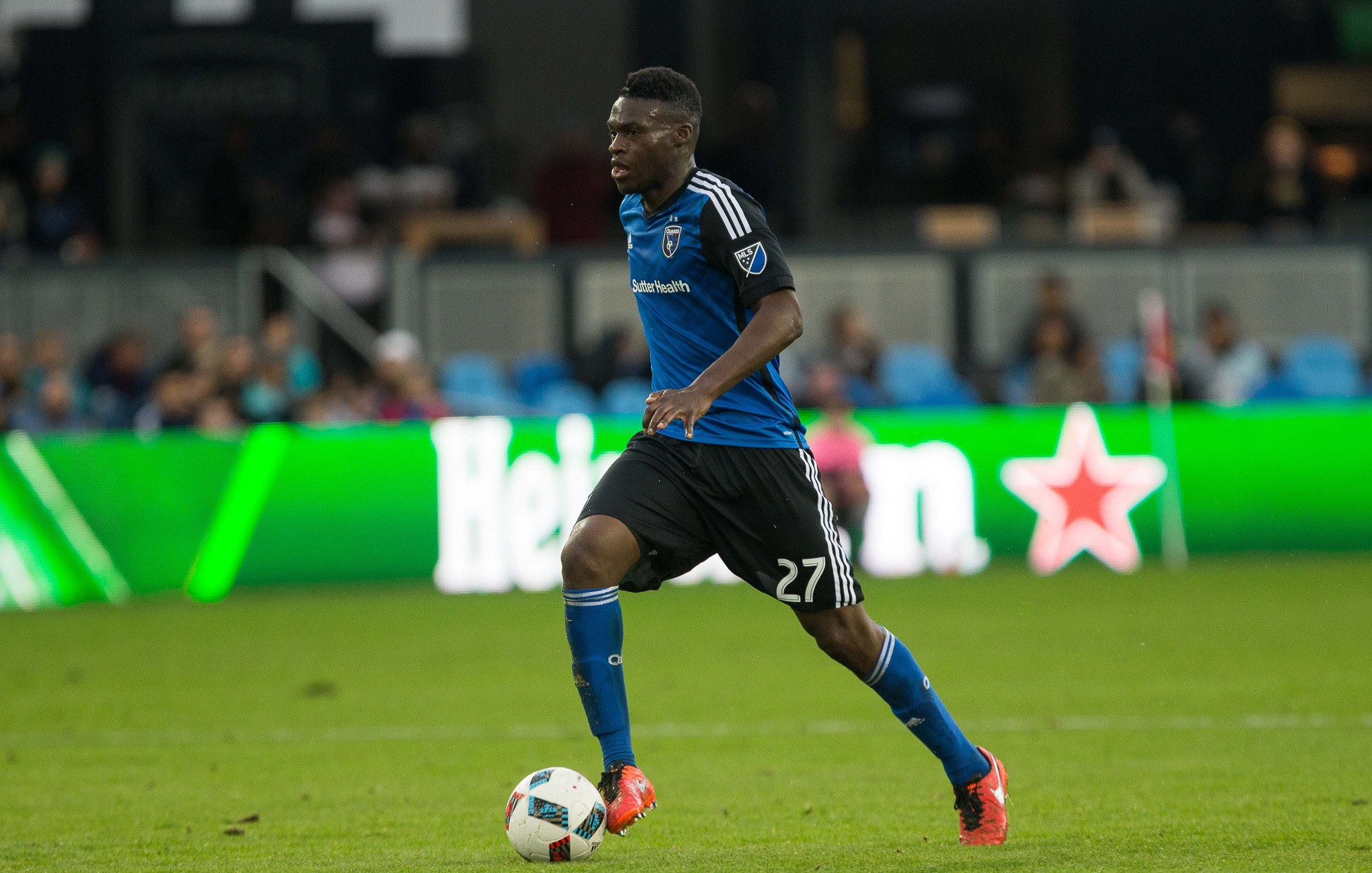 For Fatai Alashe, it was a chance at a dream come true. A call-up to this January's annual U.S. Men's National Team camp, Alashe was going to have the opportunity to represent his country at the highest level. An injury and subsequent surgery derailed that dream, at least for the time being, but Alashe has another goal on the horizon: to help his country qualify for the Olympic games.
Alashe is projected to once again play a key role for the U.S. Under-23 Men's National Team, which faltered in qualifying to create a two-legged face-off with Colombia for a spot in this summer's tournament. The midfielder made three appearances for the U.S. in the run through the CONCACAF qualifying tournament, including a start in the team's final victory over Canada to lock up the playoff berth.
The San Jose Earthquakes midfielder made his return from a January hernia surgery last weekend with a 71-minute effort against the Portland Timbers. Following an offseason of frustration and disappointment, last week's first step towards reclaiming his spot was a positive one for a player looking to thrive for both club and country in 2016.
"Hopefully, you get the opportunity to represent the U.S. in a game like that. A lot is riding on those two games," Alashe told SBI, "and it's something that will be a lot of fun for the guys who get to participate in it. You don't get many better opportunities where it's all on the line. Getting to play against a good team in Colombia, home and away, it will be a lot of fun for all of the guys involved. Hopefully, we can get the job done and head to the Olympics.
"The main thing now is just getting my fitness back," he added. "It's tough when you miss the preseason and jump in right as the season starts. It's tough to have that fitness and obviously this is a pretty taxing league. Every game takes a lot out of you. Hopefully, over the next few weeks, the main thing for me is just to build that fitness to get to the point where I can play 90 minutes at a high pace. For me, that's the only thing that I'm really focused on: just every week, trying to get better and better. If it's doing stuff on the side to getting better fitness, then that's what I need to do."
For Alashe, a spell on the sidelines was not all doom and gloom. Given the chance to watch his club prepare from afar, Alashe studied the play of teammate Anibal Godoy throughout the first few weeks of training. Calling Godoy one of the most underrated players in MLS, Alashe has already found new wrinkles from the Panamanian's game that he hopes to implement into his own.
Still, Alashe admits it was a difficult period for him, given everything he was set to miss. Although he was dealing with a nagging injury throughout the end of the 2015 season, Alashe was hoping to avoid surgery in an effort to miss as little time as possible with both the U.S. and the Earthquakes.
Unfortunately for the 22-year-old midfielder, the surgery cost him a call-up to the senior team, something Alashe has come to accept several months later
"It was tough," Alashe said. "Obviously, that would be a dream come true, getting the opportunity to play with your national team, but I think that's something that you just have to stay positive about if you can continue working hard. It helped me to refocus a little bit and just concentrate on our season at hand. If things go well for us and I have a good season and I play well, that's something that can come up next year again. Maybe I'll get invited to the next January camp.
"You never know what will happen down the line, but there are other camps that you may have the opportunity to be a part of. It's something that was pretty tough at the time, but I just had to stay positive and tell myself not to worthy about it so I could focus on getting healthy and being able to play."
Now healthy, Alashe understands that he is jumping back into a U-23 picture that remains crowded. Competing with players like Wil Trapp, Matt Polster, Emerson Hyndman, Gedion Zelalem and several others, Alashe plays in a central midfield position that is likely the team's deepest spot.
Having missed the chance to train with his teammates in January, Alashe knows that he is going to have to re-establish himself with the group by performing in these next several weeks. If he can do that, Alashe will be given a chance at achieving something special: the chance to guide his team to, and hopefully play in, the Olympic games.
"When you're not playing well, there's someone itching to have your spot," Alashe said. "That's one thing that's pretty normal as a whole. You know that there are tons of other players that are dying to play for the national team, so if you're not getting the job done at a certain point, there are other guys waiting to take your spot.
"I think I just want to improve on last year. There's a lot on sophomore slumps and stuff like that, and that's something that you don't want to be a part of, obviously. I think, the biggest thing, is to continue improving. Last year, everything went well, but there's still a lot more out there that I can achieve personally and that we can achieve as a team. That's the biggest focus: just every day trying to learn as much as possible and to be better. I still have a long way to go, so I'm hoping I can take another stride towards those end goals this year."