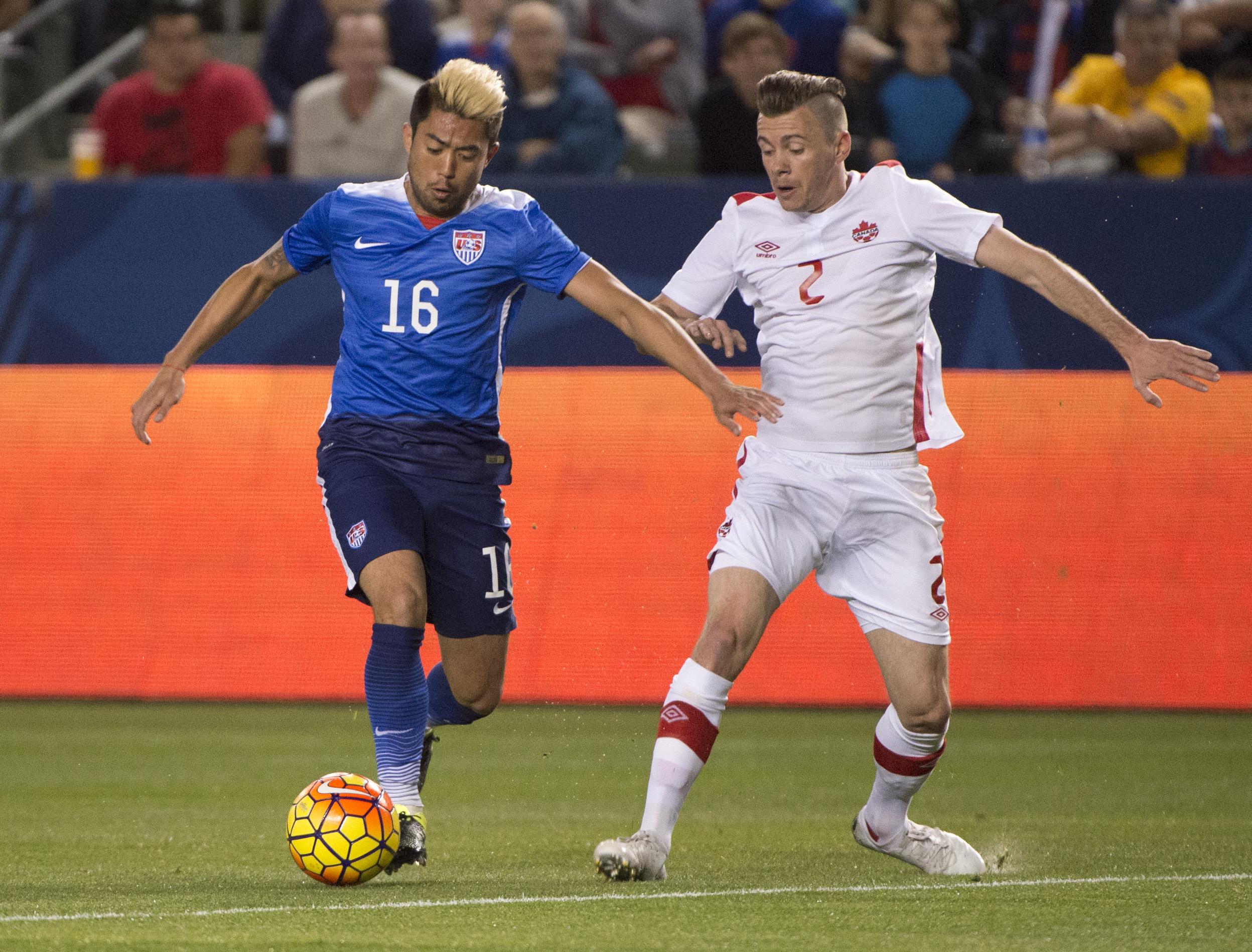 Nik Ledgerwood is a distinguished Canadian international with 12 years of European experience, so when he opted to sign with FC Edmonton, it was greeted with significant fanfare.
Ledgerwood, an Alberta native, was eager to return to his home province to help boost the Eddies' profile, NASL and Canadian soccer in general.
"I've always wanted to play in Canada, when I left it wasn't a huge opportunity here," Ledgerwood told NASL's official website after signing with Edmonton.
"I still have enough time left in my career and I'm healthy and fit and feel I can give back something to the game. Being close to my family and where I grew up is important … I want to help Canada Soccer move forward and I hope I can be a part of that as a player and later on as something else."
Head coach Colin Miller is very familiar with Ledgerwood thanks to his roles with the Canadian national team as an assistant and interim coach. He was ecstatic when the midfielder officially joined the club.
"I'm delighted that Nik signed with us," Miller told SBI in a phone interview. "He's a local guy, it is a big signing for the club, and he's so excited to get started with his FC Edmonton career, as we all are. I'm really keen to see how he does with us."
Miller stated that Ledgerwood will be a central midfielder with Edmonton, but he has been deployed as a full back and a right winger with Canada, so there are a few other options if necessary.
Ledgerwood's pedigree and tactical nuance speaks volumes about his ability, but his attitude was what resonated with his new coach.
"He's a fabulous guy, a very good pro," said Miller. "He's a good ambassador for the club, and for our young players. Not just the ones coming through the first team, but also the ones in the academy."
A strong work ethic is always crucial when taking on a leadership role. That is a major reason why Ledgerwood stayed in Europe for more than a decade. It's never easy for a player to settle in abroad, let alone a Canadian, so he can nurture the younger players and provide valuable advice.
It's evident that Edmonton has strong playoff aspirations based on the experienced players that it signed during the offseason. Defender Adam Eckersley is a former Manchester United youth product and centre back Pape Diakite arrived from Royal Antwerp in Belgium. Diakite is only 23 years old, but he still brings a few years of experience from abroad.
However, no signing is bigger than Ledgerwood's. He will instantly be a fan favorite not only for his residency, but for his eagerness. He's clearly returned to Canada to lay the foundation for future success with Edmonton.
Edmonton's academy has developed a strong reputation for developing quality youngsters. The team was only founded in 2010, which is why it's so impressive to see the club producing a few Canadian youth internationals. Shamit Shome being the latest example.
However, as well-run a club as Edmonton is, it has to start winning games and challenging for the Soccer Bowl. Otherwise, the buzz around the city will be at a minimum, even if the team continues to churn out talented Canadian players.
The addition of Ledgerwood will surely lead to the playoffs. He bolsters what was already a strong midfield for Edmonton, but the ex-Energie Cottbus man could also be the catalyst to a brighter future for the team, the NASL and Canadian soccer as a whole.