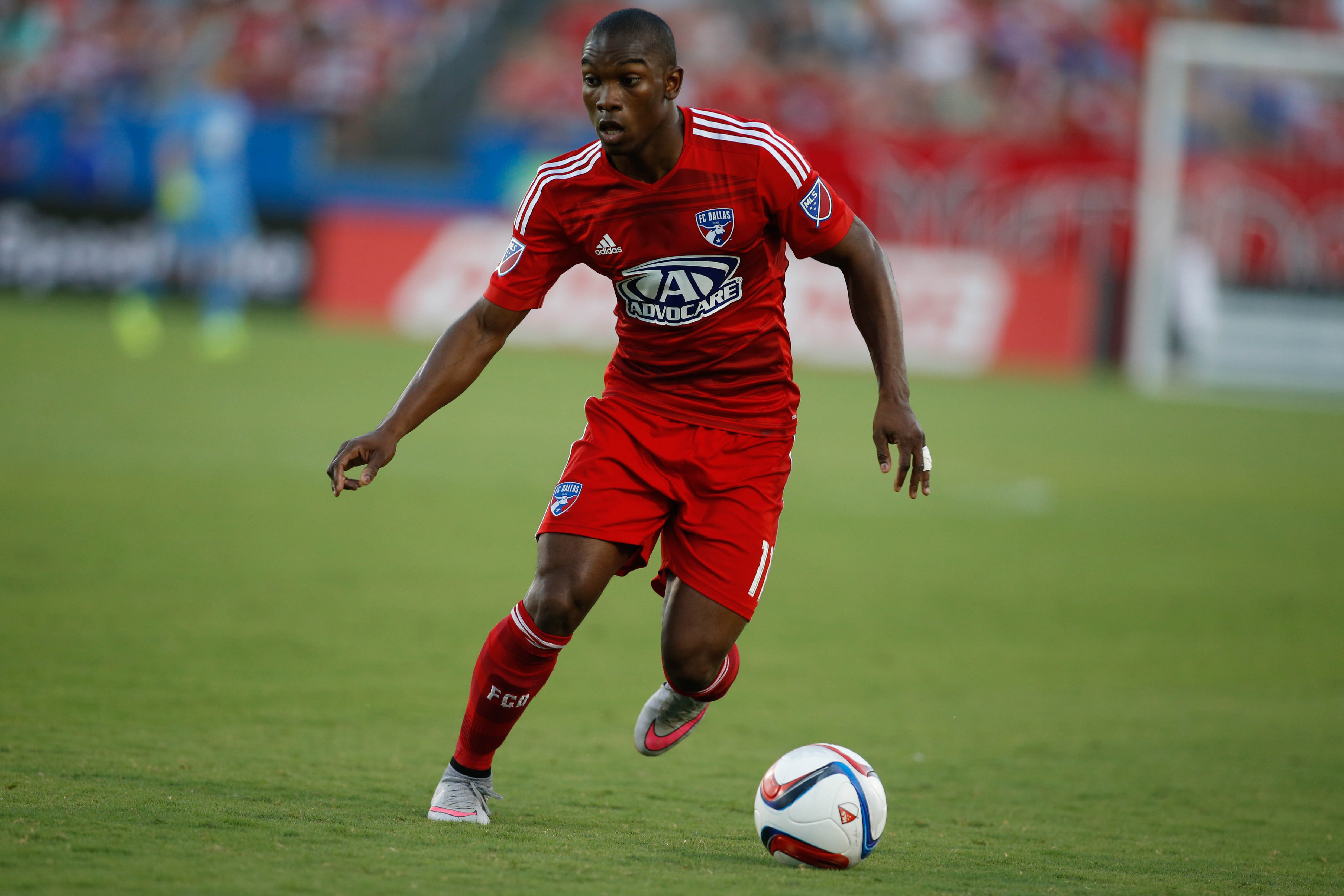 One of the main reasons Fabian Castillo is motivated heading into this season is because he wants to help FC Dallas win a title. Another is because he wants to go play in Europe.
Castillo is entering the new MLS campaign eager to build on the solid season he had with FC Dallas last year, when he scored nine goals and delivered nine assists en route to helping the young club reach the Western Conference Finals. He knows a stronger showing would only help FC Dallas in its attempt to hoist the MLS Cup, as well as aid him in his quest to secure a move to a European side.
It is not that Castillo is unhappy in Dallas, either. He just has long wanted to go test himself out on the other side of the pond, and wants to eventually turn reports like the ones that swirled this offseason about European interest in him into reality.
"Those are things that motivate you a lot as a player," Castillo told SBI. "Not everyone can go play in Europe, and if there are those rumors then that's because there's been something to talk about. Truthfully, I'm happy with everything that has come my way these last few years. I have a lot of motivation to continue showing all the gifts God has given me so that I could one day get to Europe. That's a dream that I have."
Castillo, 24, could increase his chances of a move to Europe if he can help his current club achieve it's goal of winning a title. FC Dallas has made significant strides towards becoming a legit title contender in each of the past two seasons by using a squad that counts on young players and Castillo as one of the main attacking catalysts.
Castillo displayed his wide array of qualities throughout 2015, including his speed, athleticism, dynamic skills on the ball, and improved ability to be dangerous in the final third. He was not just scoring goals like he was the year before, but was also setting up his teammates.
Nonetheless, there is still more he can work on. FC Dallas head coach Oscar Pareja and Castillo both believe the player can improve his finishing, and Pareja also thinks Castillo needs to become the type of impact player that can will his team to victory on a consistent basis.
"He's a player that needs to understand that he has to start to really push the team himself," Pareja told SBI. "This season isn't necessarily about him doing just as good or better as last year, but about him taking his team to another level. That's something he has to understand, and he needs to know that he has to push his team so that we can be champions."
Capturing that elusive first MLS Cup title would only add to the list of Castillo's recent accomplishments. After scoring a career-high 10 goals in 2014, Castillo continued to play at a high level last year and was rewarded in the way of experiencing things he hoped for and dream of but never really saw coming.
One of those experiences was getting called into the Colombia Men's National Team for the first time. Castillo was included on the roster for a stateside friendly against Peru last September, and made his debut as a second-half substitute.
Some observers thought his inclusion in the squad was simply down to Colombia wanting to look at a player that was nearby in the United States, but Cafeteros head coach Jose Pekerman showed he truly saw some value in Castillo in October. Pekerman not only called up Castillo for World Cup qualifiers at home against Peru and on the road vs. Uruguay, but played the FC Dallas Designated Player in each of those games as a substitute.
Castillo was not included in Colombia's squad for the November qualifiers, but wants to get back into the picture in 2016 after getting a taste of what it was all about.
"I think all players around the world want to represent their national team, and to be there you have to work a lot," said Castillo. "It's hard, but being in that group was a dream of mine. For me, it's very important to continue to get called up, but to continue to get called up I have to keep playing well here every game so that I can keep reaping the benefits."
One of Castillo's aims with his national team is to play in the Copa America Centenario this summer. He thinks that would be one of the biggest achievements of his career if he accomplished it, especially because the one-off tournament is being played in the country where he truly established himself as a professional.
All that aside, Castillo is focused on the upcoming campaign with MLS. He knows the value in doing well in the league after his 2015 campaign, and that good things come to those who perform.
"I feel very satisfied with all that I accomplished last year," said Castillo. "Things happened that I thought about and worked for, but didn't think they would ever come. In 2015, truthfully, there were lots of surprises and wonderful things that happened to me. That sticks with me more than the nine goals.
"You work to score goals as a forward, and it's practically obligatory. For me, the most wonderful thing was to be in situations that I never imagined I would be in last year."