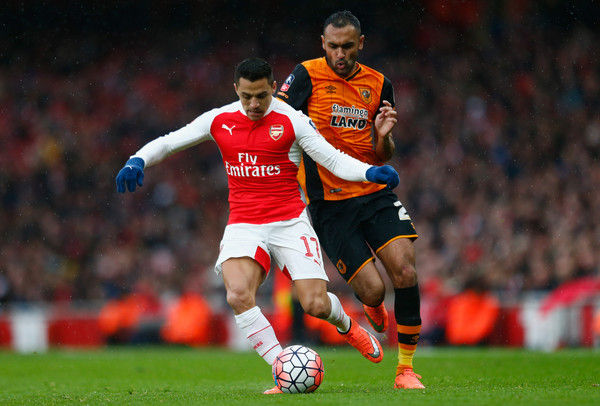 While the first of the UEFA Champions League second legs kick off on Tuesday, other cup competitions will be on display around the globe.
Prior to Wolfsburg-Gent and Real Madrid-Roma, English Championship leader Hull City will battle Arsenal for a place in the FA Cup quarterfinals. The winner of the tie will host Watford in the last eight.
In Mexico, Juárez will take on Universidad Guadalajara in Group 1 play of the Copa MX, while all four sides in Group 2 will be on the field. Despite Atlas and Murciélagos each being eliminated from advancing, both teams can play the role of spoiler in their respective matches versus Tijuana and Coras de Tepic.
Copa Libertadores action rolls on in the evening, with matches in Group 4 and Group 7 taking place. All four clubs in Group 4 seek to improve their chances to advance to the knockout stage, when leader Atlético Nacional hosts Peñarol and Sporting Cristal takes on Huracán.
If you will be watching today's action, please feel free to share your thoughts, opinions and some play-by-play in the comments section below.
Enjoy the action (Here is today's Soccer TV schedule):
UEFA CHAMPIONS LEAGUE
2:45 p.m. — Fox Soccer 2Go/Fox Deportes — Wolfsburg vs. Gent
2:45 p.m. — Fox Soccer 2Go/ESPN Deportes/Fox Sports 1 — Real Madrid vs. AS Roma
ENGLISH FA CUP
2 p.m. — Fox Sports 2 — Hull City vs. Arsenal
COPA LIBERTADORES
5:30 p.m. — Fox Soccer 2Go/Fox Deportes — Emelec vs. Olimpia
7:45 p.m. — Fox Soccer 2Go/Fox Deportes — Atlético Nacional vs. Peñarol
7:45 p.m. — Fox Soccer 2Go/Fox Soccer Plus — Sporting Cristal vs. Huracán
MEXICAN COPA MX
7:50 p.m. — ESPN3 — Coras de Tepic vs. Murciélagos
7:55 p.m. — Univision Deportes — Venados vs. Atlante
9:55 p.m. — ESPN Deportes — Atlas vs. Tijuana
10 p.m. — Univision Deportes — Juárez vs. Universidad Guadalajara
CONCACAF U-17 WOMEN'S CHAMPIONSHIP
12 p.m. — Fox Soccer 2Go/Fox Soccer Plus — United States vs. Costa Rica
2:30 p.m. — Fox Soccer 2Go/Fox Soccer Plus — Mexico vs. Jamaica