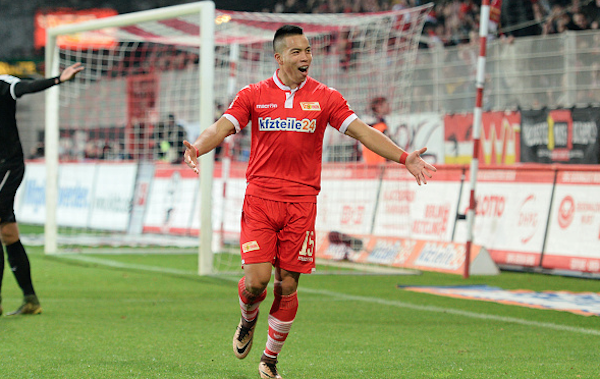 Given Bobby Wood's recent performances, it is no surprise that several big-name clubs are reportedly after his services. However, a likely step up will need to be a calculated leap for a player looking to assert himself as a regular for the U.S. Men's National Team.
Reports emerged on Tuesday linking Wood to Bundesliga clubs Hamburg and Bayer Leverkusen. In addition, Wood has reportedly caught the eye of  Liverpool manager Jurgen Klopp, who was seemingly impressed with Wood's two-goal performance in a 4-0 Union Berlin victory over Frankfurt on March 5.
Keeping his recent performances in mind, it's no surprise a club with the stature of Liverpool has taken a look at Wood. The Union Berlin forward has netted 14 goals this season, including nine goals in the past eight games. Combined with international goals against Mexico, Germany and the Netherlands scattered throughout 2015, Wood's club form has more than warranted a step up in level.
For Wood, that step should come into the German Bundesliga, in a country he knows well, and a league that will allow him to continue his growth in the best way possible.
The Hamburg option is likely the most logical, as the German club seems a perfect fit for a striker of Wood's capabilities. As things stand, Hamburg is sorely lacking a go-to forward. Winger Nicolai Muller leads the team in scoring with seven goals, while striker Pierre-Michel Lasogga has netted just six times in 24 starts. In Wood, Hamburg would have a talented young striker to build around, a player who would need little time to acclimate to the rigors of German soccer.
Hamburg currently sits 12th in the Bundesliga, but just four points out of the relegation zone. The club is in for a fight, and it's doubtful Wood would up and leave Union Berlin in favor of another 2. Bundesliga team should Hamburg drop down a division.
Bayer Leverkusen presents a bit more of a risk, but also a massive reward. The club currently sits sixth in the league, well within striking distance of a European spot.
Competition for a spot in the lineup would be fierce, though. Javier 'Chicharito' Hernandez would prove a fun and ironic partner for Wood given the rivalry between the U.S. and Mexico. The Mexican international has scored 14 of the team's 39 goals this season and has been a revelation since moving to the Bundesliga.
In addition, the club boasts forward options line Stefan Kießling and Admir Mehmedi, the latter of which is just one year older than Wood.
While cracking into Leverkusen's lineup would be a challenge, the idea of earning playing time at Liverpool looks even more difficult. Christian Benteke is likely on his way out this summer, while Daniel Sturridge is a perennial injury risk. Still, Liverpool has a series of forward options that would likely keep Wood on the bench.
Bundesliga import Roberto Firmino has been spectacular for the Reds this season, while young Belgian Divock Origi appears to have earned the tag of forward for the future. Add in the currently injured Danny Ings, and Wood would likely have four or five players to surpass to earn time at striker.
With seven games left in the 2. Bundesliga season along with upcoming World Cup qualifiers, Wood has plenty of time to continue to boost his resume ahead of a potential summer move. The 23-year-old forward will be a man with options this summer, and it will be up to him to pick the one that is him the best chance at furthering his development as one of the USMNT's premier young forwards. As appealing as some of those options may be, Wood should consider staying in the same country where he helped his career take off.