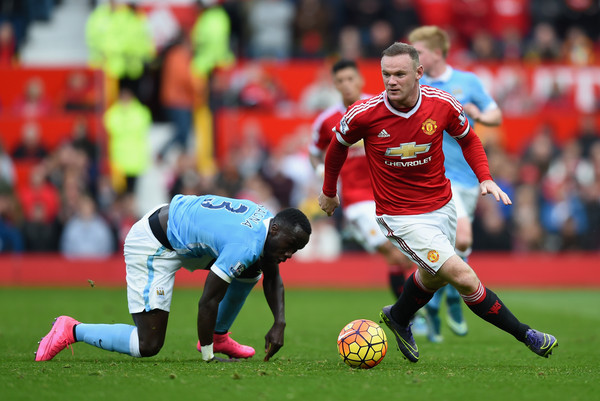 Neither Manchester United nor Manchester City has much left to play for this season, but the bragging rights of the city are still up for grabs this weekend when the two sides clash in the derby.
The two sides drew 0-0 in their previous meeting on Oct. 25 at Old Trafford, and with City sitting in fourth place and United in sixth — and four points back — the implications surrounding the match may not be as significant. However, with Manuel Pellegrini heading out the door and possibly Louis van Gaal as well, getting one last derby win could be something for either manager to hang his hat on.
Bayern Munich looks to extend its German Bundesliga lead when it takes on Cologne while second-place Borussia Dortmund visits Augsburg, hoping to cut into the five-point deficit. Bayern won its last meeting with Cologne, 4-0, and Dortmund has defeated Augsburg twice already this year by a combined score of 7-1.
Elsewhere, Ligue 1 will feature a somewhat meaningless top-of-the-table clash between Paris Saint-Germain and AS Monaco after the former clinched the title last week. Barcelona could take a step closer towards that achievement as well when it visits Villarreal holding an eight-point lead in La Liga.
Here is a rundown of all the soccer action on TV this weekend:
FRIDAY
MAJOR LEAGUE SOCCER
7 p.m. — Univision Deportes/UniMás/MLS Live — New York City FC vs. Orlando City SC
SPANISH LA LIGA
3:30 p.m. — beIN Sports en Español/beIN Sports Connect — Getafe vs. Eibar
GERMAN BUNDESLIGA
3:30 p.m. — Fox Sports 2/Fox Sports Go/Fox Soccer 2Go — Schalke 04 vs. Borussia Mönchengladbach
FRENCH LIGUE 1
3:30 p.m. — beIN Sports Connect — Marseille vs. Rennes
MEXICAN LIGA MX
9:30 p.m. — Univision Deportes — Querétaro vs. Chiapas
11:30 p.m. — Azteca America — Tijuana vs. Toluca
ENGLISH LEAGUE CHAMPIONSHIP
3:45 p.m. — beIN Sports USA/beIN Sports Connect — Middlesbrough vs. Hull City
SCOTTISH LEAGUE CHAMPIONSHIP
3:45 p.m. — Fox Soccer 2Go/Fox Soccer Plus — Falkirk vs. Rangers
SATURDAY
MAJOR LEAGUE SOCCER
5 p.m. — MLS Live/CSN Plus — Chicago Fire vs. Columbus Crew
7 p.m. — MLS Live/MSG+2 — New York Red Bulls vs. Houston Dynamo
9 p.m. — MLS Live — FC Dallas vs. Montreal Impact
10 p.m. — MLS Live/TSN1 — Seattle Sounders vs. Vancouver Whitecaps
10:30 p.m. — MLS Live/CSN California— LA Galaxy vs. San Jose Earthquakes
10:30 p.m. — MLS Live — Portland Timbers vs. Real Salt Lake
ENGLISH PREMIER LEAGUE
8:45 a.m. — NBCSN/NBC Sports Live Extra/NBC Universo/NBC Deportes en Vivo Extra — Everton vs. Arsenal
11 a.m. — NBCSN/NBC Sports Live Extra/NBC Deportes en Vivo Extra — Chelsea vs. West Ham United
11 a.m. — NBC Sports Live Extra/NBC Universo/NBC Deportes en Vivo Extra — Crystal Palace vs. Leicester City
11 a.m. — NBC Sports Live Extra — Watford vs. Stoke City
11 a.m. — NBC Sports Live Extra — West Bromwich Albion vs. Norwich City
1:30 p.m. — NBCSN/NBC Sports Live Extra/NBC Deportes en Vivo Extra — Swansea City vs. Aston Villa
SPANISH LA LIGA
11 a.m. — beIN Sports USA/beIN Sports en Español/beIN Sports Connect — Sporting Gijón vs. Atlético Madrid
1:15 p.m. — beIN Sports en Español/beIN Sports Connect — Real Sociedad vs. Las Palmas
1:15 p.m. — beIN Sports en Español/beIN Sports Connect — Granada vs. Rayo Vallecano
3:30 p.m. — beIN Sports en Español/beIN Sports Connect — Deportivo La Coruña vs. Levante
5:05 p.m. — beIN Sports en Español/beIN Sports Connect — Real Betis vs. Málaga
GERMAN BUNDESLIGA
10:30 a.m. — Fox Soccer Plus/Fox Soccer 2Go — Cologne vs. Bayern Munich
10:30 a.m. — Fox Deportes/Fox Soccer 2Go — VfL Wolfsburg vs. Darmstadt 98
10:30 a.m. — Fox Soccer 2Go — Hamburg SV vs. Hoffenheim
10:30 a.m. — Fox Soccer 2Go — Werder Bremen vs. Mainz 05
10:30 a.m. — Fox Soccer 2Go — Hertha Berlin vs. FC Ingolstadt
1:30 p.m. — Fox Deportes/Fox Soccer 2Go — Eintracht Frankfurt vs. Hannover 96
ITALIAN SERIE A
1 p.m. — beIN Sports USA/beIN Sports Connect — Empoli vs. Palermo
3:45 p.m. — beIN Sports USA/beIN Sports Connect — AS Roma vs. Inter
FRENCH LIGUE 1
Noon — beIN Sports Connect — Saint-Étienne vs. Montpellier
3 p.m. — beIN Sports Connect — Lille vs. Toulouse
3 p.m. — beIN Sports Connect — Angers vs. Lorient
4 p.m. — beIN Sports Connect — Lyon vs. Nantes
MEXICAN LIGA MX
7 p.m. — Univision Deportes/Univision — Club América vs. Club León
9 p.m. — Univision Deportes/Univision — Monterrey vs. Guadalajara
10:06 p.m. — NBC Universo/NBC Deportes en Vivo Extra — Pachuca vs. Veracruz
11 p.m. — ESPN Deportes — Dorados vs. Santos Laguna
PORTUGUESE PRIMEIRA LIGA
2:30 p.m. — Univision Deportes — Sporting CP vs. Arouca
4:45 p.m. — Univision Deportes — Vitória Setúbal vs. FC Porto
ENGLISH LEAGUE CHAMPIONSHIP
8:30 a.m. — beIN Sports USA/beIN Sports Connect — Derby County vs. Nottingham Forest
11 a.m. — beIN Sports Connect — Bristol City vs. Bolton Wanderers
SCOTTISH PREMIER LEAGUE
8:30 a.m. — Fox Soccer 2Go/Fox Soccer Plus — Kilmarnock vs. Celtic
SUNDAY
MAJOR LEAGUE SOCCER
2:30 p.m. — MLS Live/CSN-NE — Philadelphia Union vs. New England Revolution
5 p.m. — ESPN2/ESPN Deportes — D.C. United vs. Colorado Rapids
7 p.m. — Fox Sports 1/Fox Sports Go/Fox Deportes/MLS Live — Sporting Kansas City vs. Toronto FC
ENGLISH PREMIER LEAGUE
9:30 a.m. — NBCSN/NBC Sports Live Extra/NBC Universo/NBC Deportes en Vivo Extra — Newcastle United vs. Sunderland
9:30 a.m. — NBC Sports Live Extra/NBC Deportes en Vivo Extra — Southampton vs. Liverpool
Noon — NBCSN/NBC Sports Live Extra/Telemundo/NBC Deportes en Vivo Extra — Manchester City vs. Manchester United
Noon — NBC Sports Live Extra/NBC Deportes en Vivo Extra — Tottenam vs. Bournemouth
SPANISH LA LIGA
7 a.m. — beIN Sports Connect — Espanyol vs. Athletic Bilbao
11 a.m. — beIN Sports USA/beIN Sports en Español/beIN Sports Connect — Villarreal vs. Barcelona
1:15 p.m. — beIN Sports en Español/beIN Sports Connect — Valencia vs. Celta de Vigo
3:30 p.m. — beIN Sports USA/beIN Sports en Español/beIN Sports Connect — Real Madrid vs. Sevilla
GERMAN BUNDESLIGA
10:30 a.m. — Fox Sports 1/Fox Sports Go/Fox Deportes/Fox Soccer 2Go — VfB Stuttgart vs. Bayer Leverkusen
12:30 p.m. — Fox Deportes/Soccer 2Go/Fox Soccer Plus — FC Augsburg vs. Borussia Dortmund
ITALIAN SERIE A
7:30 a.m. — beIN Sports Connect — Atalanta vs. Bologna
10 a.m. — beIN Sports Connect — Sampdoria vs. Chievo Verona
10 a.m. — beIN Sports Connect — Frosinone vs. Fiorentina
10 a.m. — beIN Sports USA/beIN Sports Connect — Torino vs. Juventus
10 a.m. — beIN Sports Connect — Sassuolo vs. Udinese
FRENCH LIGUE 1
9 a.m. — beIN Sports Connect — Bordeaux vs. Bastia
4 p.m. — beIN Sports USA/beIN Sports Connect — Paris Saint-Germain vs. AS Monaco
MEXICAN LIGA MX
2 p.m. — Univision Deportes/Univision — Pumas UNAM vs. Morelia
7 p.m. — Univision Deportes — Puebla vs. Tigres UANL
DUTCH EREDIVISIE
11:45 a.m. — Univision Deportes — PSV Eindhoven vs. Ajax
SCOTTISH PREMIER LEAUGE
8:30 a.m. — Fox Soccer 2Go/Fox Soccer Plus — Dundee United vs. Dundee