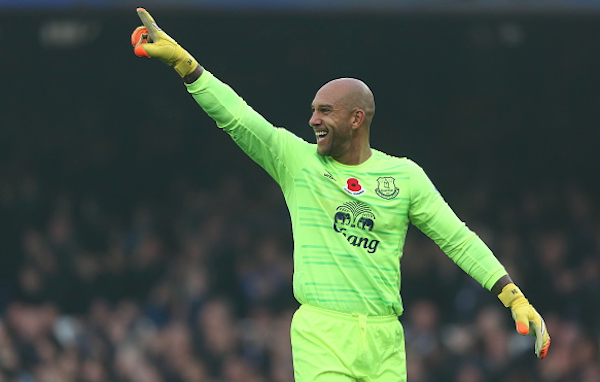 For Tim Howard, Sunday's announcement was bittersweet.
Bitter because he will soon be leaving the club he has called home for almost a decade, but sweet because he is joining an MLS team that is giving him the chance to extend his career.
The Colorado Rapids announced on Sunday that they have signed Howard to a Designated Player deal that will begin this summer. Howard, 37, will first finish out the current English Premier League campaign with Everton, and afterwards will officially be added to the Rapids roster in July.
Howard is expected to claim the Rapids' starting goalkeeper spot shortly after he arrives in Colorado, and plans to hold onto it for the foreseeable future. After all, he did not decide to leave the Toffees for the Rapids just to get a quick payday before he hangs his legendary cleats and gloves up for good.
"It's a huge challenge for everyone involved, and it's something that excites me," said Howard of playing for the Rapids on a conference call on Sunday. "The possibility to extend my career an extra nearly two seasons is something that for me was one of the major factors."
The U.S. Men's National Team regular admittedly had to have some heartfelt conversations with himself to figure out if he wanted to leave Everton, the club he has called home since 2006. Howard ultimately chose to do so because he saw an exciting opportunity for himself.
The Rapids are looking to get back to being a more prominent team in MLS after several seasons in the Western Conference's dungeon, and Howard's acquisition is the latest in a series of high-profile moves. The club signed  Albanian attacker Shkelzen Gashi in the offseason as a Designated Player, and earlier this month traded for another seasoned U.S. veteran in Jermaine Jones.
Two acquisitions do not guarantee success, of course, but the level of ambition that they demonstrate is part of the reason why Howard quickly went from not really thinking about an MLS return to coming back to the league he left 13 years ago.
"It wasn't on my radar, but I spoke with (Rapids technical director) Paul Bravo and (Rapids president) Tim Hinchey and that was a few months ago," said Howard. "They outlined what they were hoping to achieve in Colorado, and it appealed to me in every way. When they came calling and laid out some of the ideas that they had, I was very interested in it.
"I had two years remaining at Everton and to be a part of a four-year endeavor, if you want to call it that, it excited me."
Another factor that surely played a role in Howard's decision to sign with the Rapids was his recent demotion to backup goalkeeper at Everton. Howard was criticized by fans and media alike for struggling this season, and was supplanted by the younger Joel Robles in late January. The American has not played for the Toffees since, and seemed unlikely to break back into the lineup.
While some observers might argue that Howard has run into father time given his age, he is still expected to bring plenty to the table for the Rapids. Howard is being counted on not only to bring his trademark shot-blocking and organizational skills, but also leadership, on the field and in the locker room.
"I've played in a lot of big games, I've played in a lot of games, and I think part of having experience is being able to use it, being able to help other players, particularly when it comes to team dynamic," said Howard. "Making sure that my performances are right and that I get myself right, but also that I help guys alongside me and pull them along when needed. That, for me, is what I've taken away from being in the U.K."
Questions will likely persist about whether Howard will be able to cope with the rigors of the game the older he gets, especially since he plans to play past 40, but he has continuously taken measures to ensure he is in top shape. For instance, Howard has altered his diet in recent years, hired a personal trainer, and even tried acupuncture.
Howard may not be athletic or as talented as he was in his prime, but he remains eager to play and cannot wait to return to the field with the Rapids this summer.
"I'm fresher now because I've had a month-and-a-half break," said Howard. "I feel good, my body is great, I stay in top physical condition, and my experience takes care of itself. This short little break has been good for me, so I feel great. I'm excited to get back on the field."