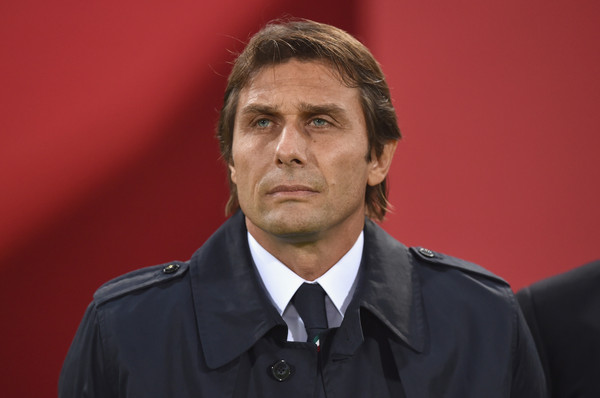 Amid links to the job as Chelsea's head coach for the 2016-17 season, Italian manager Antonio Conte has apparently taken the next step towards filling that role.
Italian soccer federation president Carlo Tavecchio confirmed Conte's exit from his managerial role for Italy following Euro 2016 this summer. (REPORT)
Paulo Dybala and Claudio Marchisio are set to miss Juventus' UEFA Champions League second leg contest against Bayern Munich with injuries on Wednesday. (REPORT)
An incredible bicycle kick by Shinji Okazaki helped Leicester City down Newcastle United and improve its lead atop the English Premier League to five points. (REPORT)
Manager Neil Lennon and Bolton Wanderers have agreed to part ways by mutual consent. (REPORT)
The FA Cup semifinals pairings were announced, with Watford playing Crystal Palace and Everton playing the winner of West Ham United-Manchester United on April 23. (REPORT)
Wayne Rooney, who has missed several Manchester United matches in recent weeks with a knee injury, hopes to return to play Everton on April 3. (REPORT)
MONDAY REWIND
Toronto FC's offseason additions, including Will Johnson, Clint Irwin and Steven Beitashour, are already paying dividends after two weeks of action in the 2016 MLS season. (REPORT)
Colombia named its 25-man roster to take on the U.S. Under-23 Men's National Team in the 2016 Olympic qualifying playoff series, which will take place on March 25 and 29. (REPORT)
Sebastian Giovinco, Andrea Pirlo, Clarence Goodson and Andre Blake were among those named to SBI's MLS Best XI for Week 2. (REPORT)
Houston Dynamo attacker Andrew Wenger was named SBI MLS Player of the Week for his performance against in-state rival FC Dallas. (REPORT)
New York City FC head coach Patrick Vieira and star forward David Villa were disappointed to draw at home to Toronto FC, but are happy with how the season has started. (REPORT)
Quincy Amarikwa scored a sensational goal against MLS Cup champions Portland Timbers in Week 2, chipping a shot over goalkeeper Adam Kwarasey. (REPORT)
—
What do you think of Conte's exit? Think Juventus can upset Bayern Munich without some of its star players?
Share your thoughts below.