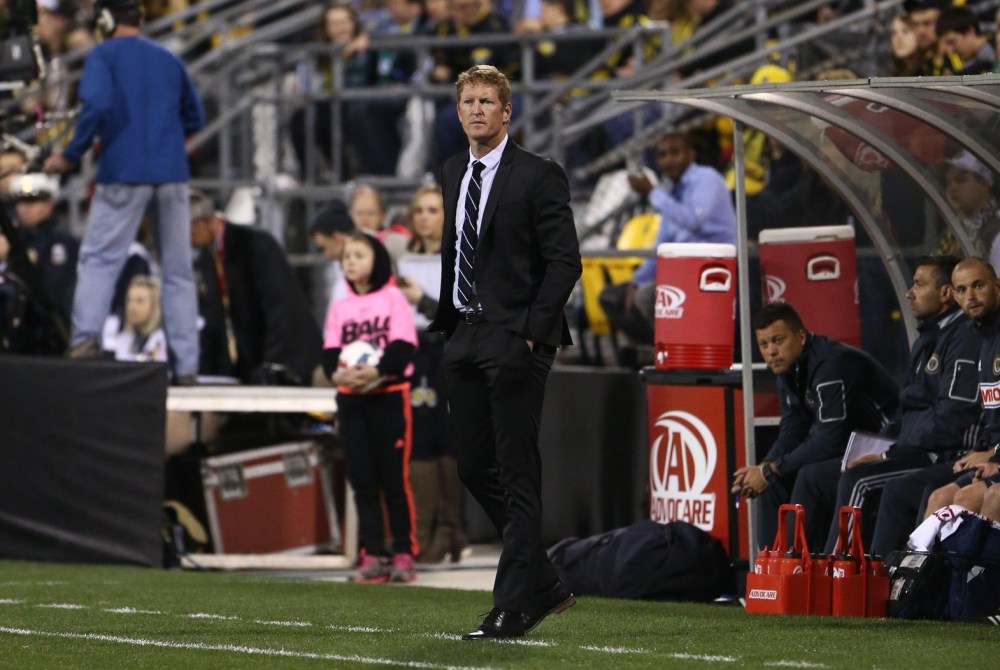 Philadelphia Union manager Jim Curtin continued to preach the new direction the club is headed in with the team's home opener on the horizon.

The new mindset and new group of players in the squad have led Curtin to use the term "Union 2.0" throughout the start of the 2016 season. The next big step for club comes on Sunday as they host the New England Revolution at Talen Energy Stadium. Curtin has set a bold goal for a team that went 7-7-3 in front of the home fans in Chester, Pennsylvania in 2015.
"I set the goal at the minimum of 10 wins in this building," Curtin said on Wednesday. "Our highest win total as a club is 12. People may think I'm crazy in that regard, but I think if we get to 10 in this building, win some on the road and draw a few, you'll be in the playoffs in terms of a blueprint for it."
The Union are also hoping to cure the problem of stringing together back-to-back results. On just two occasions last season, they earned points from more than two games in a row. Most of those two-game point streaks involved a draw. The Union boss is hoping the team's win in Columbus on Saturday translates into three more points versus the Revolution.
"It is critical to put back-to-backs together," Curtin said. "That's what good teams do. We have not been a good team in the past and we're trying to change that this year."
As for how the club approaches the Revs, Curtin noted how dangerous their front five can be.
"They are very deep," Curtin said. "They have midfielders that contribute with goals, which is a tough thing to find in our league. They have a lot of interchange. A lot of the data and the film that you watch, they don't have a ton of width. Obviously their outside backs give them their width.
"Their wingers have the tendency to come inside," he continued. "It's something we've worked on and how we want to deal with that. They create little 2-v-1s and 3-v-2s. Lee Nguyen having the freedom to kind of drift right to left, he's a very dangerous player who's capable of scoring and setting up goals. It's a dynamic front five you have to deal with. It's not a one person job. It's everybody being bought in and helping the next guy to you."
Although marking the Revolution attackers will be a tough task, the Union defense enters Sunday with plenty of confidence thanks to the displays of Richie Marquez and Andre Blake in Week 2.
"Richie had a really strong game (against the Crew)," Curtin remarked. "Kei Kamara is as tough an assignment as anyone in our league. He did a good job of limiting Kei's touches. If you look at the data, Kei was on the ball very little for him. He's a guy that they get on the ball a lot. Richie played a role in helping Fabinho with Finlay too.
"Andre's been great for us," Curtin added. "He's made the big saves for us, obviously those stand out. But the little things like coming out for crosses and being brave and just making that clean save, catching the ball, letting us breathe and getting the outside backs out. He's improved greatly with his feet. I think starting our attack is important from our goalkeeper and he's done a good job at that."
Curtin offered a positive update on the banged-up midfield. Tranquillo Barnetta is pushing towards full fitness and Vincent Nogueira is day-to-day after missing the Crew match.
"Vincent will be day to day," Curtin said. "Hopeful maybe this afternoon in our second session he'll be a part of that. Tranquillo is progressing nicely. We're happy with how he's playing on the field, but it'll be more of a fitness issue with what he can bring. He's getting close, which is good because he's a very key piece to our team."