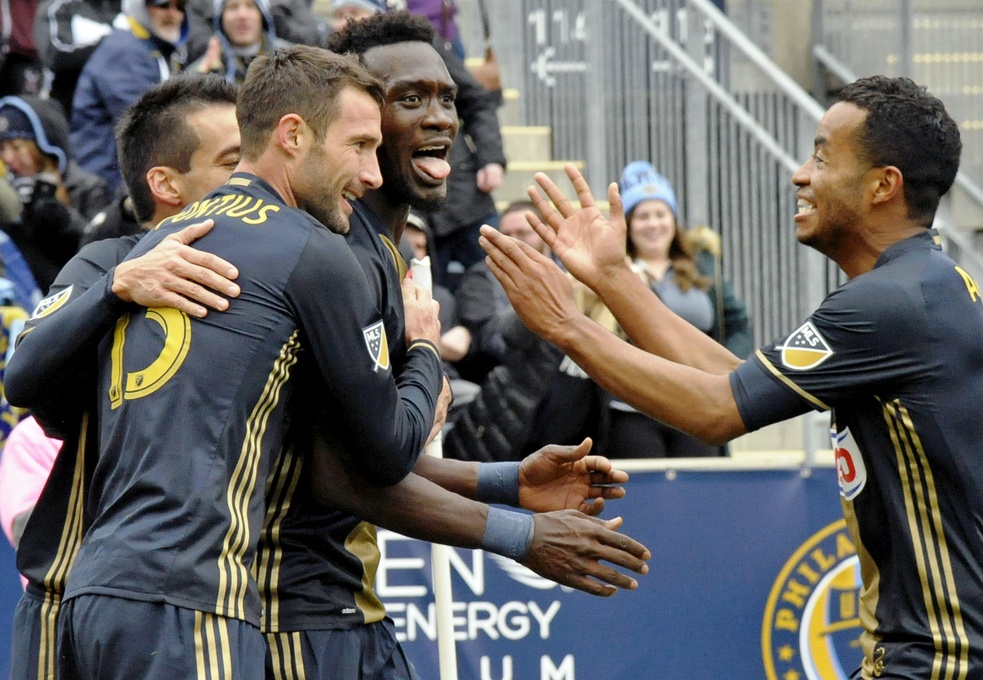 CHESTER, PA — The Philadelphia Union's performance in their 3-0 win over the New England Revolution wasn't good enough in the eyes of the players or manager Jim Curtin.
For a team looking to erase every single nightmare in recent memory from their minds, the outlook is perfect.
"It's great to get a shutout at home," Curtin said. "I still wasn't happy with the performance. I think we can play better."
The win was the second of the season for the Union after they knocked off the Columbus Crew in Week 2. In each of the past two seasons, they had to wait until their 12th game to earn their second win.

"I knew the mentality was right with this team after Columbus last week," midfielder Chris Pontius said. "I knew we were coming in here a confident team."
The Union jumped ahead by way of a C.J. Sapong strike in the 18th minute. The former Sporting Kansas City man followed that up with a 34th-minute offering that extended the advantage to two goals. The brace was the first for Sapong since Sept. 21, 2013.
"Yeah. I've been thinking about it," Sapong said of his gap between two-goal performances. "It's OK. It happens. I definitely pride myself in the work that I put out on the field on both sides of the ball. That's something that the stat sheet doesn't always record. At the end of the day, all that really matters is how I view my game."
Even though Sapong scored twice and Sebastien Le Toux sealed three points in second-half stoppage time, the Union were not satisfied with how things went during the home opener at Talen Energy Stadium.
"I think we can be cleaner with our passes because I've seen it in training," Curtin remarked. "We wanted to show today to our fans, who were excellent by the way, and the rest of the league what we knew already — that we're different this year.
"We have a group that wants to play more, get on the ball and create chances in this building. I'm happy with the shutout, but at the same time, we think we have more to give and the players all agree."
Sapong specifically pointed out after the game he should've recorded more tallies on a personal level.
"I'm always extra critical I could've had four today," Sapong said. "It's a good statement at home. We feel like we can do better, but we showed a lot of team camaraderie on the field."
The Union also missed two penalties, one was poorly taken by Ilsinho and Le Toux's perfect spot kick record was stopped in the 79th minute by Revs goalkeeper Bobby Shuttleworth.
Despite all the missed chances, the Union finished the contest with their first clean sheet of the season and a good amount of momentum heading into the international break.
"It's definitely important," goalkeeper Andre Blake said. "I told the guys before, if we're going to make a run, it's going to start in the back. It's not just the back four but the entire team. We've got to defend as a team, we've got to attack as a team, and that's something we're looking to build on."
"You'd like to keep the momentum going," Pontius said, "but it is what it is and we'll go into Chicago full of confidence."