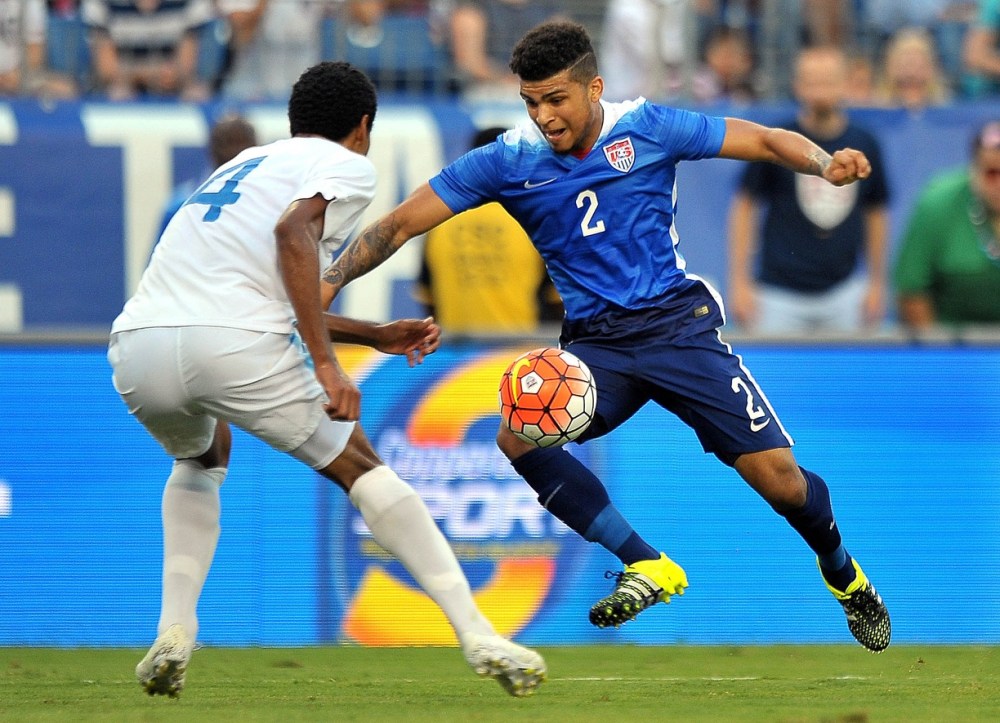 The road to Russia goes through Guatemala City on Friday, and the U.S. Men's National Team will be looking to improve upon its 2-0 record in 2016.
Following two friendly wins against Iceland and Canada, Jurgen Klinsmann's men head to Guatemala, where they will play their third CONCACAF qualifying game of the fourth round (10:06 p.m., beIN Sports USA/beIN Sports Connect/NBC Universo/NBC Deportes en Vivo Extra). The road qualifying match will be the second one away from the States for the USMNT, which played Trinidad and Tobago to a 0-0 draw in Port of Spain on Nov. 17.
Four days before that tie, the U.S. earned an impressive 6-1 win vs. Saint Vincent and the Grenadines in St. Louis. Currently on four points, the Americans sit atop Group C due to their +5 goal differential. Guatemala, which defeated Saint Vincent and the Grenadines but lost at home to T&T, sits in third.
Since those games, many Americans, including Fabian Johnson, Alejandro Bedoya, John Brooks and Bobby Wood, have had incredible runs of form for their club teams and will be wanting to have the same impact at the international level.
Jozy Altidore and Johnson have suffered injuries recently, and their statuses are questionable heading into the first competitive fixture of the year.
What lineup will Klinsmann use in Guatemala? Here is one he could trot out:
———————-Dempsey———–Wood————————–
—-Zardes————-Bradley———Bedoya—————Yedlin—-
————-Castillo—–Besler——Brooks——-Cameron————
———————————–Howard———————————-
Some thoughts:
Klinsmann told reporters Toronto FC forward Altidore is available to play on Thursday, but using him while not fully fit may prove to be too much of a risk for the U.S. head coach.
Clint Dempsey and Bobby Wood, who has been scoring at will for FC Union Berlin in the 2. Bundesliga, should be able to produce more than enough chances on their own in Guatemala. It would make sense for Altidore to rest on Friday before starting in Columbus next Tuesday.
DeAndre Yedlin has played a majority of his minutes for Sunderland at right back this season, and has proven to be very efficient there for the English Premier League relegation contender. However, Klinsmann has shown in the past that he likes to use Yedlin further up the field because of his speed and creativity. The former Seattle Sounders fullback played at both the right winger and right back positions for Klinsmann during last year's qualifiers, and should be selected to start at the former on Friday.
Another question mark for Klinsmann is the status of Johnson, who has been recovering from a groin strain suffered last Friday. If he's available and close to 100 percent, the Borrussia Monchengladbach midfielder will likely get the nod to start on the left wing, but Gyasi Zardes can fill in there if need be.
Against both island nations last November, Klinsmann opted to pair Matt Besler with Cameron. The result: one goal allowed and steady play overall. Yet, it's hard to ignore the fantastic form Brooks has been in, so Klinsmann should use he and Cameron in the center of the back line or shift Cameron to right back in order to keep three of his best defenders on the field. Omar Gonzalez will surely be competing with Besler for the centerback spot next to Brooks, but Klinsmann might not want to pair too similar of players in Brooks and Gonzalez.
The goalkeeping position has been one up for debate this past week, especially since Brad Guzan and Tim Howard have not played too many minutes for their EPL clubs this year. Earlier this week, Klinsmann said the likes of David Bingham and William Yarbrough are the future of the USMNT, but chances are Klinsmann chooses someone who has had experience playing on the road in a hostile environment like Guatemala City. Howard, therefore, seems like a shoe-in to start.
What do you think of this projected lineup? Anyone included/omitted that you are hoping is not? Would you stick with this formation or try something else?
Share your thoughts below.