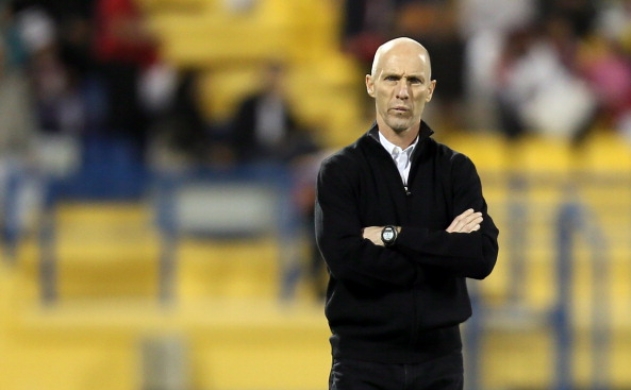 The French Ligue 2 season is coming to a close, and Bob Bradley's Le Havre AC is running out of time to secure promotion to Ligue 1.
Le Havre fell even further away from the Ligue 2 promotion places after this weekend's results. Bob Bradley's squad settled for a 1-1 tie with relegation-threatened Evian on the road at the Parc des Sports Annecy.
The team Le Havre is chasing for the third and final promotion place, FC Metz, defeated Red Star, 2-0, on Friday, meaning Bradley's team is now three points behind FC Metz with three matches remaining. FC Metz also holds a five-goal edge on Le Havre in the goal difference department.
Things could have been even worse for Le Havre, but two teams it was tied with heading into the weekend — Lens and Red Star — both suffered losses, as did Clermont Foot, which is just two points behind Le Havre.
Despite the hurdles Le Havre must overcome in order to earn one of the league's three promotion spots, the former U.S. Men's National Team head coach thinks his side can do it.
"No chance that we consider (promotion) is out of reach," Bradley said following his club's tie on Friday. "We have nine points to play for. Games at the end of the year for everyone are difficult. You have different teams fighting for different things, and so we took a point, we wanted three, but it keeps us in the fight."
Bradley's confidence likely stems in part from the fact Metz's next match is against Ligue 2 leader Dijon FCO, which has secured promotion to Ligue 1, but is still fighting for the Ligue 2 title.
Here is a look at the top of the Ligue 2 table and the remaining schedules for the clubs in the running for the third and final promotion spot:
Ligue 2 standings
1. Dijon FCO (67 points | 19-6-10 | 58 Goals For | 29 Goals Against)
2. Nancy (65 points | 18-5-11 | 53 Goals For | 29 Goals Against)
3. Metz (59 points | 17-10-8 | 48 Goals For | 37 Goals Against)
4. Le Havre AC (56 points | 16-8-11 | 41 Goals For | 35 Goals Against)
5. Lens (55 points | 14-8-13 | 37 Goals For | 32 Goals Against)
6. Red Star (55 points | 15-10-10 | 35 Goals For | 34 Goals Against)
7. Clermont Foot (54 points | 15-11-9 | 53 Goals For | 50 Goals Against)
8. Auxerre (51 points | 14-12-9 | 43 Goals For | 41 Goals Against)
Team schedules
METZ
April 30 – at Dijon FCO
May 6 – vs. Tours FC
May 13 – at Lens
LE HAVRE AC
Friday – vs. Nimes
May 6 – at Auxerre
May 13 – vs. FC Bourg-Peronnas
LENS
Friday – vs. Paris
May 6 – at FC Bourg-Peronnas
May 13 – vs. Metz
RED STAR
Friday – vs. FC Bourg-Peronnas
May 6 – vs. Dijon FCO
May 13 – at Creteil
CLERMONT FOOT
Friday – at Stade Laval
May 6 – vs. Brest
May 13 – at Sochaux
AUXERRE
Friday – at Sochaux
May 6 – vs. Le Havre
May 13 – at Brest