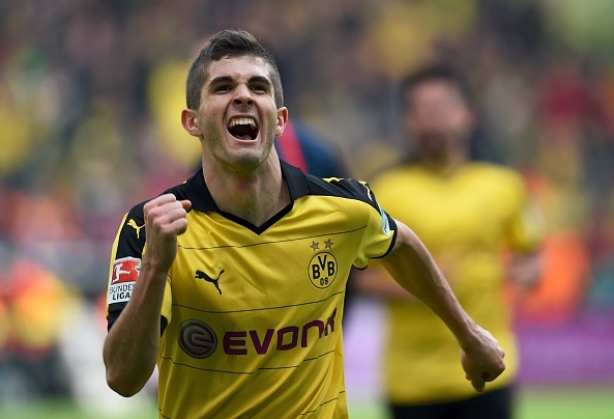 Borussia Dortmund couldn't really be blamed for a bit of a post-loss hangover after last Thursday's dramatic UEFA Europa League loss to Liverpool, but an American youngster helped the German power snap out of it.
U.S. Men's National Team midfielder Christian Pulisic scored his first professional goal on Sunday, helping spark a Borussia Dortmund 3-0 win against Hamburg.
Dortmund struggled to open the scoring against Hamburg, but Pulisic did the honors in the 38th minute when he finished a combination play with Mats Hummels before blasting a perfectly-placed shot inside the goalkeeper's near post to make the score 1-0.
Dortmund added two more goals to run away with the victory after Hamburg drew a red card early in the second half.
Here is Pulisic's first professional goal:
[protected-iframe id="163dec06cbbcbecc895c01e19a9c056c-93315145-36554976″ info="http://player.foxfdm.com/sports/embed-iframe.html?videourl=https://link.theplatform.com/s/BKQ29B/pqnp4oCE1_EL?mbr=true&assetTypes=Video&feed=Fox%20Sports%20All&iu=/fscom/soccer/story&policy=51457&player=sportscom-1.7.6″ width="640″ height="360″ frameborder="0″ scrolling="no" allowfullscreen=""]
What do you think of Pulisic's first pro goal? See him earning more starts this season?
Share your thoughts below.