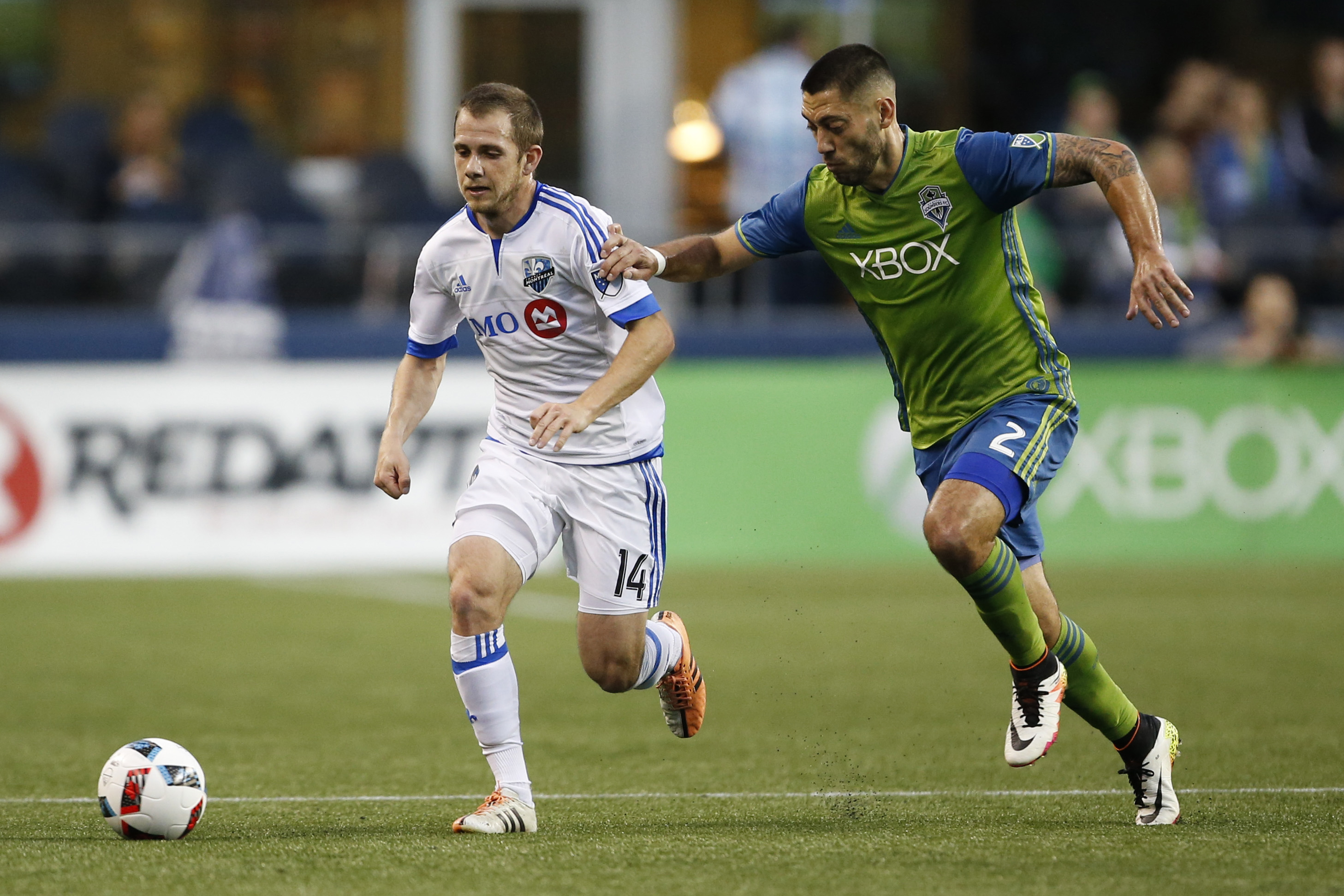 SEATTLE– Strange, but the most striking moment in the Seattle Sounders' 1-0 win over the visiting Montreal Impact on Saturday night was not Clint Dempsey's game-winning header in the 79th minute, a goal that ended the Sounders' three-game, season-opening losing streak and that at least temporarily lifted a shroud of anxiety hovering over the nearly 40,000 in attendance at CenturyLink Field.
Some 15 minutes later, in the 93rd and penultimate minute of stoppage time, Patrice Bernier received the ball just past the center circle in Seattle's half of the field. A Sounder pounced, hounding Bernier almost from the first touch, relentlessly shouldering and badgering the Impact midfielder for 40-odd yards, all the way to the sideline and back into his own half of the field. A desperate, harmless, please-get-off-my-back-already pass followed.
The pestering defender neutralizing that last ditch attack was not the ever-nettling Osvaldo Alonso or even young Cristian Roldan, the two Sounders tasked with patrolling the center of the park and so effective all night in rendering Ignacio Patti impotent.
It was Dempsey. And the sheer level of want on display in that moment defined an inspired performance that saw the 33-year-old Texan as driven and engaged as he's been since joining the club midseason in 2013.
It's an auspicious — and vital — sign for the Sounders' title hopes.
Perhaps Dempsey is feeling especially good after scoring for the United States Men's National Team in Tuesday's 4-0 drubbing of Guatemala.
"Any time you are doing well," Dempsey said after the match, "it helps to keep you in a rhythm. In this game, it only takes one game to turn things around for yourself. You feed off it and vice versa. Having a good club game can help you go into the national team and perform there as well.
Perhaps he was invigorated by a formation tweak that pushed him more centrally, switching roles with the left-footed Andreas Ivanschitz.
"We wanted to put him in (the middle of) the field," said Sounders head coach Sigi Schmid, "because we think he's our most creative player to get the ball and get touches."
Asked where he prefers to play, Dempsey was noncommittal.
"I just like being involved in the game and getting touches on the ball," he said. "I feel like if I'm getting touches I can influence the game in that way. Whatever allows me to get touches and get the ball in the attacking third, that's the position I like the most."
Maybe, but teammate Tyrone Mears saw the value in the switch, one some Sounders fans have been clamoring for since the season began.
"I believe," said Mears, "(that) he's better inside because he gets more of the ball, and when he's got the ball at his feet, he's dangerous. He's one of the most dangerous players in the league, so we need him on the ball as much as possible. It's good that he's interchangeable with Andreas because it messes with teams, because they don't know who to mark or who to pick up."
And perhaps Dempsey, clearly exhausted, ran Patrice Bernier ragged in the 93rd minute because he was just tired of losing.
"It just feels good to be winning again," he said. "For both club and country."
Seattle's new 4-3-3 attack is still very much a work in progress, a fact Schmid and his players readily conceded after Saturday's win.
"Certainly we still need to get better," admitted Schmid. "I think our ability to keep possession in the final third has gotten better from week to week, but we need to get better in terms of finishing."
"I think we need to do a little better job of being a little more patient," added Dempsey. "We get a little bit excited and we are trying really hard. You can't fault our effort as a team in terms of how we try to do work, but at the same time we can be a little bit more patient in terms of bringing the ball back when it's not on, keeping the ball in their half, making them have to defend, making them have to step to players and then find that open guy and find spacing and find better shots on goal."
The offense will come around, or it won't. The takeaway from Saturday, though, is simple. The Seattle Sounders' star player saw a team on the verge of an 0-4 record, saw another week of questions and criticism and mounting pressure, and delivered a goal. And cajoled and encouraged teammates. And got inside Patrice Bernier's shirt for 40-some yards in the 93rd minute.
In short, Dempsey led.
"We needed a big player to get us a goal," said Mears, "and he did that."
And then some.