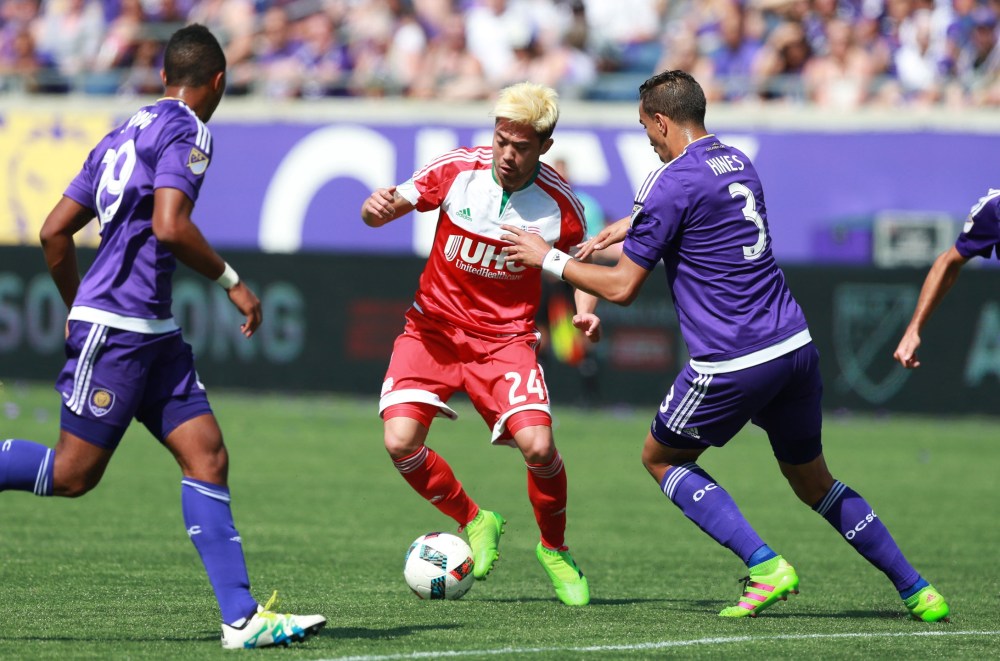 It may have been a just result in the end, but both Orlando City and the New England Revolution will be thinking they deserved more from Sunday's tie at the Citrus Bowl.
Center official Baldomero Toledo's calls — and a non-call before Kevin Molino's goal in stoppage time — will be debated for days to come as the Lions and Revs finished in a 2-2 tie.
Orlando City and the Revolution looked well on their way to a respectable 1-1 tie, but Molino scored a controversial goal in the 92nd minute. The Revs were visibly frustrated with Molino's goal because they thought he clearly used his hand before firing his shot.
The home side just had to hold on for a few more minutes to earn all three points, but Toledo made another controversial decision at the other end. He called a handball on Servando Carrasco to give the Revs a chance at redemption, and Lee Nguyen converted from the spot to force the tie.
Toldeo's first controversial call occurred 15 seconds into Sunday's game. Julio Baptista, who was making his MLS debut, drew a foul in the Revs penalty box moments into the game before Kaka scored from the spot.
Before halftime, Teal Bunbury scored a goal from the doorstep after a Chris Tierney cross was headed down in front of goal by Gershon Koffie.
The Revs will now travel to the nation's capital where they will meet D.C. United on April 23, while Orlando City will also travel northeast but play the New York Red Bulls one day later.
Man of the Match
Kaka scored his second goal of the season on Sunday, and he was instrumental in the buildup of many Orlando City chances.
Moment of the Match
There were many questionable calls made in Sunday's 2-2 tie, but Baldomero Toledo's decision to award a penalty to the Revolution in second-half stoppage time was the most head-scratching of them all. Toldeo, at first, whistled for a handball outside of the box, but he eventually awarded a penalty kick. Replays clearly showed the ball bounce off of Servando Carrasco's chest, but Lee Nguyen took advantage of the opportunity to see the Revs earn a share of the points.
Match to Forget
Baldomero Toledo had a rough day as the center official, to say the least. A referee — and their decisions — should not be the focus of conversation and debate after a game, but unfortunately, Toldeo was on Sunday.