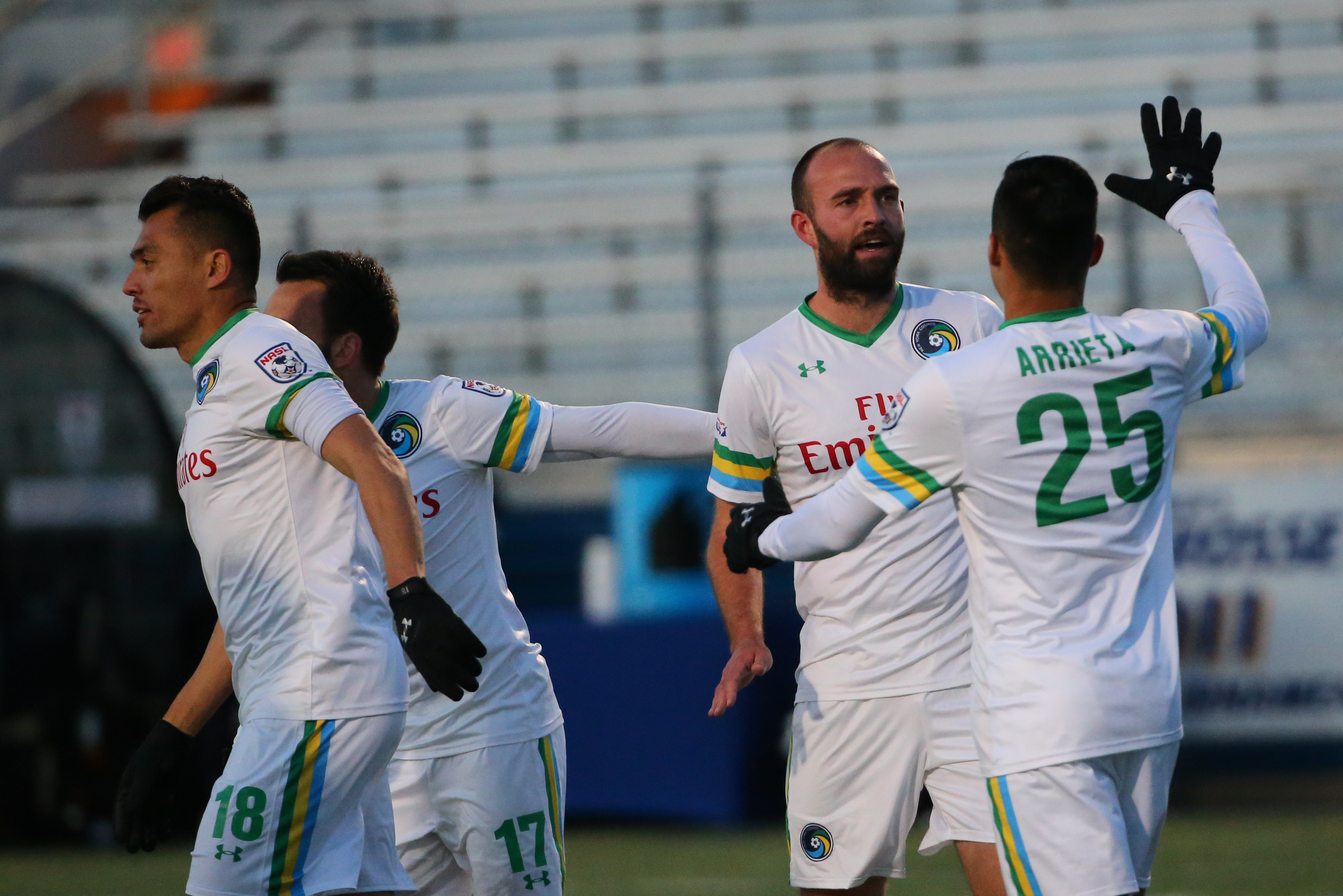 The past two weeks have been steps backwards for the New York Cosmos, but head coach Giovani Savarese insists there is no need to shake things up any time soon.
Following a dominant start that produced two straight wins, the Cosmos have conceded late in the ensuing two contests to earn back-to-back defeats. The losses have seen the Cosmos drop six points behind the league-leading Carolina RailHawks, who visit Shuart Stadium on Sunday.
Savarese says that the team is nowhere near panic mode despite the recent setbacks that could prove fatal in the sprint that is the Spring Season.
Recently, the Cosmos have been linked with a move for Italian star Francesco Totti, although sources have told SBI that the club is unlikely to sign the Roma star. Savarese says that, even despite the recent late-game issues, he is confident in his roster and isn't looking to bring in a star in the near future.
"We are always looking at players. We have a situation right now where our foreign roster is full, so, at the moment, we cannot bring in anyone," Savarese told SBI. "Anything can happen and we're always actively looking at players, different kinds of players as well. For us, it's constant situation, and we'll see what the future will be, but there's nothing right now that we can confirm in any way.
"We don't have the necessity to bring a player like that," he added when asked if there is pressure to bring in a big name. "If we want to bring in a player, it's because we decide to bring them and it has to be something that we want to do. Right now, we don't have any need to bring in anyone to replace Raul or (Marcos) Senna, even though they were two very important players for us. They are irreplaceable. No one can provide what they gave us. They are unique but at the same time, there's not a necessity to bring in a player with a bigger name for publicity. If we bring in a player, it will be for the quality and contribution on the soccer side."
With that said, Savarese says that his current group has plenty of room for improvement, especially after the last two performances.
Against Indy Eleven, the Cosmos appeared to be cruising to a comfortable victory before uncharacteristically conceding a pair of late goals. One week later, the Cosmos failed to muster much of an attack against 10-man Minnesota United before Christian Ramirez scored with a stoppage time winner.
Savarese says that his team needs to improve against teams down a man by thinking and moving quicker. In general, the Cosmos just need to be a bit sharper and more decisive if they hope to return to grabbing victories on a consistent basis.
"I'm a firm believer that nothing is a coincidence. There are always reasons why things happen," Savarese said. "We need to be better at closing games. We need to be better at recognizing those moments towards the end where the game needs something for more us and I think that's been the situation. Right now, against Indy, first of all, we had the game in control and unfortunately at the end, things happen that are out of our control.
"We have to be smarter and manage the game and what it calls for. For me, we just need to make sure that we're alive, that we can think, tat we can work together, that we can understand and read what the game asks of us in those final moments to make sure we make it work."
This week, the challenge that lies ahead is the Cosmos' fiercest yet: the RailHawks. Through four games, the RailHawks have shown they can win in a variety of ways while pushing their way to the top of the league. From a 10-man performance against Minnesota United to a demolition of the Rowdies, the RailHawks have undoubtedly been NASL's best through four weeks.
In the RailHawks, Savarese says he sees a team that works hard as a unit, while doing the defensive work necessary to frustrate teams throughout the 90 minutes. Given his team's recent struggles, Savarese knows this weekend will present a tough test for a Cosmos group looking to claw its way back up the NASL table.
"There's no extra motivation. There's no feel of necessity that is different than every game that we play,' Savarese said. "This game, we're not focusing on the game any differently than any game that we have played. Coming out of the two victories and going to Indy or playing the first match, for us, this match coming up will be the same feeling because we consider each game to be a final. Every game is important, and every game is a must-win for us. There's nothing different in our thoughts other than to go and get a result in our stadium to do things the right way.
"We just have to improve in some areas that we have spoken about and they are aware of the things they need to do better. We are in the process of continuing to develop those areas to make sure we are better, but overall, I am very content with the group that we have and the availability of some players and how some can play different positions. For me, we are in a good situation to continue to grow and they know very clearly because we work on things every week and every day to make sure that we improve to be a more competitive team."