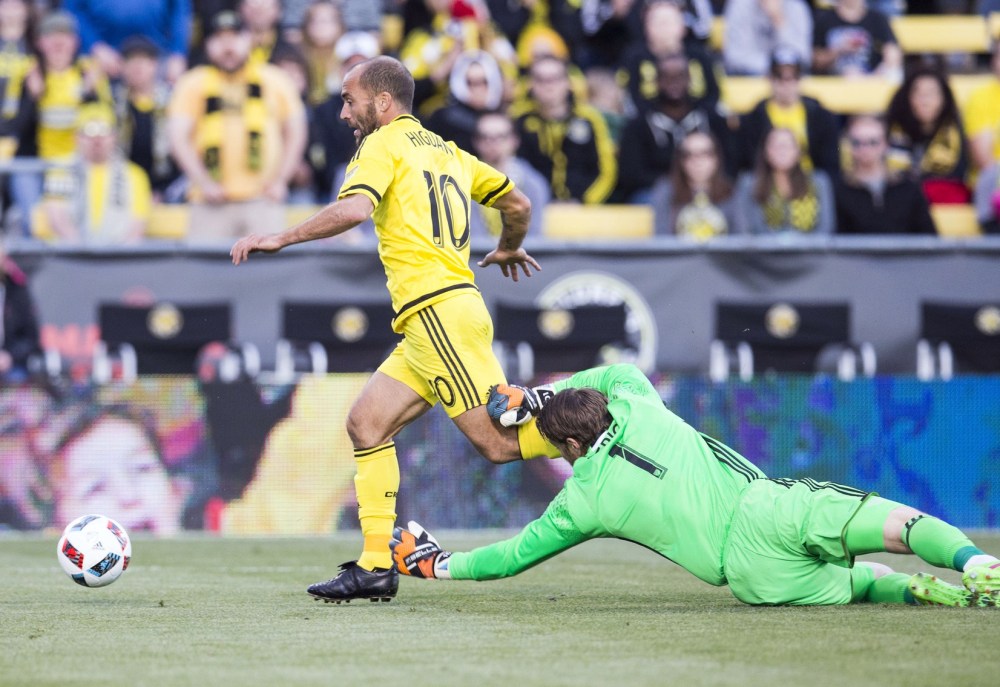 A controversial red card and subsequent penalty-kick goal saw the Houston Dynamo fall to the Columbus Crew on Saturday.
Kei Kamara scored the only goal of the game from the penalty spot to hand the Crew a 1-0 win — its second victory in as many weeks. Dynamo goalkeeper Tyler Deric was ruled to have denied an obvious goal-scoring opportunity, and referee Kevin Stott showed the netminder his marching orders just 18 minutes into Saturday's contest at MAPFRE Stadium.
Federico Higuain was the player who went down in the box which resulted in the penalty call. The ball found its way through the Dynamo back line from a deflection, and the Argentine was one-on-one with Deric. Higuain took a touch away from goal before falling to ground.
The Dynamo's best chance of the evening came nearly 10 minutes prior to the red card. Midfielder Ricardo Clark ripped a shot from the top of the box over Crew goalkeeper Steve Clark, but the ball pinged off the crossbar.
Due to the Dynamo going down a man so early, the visitors never found a rhythm offensively. The Crew dominated possession, and the Dynamo finished the match completing just 61 percent of their passes.
While he was unable to stop Kamara's penalty attempt, substitute goalkeeper Joe Willis turned in an admirable performance, making five saves.
The Crew will now hit the road to play the Seattle Sounders next Saturday, while the Dynamo will face off against Real Salt Lake that same day.
Man of the Match
Substitute goalkeeper Joe Willis kept the Dynamo's loss from turning into a massive blowout on Saturday. One of his best stops of the game came in the 50th minute as Kei Kamara headed the ball towards goal from a corner kick. Willis was quick to react at the near post and prevented the insurance goal.
Moment of the Match
The 18th-minute red card decided this match. An end-to-end battle — and likely a high-scoring affair — was in store for those in attendance at MAPFRE Stadium on Saturday, but the red card changed the rhythm of the game in a major way.
Match to Forget
Despite the call being somewhat controversial, goalkeeper Tyler Deric will wish he had a chance to replay the 18th minute over again. Federico Higuain took a heavy touch away from goal, and if Deric was not as close to the Crew playmaker as he was, then Kevin Stott may not have called anything.