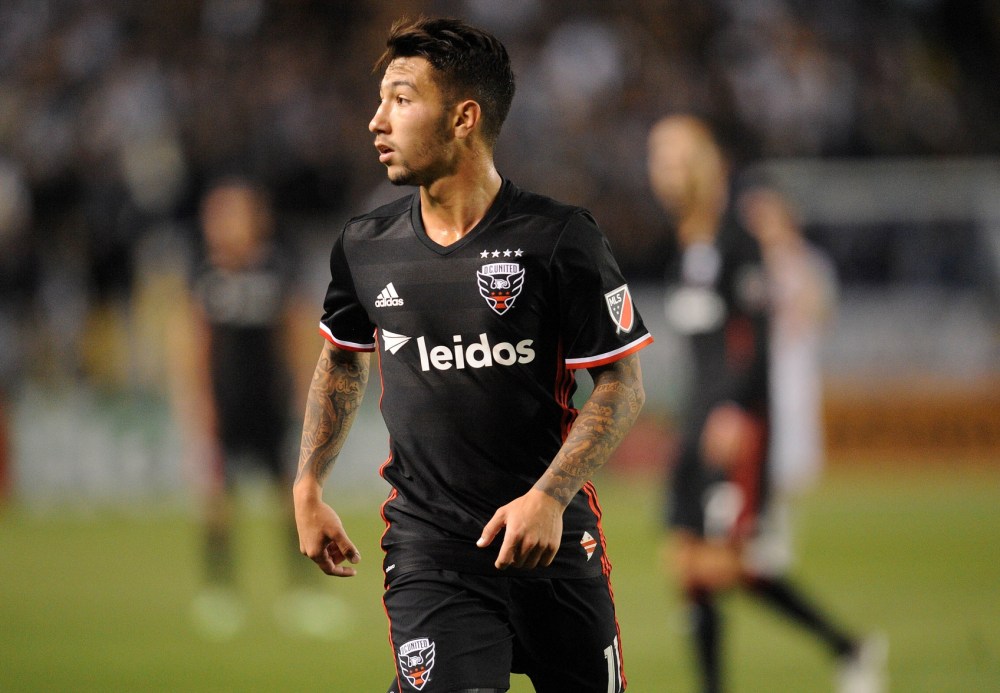 Eight weeks into the MLS season, and Luciano Acosta has finally found a partner he works well with.
Alvaro Saborio has been paired with Acosta off the bench for D.C. United in recent weeks, and the partnership has worked wonders thus far. In the past three weeks, DCU has scored seven goals, with four of them coming from either the Costa Rican forward or Boca Juniors loanee in the second half of play.
With Fabian Espindola expected to miss time after leaving Saturday's match vs. the New England Revolution with an apparent hamstring injury, Olsen could consider starting Acosta and Saborio from the get-go against the Chicago Fire.
Saborio has yet to start for DCU this campaign, and Acosta was pulled from the starting lineup after a few weeks of unproductivity, but the two have grown into a prolific tandem.
It is true that Acosta struggled to create in his three starts this season. The chemistry was clearly not there. Lamar Neagle, Espindola and Chris Rolfe all like to drift around the final third, creating channels for attacks all across the field. Saborio, on the other hand, is a typical No. 9 who plays between the opposing centerbacks and links up with his teammates through his hold-up play.
As the past three weeks have shown, Acosta pairs nicely with a traditional hold-up forward like Saborio.
With that in mind, Olsen has a decision to make come Saturday. Pairing Saborio and Acosta from the onset may mean Rolfe, who has started all eight games for DCU this season, begins the game from the bench. However, the 33-year-old attacker has one assist and no goals scored so far this campaign, so that decision may not be the most difficult one to make.
Nick DeLeon will likely take up one of the central midfield roles, and Neagle, who has been playing as the left midfielder, will likely start over Rolfe there. Patrick Nyarko should take the right midfield spot, meaning Olsen's only dilemma is up front. Should he continue to start Rolfe and pair him with Saborio or Acosta? Or should Olsen go with the partnership that has done well off the bench?
The final decision rests with Olsen, but it is clear that Acosta and Saborio are producing exceptional stats coming off the bench, so having them start against a young Fire defense could work wonders once again.