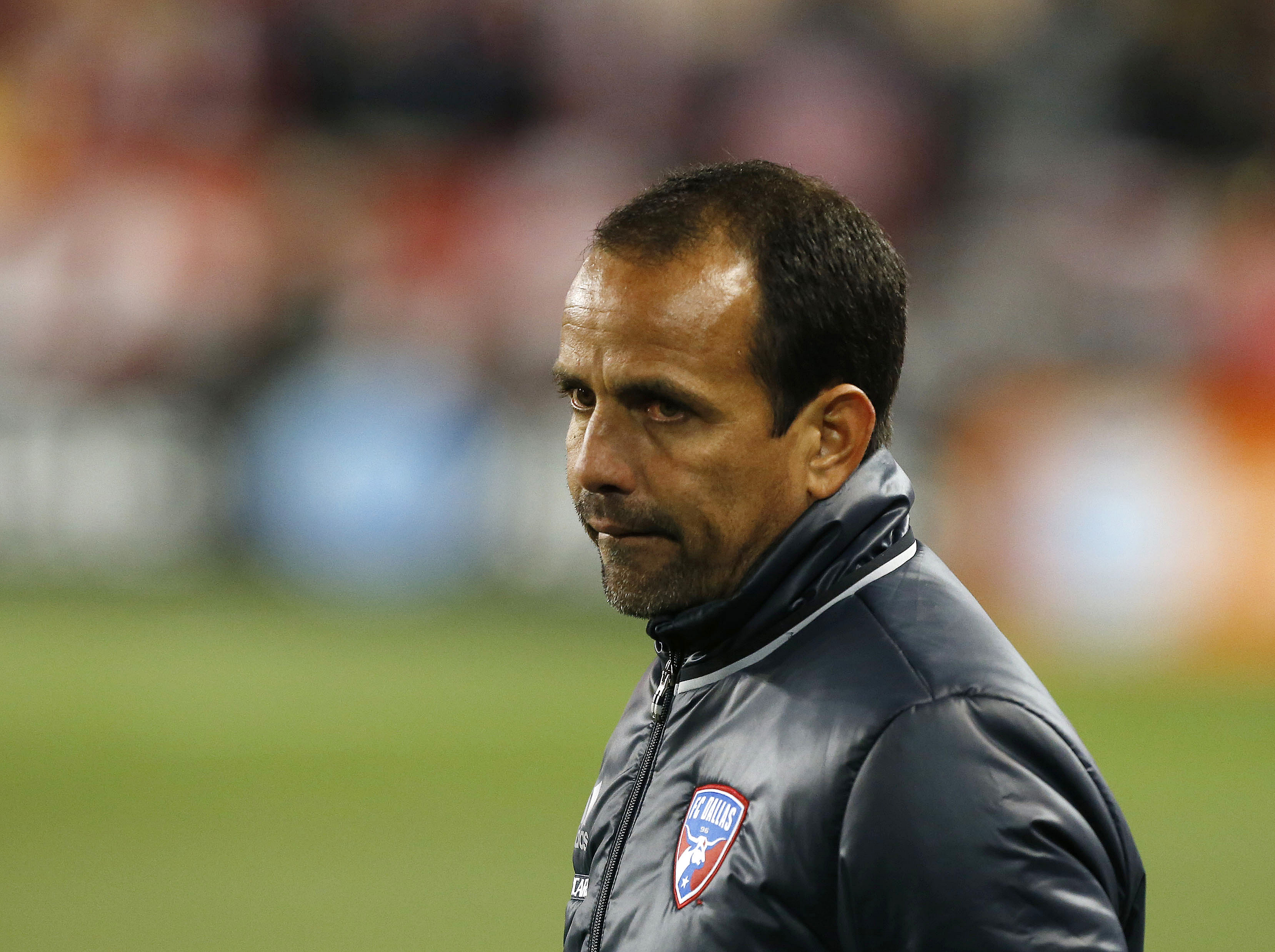 HARRISON, N.J. — When FC Dallas loses, it loses badly. Very badly.
FC Dallas suffered its latest ugly defeat of the season on Friday night, falling, 4-0, on the road to the New York Red Bulls. The lopsided result worsened the league's best record by moving FC Dallas to 5-3-2, but what was just as bad was the fact that the Western Conference club still cannot avoid getting blown out in games that it fails to pick up points in.
In FC Dallas' three losses so far, the club has been outscored a remarkable 12-0 and all those ugly affairs have come away from home. First was the 5-0 clobbering vs. the Houston Dynamo back in March, then last weekend's 3-0 letdown against the Vancouver Whitecaps, and now the embarrassment to the Red Bulls.
"Beatings, beatings," said FC Dallas head coach Oscar Pareja of the defeats. "We've played very bad (in those matches). We have to work to fix this, but I believe in the players, and I'll support them until the end. It's a group of players that gives it everything, that should have good seasons, that is finding the best way to do things.
"However, our three losses have been terrible. I take that with lots of disappointment and responsibility, but with lots of pride to keep going with this group of players because they went to Portland and won and they went to D.C. and scored three in D.C. and they went to Portland and scored three on Portland. We've had some incredible imbalances and we've had three beatdowns but have won at home. We're still working our way through."
FC Dallas may still be figuring itself out, but the club will want to avoid a repeat performance of Friday. Pareja's men were no match for the Red Bulls from the onset of the rainy and chilly game, and did not equal the hosts' energy from the start while also lacking sharpness on the few occasions that it managed to find space on the counter.
It was an ugly game for FC Dallas by any measure.
"New York was much, much better than us in every area," said Pareja. "New York just dominated from the first minute through the last minute, and I have to accept that. We didn't have answers for New York. They played very well tonight."
While FC Dallas admittedly came out flat from the opening whistle, its defense held firm for much of the first half. That is, until an incredibly-well-worked set piece saw Lloyd Sam score the opener in the 37th minute.
On the play, a couple of Red Bulls players faked hitting a free kick before Sacha Kljestan clipped in a ball to the back post. An unmarked Sal Zizzo was there, and he hit the ball across to Sam for what was an easy finish.
"If there's an area where we've done very poorly this season, it's been on set pieces," FC Dallas winger Fabian Castillo told SBI. "They attacked us throughout the whole first half, so it was obvious that they were bound to score at some point."
Added Pareja: "We knew it, because we had game-planned because New York has a lot of creativity in dead-ball situations, corner kicks and free kicks. I think they surprised us a bit with the ball in behind the defense. They executed very well, and we defended it very poorly."
The floodgates opened from there. The Red Bulls scored three times in the second half via goals from Kljestan, Mike Grella and Felipe, and FC Dallas offered little resistance en route to dropping a second straight match via shutout.
FC Dallas knows this troubling trend of losing games on the road by large margins cannot continue if it hopes to be successful in 2016, and the club is looking to put an end to it sooner rather than later.
"The three games we've lost, we've lost in an ugly fashion," said Castillo. "Teams have scored, if I'm not mistaken, 12 goals in three games. That reflects poorly on us, but we have to get better in all our lines. Not just defensively, but also in the attack because we haven't scored in our three losses.
"It's not any one player or group's fault. We've all, as a team, struggled, and as a team we need to try and correct this."