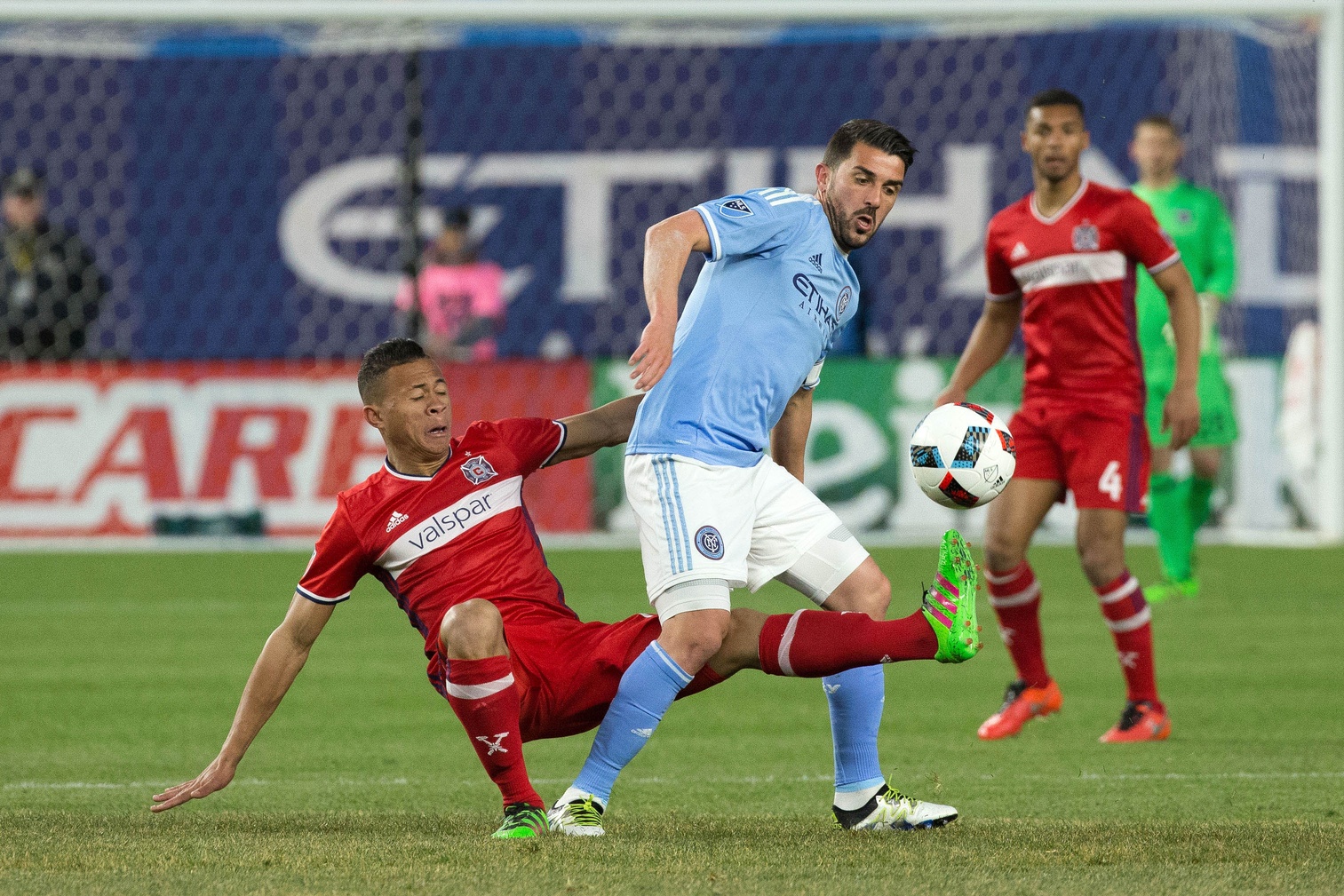 NEW YORK –New York City FC took on the Chicago Fire for the second time of the 2016 season, and the match failed to produce the goals that highlighted the first match. However, Sunday's clash did provide a bit of controversy.
The Fire scored on a 60th minute header from Jonathan Cambell but saw the goal waved away in what ended as a scoreless tie at Yankee Stadium. The tie comes just weeks after NYCFC took down the Fire, 4-3, in the two sides' season opener.
After 60 minutes without much in the way of a breakthrough, it appeared that the Fire had finally asserted themselves with a go-ahead goal. Following a cross into the box, Gilberto's headed pass across the six-yard box was headed in by Campbell, as the Fire celebrated and  returned to their half of the field. Several moments later, referee Mark Geiger waved the goal off after conferring with his assistant, keeping the game scoreless.
NYCFC had the better of the first half, although both sides struggled to create much of anything in a match that lacked flow. Although NYCFC had the bulk of possession, the Fire backline repeatedly stepped up to make a series of interceptions and prevent any real damage.
David Villa got the closes to firing NYCFC into the lead with a pair of chances. The Spanish star's first effort was parried off the post in the 29th minute by goalkeeper Matt Lampson, who then stopped Villa on the doorstep nine minutes later on an NYCFC corner kick.
The hosts continued to pepper Lampson in the game's waning moments, but the Fire goalkeeper continued to push shots way to preserve the scoreless tie.
Following the draw, NYCFC looks to pick up the team's first win since opening week next Saturday in a visit to the winless Columbus Crew. The Fire, unbeaten in four games, host the Montreal Impact that same day.
MAN OF THE MATCH
Tested twice in the game's opening half, Matt Lampson came up big for the Fire by making a pair of big-time stops on David Villa to keep NYCFC off the board. In total, the Fire goalkeeper contributed seven saves against an NYCFC team that created a bulk of the chances.
MOMENT OF THE MATCH
Both sides struggled to muster much on target, but the Fire appeared to have had the crucial breakthrough in the 60th minute. However, Jonathan Campbell's apparent winner was ruled back after deliberation, as the game continued towards its destiny of a scoreless draw.
MATCH TO FORGET
NYCFC's attack will be particularly disappointed with their performance on Sunday. With several chances to fire on Lampson, the forward unit could never muster anything decisive in a game that was forgettable for all involved.