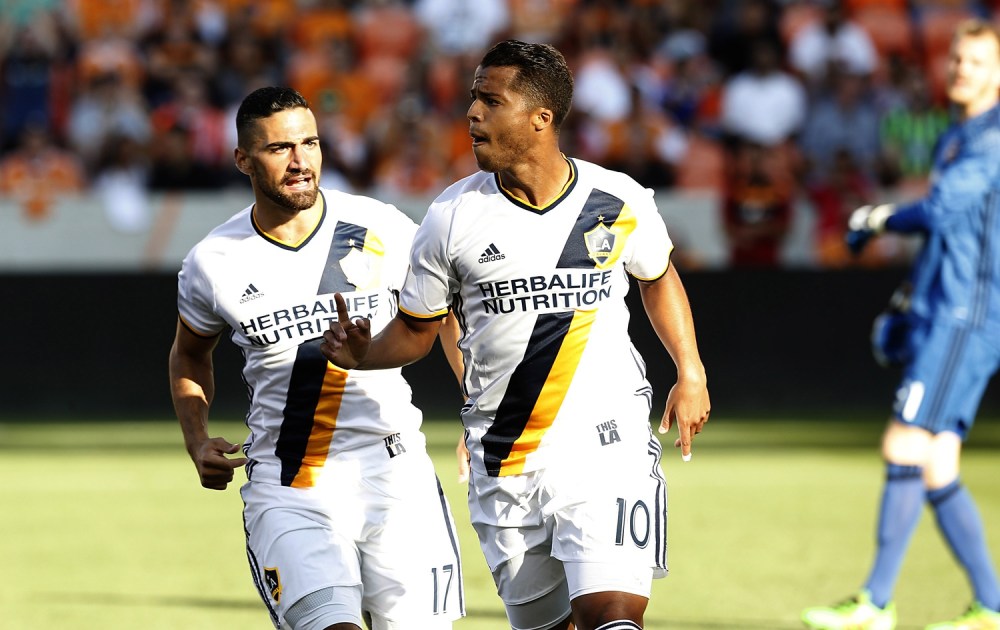 They have not shown it with much consistency so far this season, but the LA Galaxy looked like one of the best teams in MLS on Friday.
Bruce Arena's side was missing starting defensive midfielder Nigel de Jong due to suspension, but other members of the team stepped up in major way to dominate the Houston Dynamo, 4-1, at BBVA Compass Stadium.
Mexican international Giovani Dos Santos led the Galaxy charge, scoring his first two goals of the 2016 season and providing one assist. Baggio Husidic and Gyasi Zardes also netted to complete the rout of the Dynamo.
Dynamo defender David Horst scored his second goal of the season just inside the first minute of the match; he finished off a cross sent into the box from Alex. The Dynamo looked set to cruise to another multi-goal game, but the Galaxy had other plans.
Dos Santos, who has missed a few games this season due to injury, netted his first goal three minutes after Horst's header. The 26-year-old attacker saw the ball bounce to his feet after a defensive error by the Dynamo, and he blasted a shot by goalkeeper Joe Willis to level the score.
Husidic scored the eventual game-winner after Willis failed to properly punch a cross away from danger in the 21st minute. Ten minutes later, Steven Gerrard sent a pass across the field for Dos Santos, who took one touch before blasting the ball by Willis once again.
Minutes after the break, Sebastian Lletget played a inch-perfect cross into the path of Zardes, who scored the fourth and final goal for the Galaxy.
The Dynamo will now travel to play the Columbus Crew on April 23, while the Galaxy head back home to face off against Real Salt Lake that same day.
Here are the highlights of the Galaxy's win:
Man of the Match
Pressure to perform has been weighing heavy on the shoulders of Giovani Dos Santos, and he delivered his best game of the year on Friday. While Steven Gerrard deserves a mention for arguably his best match of the year as well, Dos Santos' brace ensured a Galaxy victory on the road.
Moment of the Match
In the 31st minute, Steven Gerrard and Giovani Dos Santos combined for the best play of the evening. The English midfielder played a perfect ball across the field for the Mexican attacker, who took a touch to set himself up for a shot on goal. Dos Santos placed his effort as perfectly as Gerrard's pass to him to score the third goal of the game.
Match to Forget
The Dynamo defense is now tied for conceding a league-worst 13 goals this season. While the back line as a whole deserves blame for allowing the Galaxy to walk all over them at home, it was not a good day for Joe Willis. The netminder's poor punch directly led the the game-winning goal for the Galaxy.