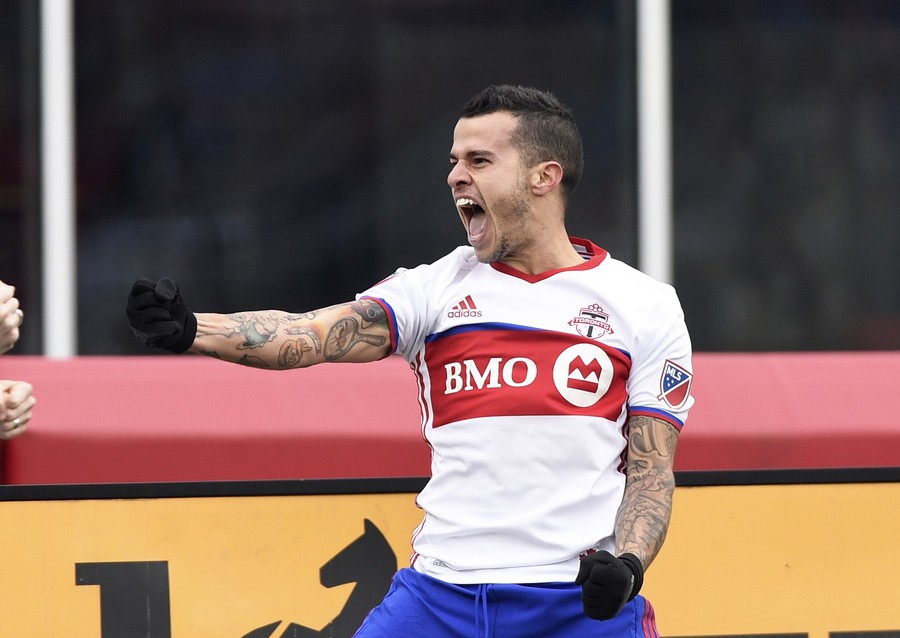 Toronto FC only had one shot on goal on the road Saturday afternoon against the New England Revolution, but that turned out to be enough to salvage a 1-1 draw at Gillette Stadium.
The Revs couldn't hold on after a 14th-minute header by Kelyn Rowe as Sebastian Giovinco leveled it in the 58th minute for Toronto FC in front of a crowd of 16,935 on a mild Saturday afternoon.
Gershon Koffie started the Revs' scoring play by distributing it out wide to Je-Vaughn Watson on the right side, who swung in a cross from over 30 yards out that Rowe ran onto at the far edge of the six-yard box. Rowe headed it back across TFC goalkeeper Clint Irwin's body for his first goal of the season.
Toronto FC leveled the score on an end-to-end counterattack in the 58th minute, as Sebastian Giovinco got redemption for a few earlier missed opportunities, beating Revs goalie Bobby Shuttleworth on a deflected shot, with Jozy Altidore supplying the assist.
TFC's Justin Morrow received a yellow card for a foul on Koffie earlier in the scoring play, but referee Edvin Jurisevic played advantage as the Revs kept possession. Teal Bunbury went down a bit too easily in the box on the ensuing sequence, which allowed Toronto to gain possession and score.
The Revolution thought it had a last gasp equalizer when substitute Femi Hollinger-Janzen found Lee Nguyen out in front in the second minute of stoppage time, but the goal was waved off because Hollinger-Janzen was over the end line.
Here are the highlights of Saturday's 1-1 tie:
https://www.youtube.com/watch?v=mS8F8T7JMZs
MAN OF THE MATCH
There wasn't much TFC goalie Clint Irwin could have done on Rowe's powerful scoring header, but he was otherwise sharp against a relatively lively Revs attack. Irwin made seven saves and kept Toronto in the game by keeping it a one-goal deficit, despite pressure, well into the second half.
MOMENT OF THE MATCH
Toronto FC made it a new game in the blink of an eye with its 58th-minute equalizer from Sebastian Giovinco. TFC went the length of the field in a matter of seconds after the Revs' Teal Bunbury lost possession of the ball in the box at the other end. Toronto advanced the ball to Altidore, who showed off his impressive hold-up play and found Giovinco streaking in to score.
MATCH TO FORGET
A combination of the Revs' defense and inconsistent play from Giovinco and Altidore resulted in just one shot on goal against Revolution keeper Bobby Shuttleworth, and he couldn't stop it. TFC's goal did come on a counterattack and it took a deflection, but with the level of Irwin's play at the other end, Shuttleworth needed to do better for the Revs to claim three points.