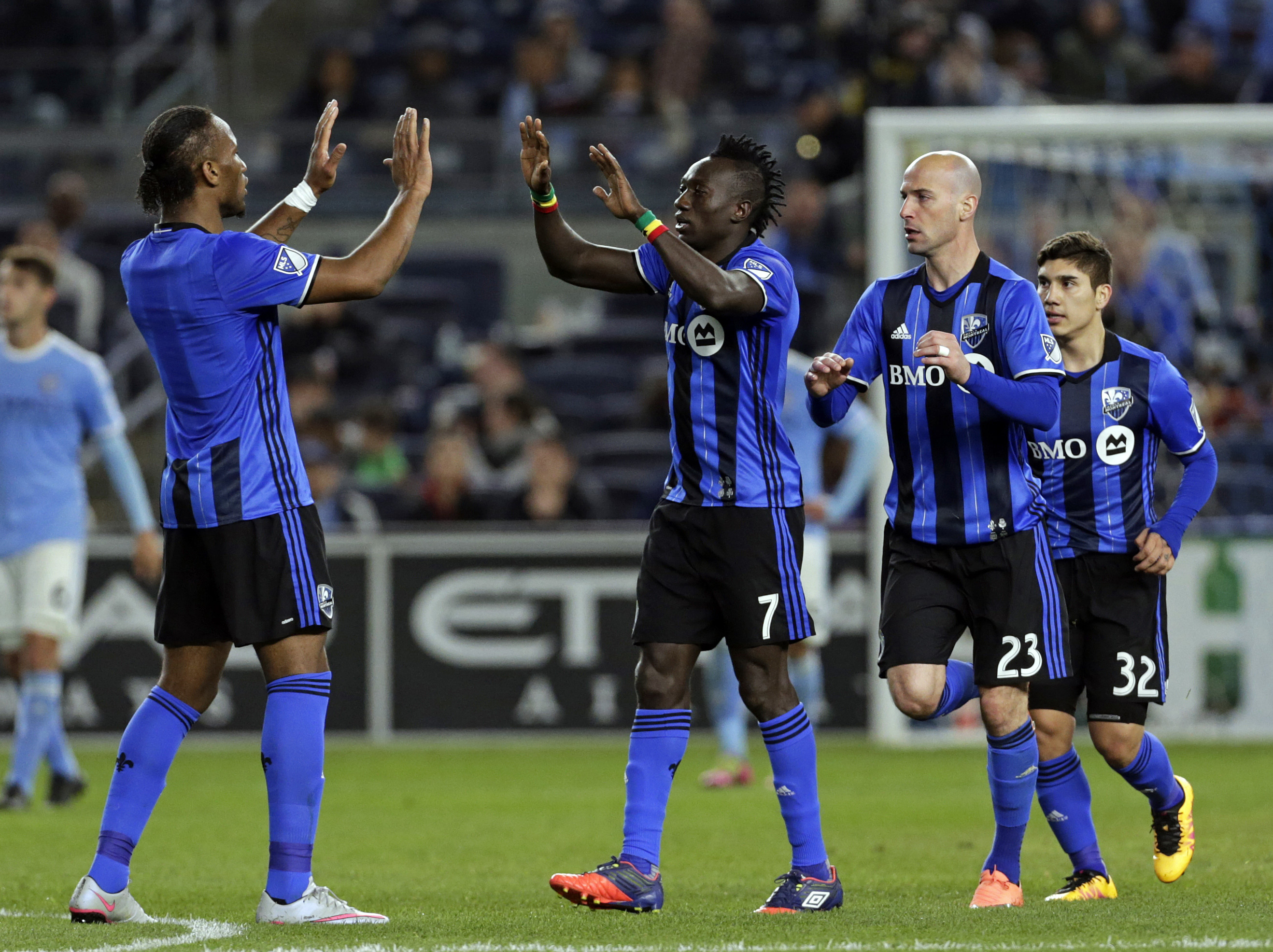 NEW YORK — The Montreal Impact finished with less possession, just two shots on goal, and had their hands full defensively.
They still managed to pick up a valuable road point.
The Impact moved to the top of the Eastern Conference on Wednesday night thanks to a late goal that gave them a 1-1 road draw vs. New York City FC. The Canadian club was a mere seconds away from being the first team to lose to NYCFC at Yankee Stadium this year, but Didier Drogba and Dominic Oduro combined on a free kick in the 91st minute to save the Impact from defeat.
Oduro's equalizer prevented his side from dropping a second straight match to an Eastern Conference foe after Saturday's home loss to Toronto FC, and, maybe just as importantly, highlighted the Impact's resolve.
"In the end, to come back, it showed character," said Impact head coach Mauro Biello. "It showed character to be able to score late in the game, and it helps us. It helps us rebound from a loss, and we've got another game on Saturday at home. For us, it's encouraging to come out of here with a point."
It may have been Oduro and Drogba who saved a result, but it was the defense and goalkeeper Evan Bush who kept the Impact in the game. The Impact were under pressure for large stretches in the second half, and ended the game surrendering 19 total shots and five on target.
Those numbers could have been worse, but Impact centerbacks Laurent Ciman and Wandrille Lefevre did an impressive job of limiting David Villa and a more advanced Andrea Pirlo for much of the 90 minutes. The defensive duo was not able to help post a shutout, of course, but still left the Impact in a position to grab a result late.
"I thought my two centerbacks had a good performance in terms of containing them," said Biello. "Obviously, Pirlo was coming out a little bit on the left, he was a little bit more advanced. (It) kind of threw us of a little bit, but we adjusted. We adjusted throughout the first half, and I thought we were able to neutralize him and just him being on the ball. For us, that worked out well."
"In general, they haven't been that dangerous," Drogba said of NYCFC's attack when asked about the Impact's back line. "They scored a nice goal on a good play, but they haven't been that dangerous offensively. I think we did what we could do. Like if you can't win, at least you leave this place with a point. That's what we did. We came here to win, but at least we have a point so we're happy."
That point moved the Impact to 13 on the season, pushing the club ahead of the Philadelphia Union for the top spot in the Eastern Conference. The Impact have played one more game than the Union to this point, but can keep their lead in the standings so long as they defeat the in-form Colorado Rapids at home on Saturday.
The Impact will head into that game with confidence, especially after proving to themselves that they can pick up results even when they do not play to their absolute best.
"The performance wasn't what we expected," said Oduro. "But at the end of the day to get on the road and come out with a point with a team that is fighting like that, that came out really feisty, I think we'll just take it and go back home and see if we can just do better against Colorado."