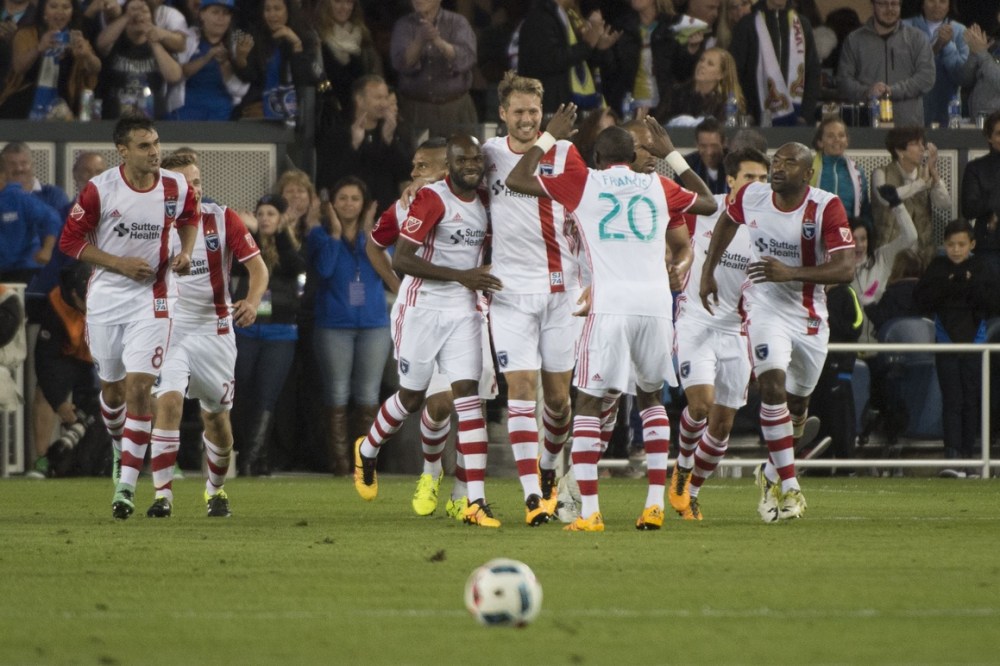 After 87 minutes of hopelessly searching for a goal, the San Jose Earthquakes found a finish to earn a late draw.
Adam Jahn was able to equalize late as the Earthquakes leveled their home contest with D.C. United to end in a 1-1 draw at Avaya Stadium.
The Earthquakes dominated the chances throughout the match, but D.C. was the only side able to put away a strike in the first half. Patrick Nyarko answered the long stretches of Earthquakes pressure with a goal from close range in the 34th-minute.
Dominic Kinnear's side continued to surge forward in the second half through Matias Perez Garcia and Tommy Thompson, but it took a combination from a pair of substitutes to find an equalizer.
The Earthquakes rescued a point in the 88th minute as Jahn knocked a Shea Salinas cross from the right wing into the bottom left part of the net.
The draw was the third of the season for D.C., who is one of two teams without a win after Week 5 along with the Columbus Crew. The Earthquakes' point  moved the team into a four-way tie on seven points in the Western Conference with the tie.
MAN OF THE MATCH
Despite giving up a late equalizer, Travis Worra kept D.C. in the match with five saves and terrific instincts in front of the net as the Earthquakes attack pushed for a goal over 90 minutes. His biggest denial came in stoppage time as he kept out Chris Wondolowski's attempt from the right side of the box.
MOMENT OF THE MATCH
The Earthquakes' substitute connection of Shea Salinas and Adam Jahn combined for a terrific equalizer in the 88th minute. Salinas played a superb cross from the right wing onto Jahn, who sent the ball into the bottom left corner of the net.
MATCH TO FORGET
Despite the constant pressure in the final third, both Chris Wondolowski and Quincy Amarikwa were unable to capitalize on the work put in by Matias Perez Garcia and Tommy Thompson. Amarikwa had a chance to score in the 25th minute, but sent an attempt straight at Worra. Wondolowski failed to convert on a pair of chances in the final 11 minutes of the second half.