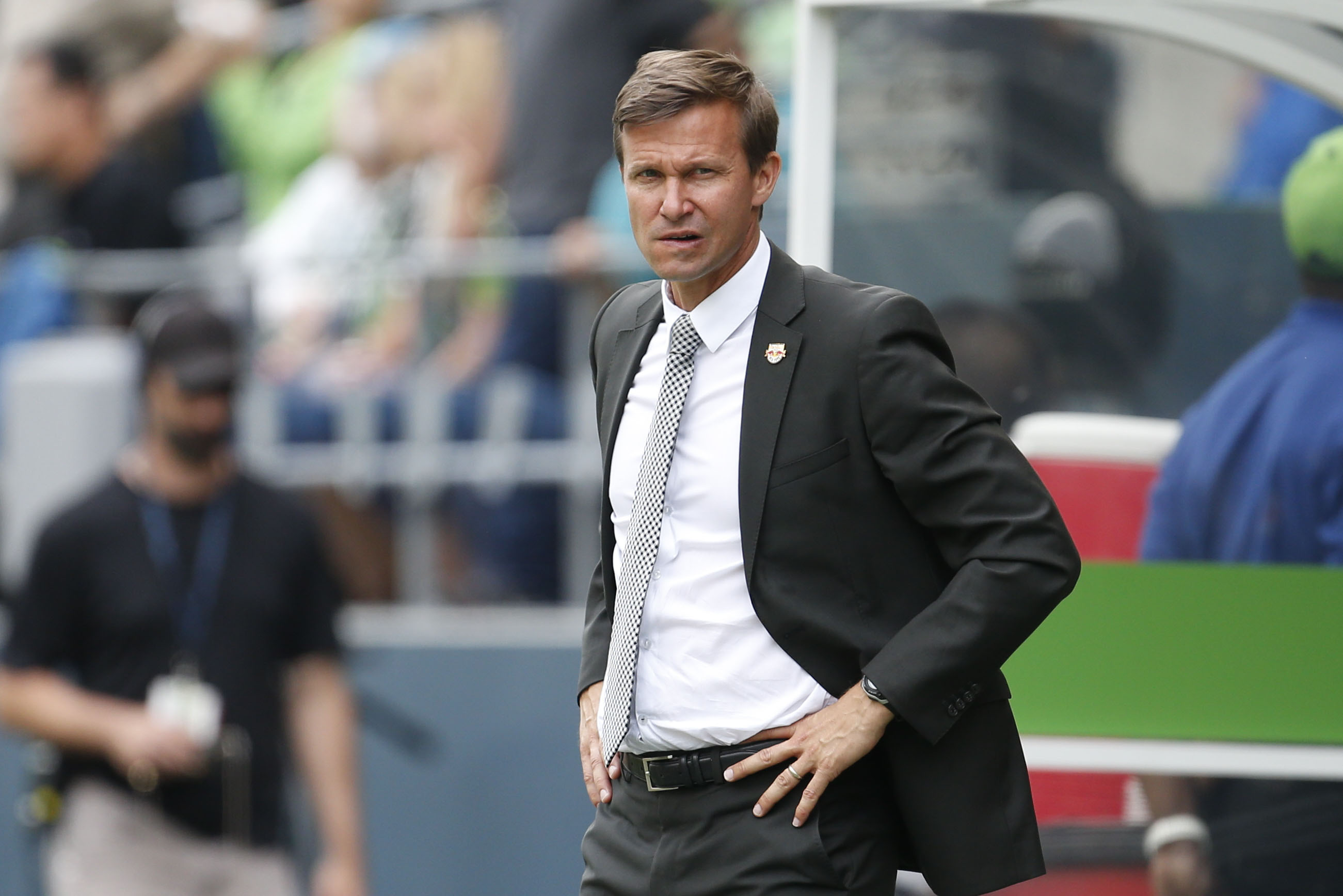 FOXBOROUGH, Mass. — New York Red Bulls head coach Jesse Marsch had strong words for the New England Revolution and referee Mark Geiger after the Revs scored their winning goal Friday night as Red Bulls defender Kemar Lawrence laid on the ground injured.
"It's shameful," Marsch said. "The game's supposed to have honor. And they can claim they didn't see him, they can claim they weren't sure he was hurt. It was clear as day that he was down on the ground and not just one player saw him, but the whole team saw him. So, that part, for me, is shameful."
"The other part is that the referee has such a huge impact on this game by having a bad performance," Marsch added. "He can blow the whistle when a guy's down like that."
Diego Fagundez scored the scored the 55th-minute winner after Scott Caldwell played a long ball over the top to Juan Agudelo, who found the left winger at the far post. Agudelo was held onside by Lawrence, who was on the ground outside the box.
"I was thinking he was going to get up because they kept on playing," Agudelo said.
"I thought that they had the ball and they had a chance to kick it out, from what I remember. And then we stole the ball and we were able to just finish through the play. Obviously, I feel bad about it. They seemed really upset and maybe they had a reason, but maybe their defense stays back and are aware of him going down," he added.
Revs coach Jay Heaps thought Agudelo had every right to continue the play.
"I try to have our guys play until the whistle," Heaps said. "There are injures that the referee has to stop or you have to kick out of bounds. When the game's on and Juan Agudelo gets the ball at the top and he's onside at the 18, he's got to play that on."
"I'd be just as mad in the same scenario, but I'd understand," Heaps added. "I would probably want my defender to finish the play or get to a position where he's not in an offside or make enough commotion where you get the referee to stop."
Marsch said Lawrence's injury status is still uncertain.
"Kemar felt his knee pop a little bit," Marsch said. "We're hopeful that he's okay, but we're not sure."
So, were the Revolution right to continue on with a scoring play that ended up giving them their first win of the season, or does Marsch have a legitimate beef?