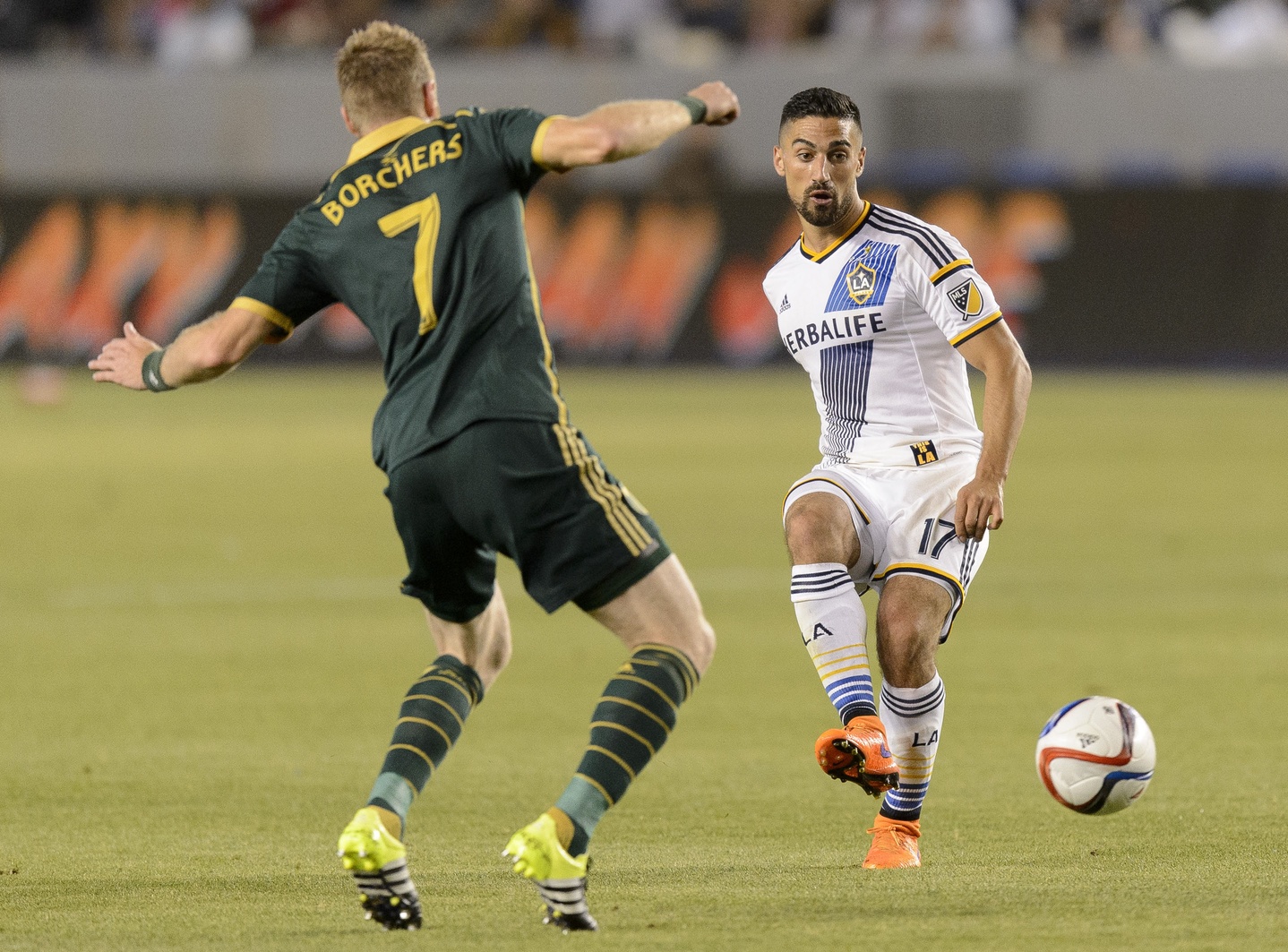 A full slate of 10 MLS matches are on the weekend's schedule as all 20 teams take the field for Week 6 action.
Headlining this weekend's action is a clash between the last two MLS Cup winners as the Portland Timbers pay a visit to the LA Galaxy. The matchup will give the Timbers a chance to erase an early season deficit in the aftermath of a 4-1 defeat to Orlando City SC last time out.
In the Eastern Conference, the Columbus Crew look to snap their winless skid in a meeting with the Montreal Impact, while Toronto FC visits the New England Revolution in a clash of postseason contenders.
Elsewhere, FC Dallas takes on the San Jose Earthquakes, the New York Red Bulls host Sporting Kansas City and the Seattle Sounders visit the Houston Dynamo.
Here's a closer look at this weekend's action:
PHILADELPHIA UNION vs. ORLANDO CITY (Friday,  7 p.m., UniMAS)
Following a statement victory over the reigning MLS Cup champions last week, Orlando City is set to enter a bit shorthanded for a clash with the Philadelphia Union.
The return of Kaka prompted a 4-1 thrashing of the Timbers last time out, with the Brazilian star contributing a goal and two assists. The captain will be in the lineup again on Friday night, but star forward Cyle Larin, the surging Brek Shea and up-and-coming centerback Tommy Redding are all set to be sidelined.
On the other side, the Union will be looking to return to their winning ways after seeing their two-game winning streak snapped last time out. In the midfield, the Union will be without Warren Creavalle while leading scorers Chris Pontius and C.J. Sapong will look to return to form following last week's shutout defeat to the Chicago Fire.
MONTREAL IMPACT vs. COLUMBUS CREW (Saturday,  4 p.m., MLS Live)
The Columbus Crew's continued search for a win will take them to the Olympic Stadium.
Entering Week 5, the Crew have collected just two points from four contests. Forward Kei Kamara has struggled after signing a Designated Player contract in the winter, while the team as a whole has combined for just three goals this season.
Their opponents, the Impact, will be looking to exact some revenge after falling to the eventual runners-up in last year's playoffs. Didier Drogba is expected to miss out once again as the Impact look to bounce back from back-to-back contests without a goal.
NEW ENGLAND REVOLUTION vs. TORONTO FC (Saturday, 4 p.m., MLS Live)
In a clash between two of last year's playoff teams, the Revolution will pay host to a Toronto FC team in need of a win.
The Revs controversially snatched the team's first win of the season last time out in a 1-0 defeat of the Red Bulls, while TFC has not won since an opening week defeat of the very same opponents.
TFC has lost seven of its last nine regular season road matches, a bad trend considering the team's recent road trip. The Canadian club doesn't return home until May 7, making Saturday's clash with the Revs a good time as any to break the trend.
D.C. UNITED vs. VANCOUVER WHITECAPS (Saturday, 5:30 p.m., MLS Live)
D.C. United continues to struggle in a big way as one of the West's hottest teams comes to RFK Stadium.
Entering Week 5, D.C. United remains winless, and will need to take down a surging Vancouver Whitecaps team to earn its first of the year. Heading into Saturday's clash, the Whitecaps have collected seven points from their last three games.
However, the Caps will be without several key players. Matias Laba will serve a suspension after being sent off last week, while Pedro Morales will miss out due to a hip injury.
NEW YORK RED BULLS vs. SPORTING KANSAS CITY (Saturday, 7 p.m., MLS Live)
The Red Bulls' makeshift back line will face another stiff challenge in a clash against Sporting KC.
Last week's narrow 1-0 defeat saw fullback Kemar Lawrence deputize at centerback, and it appears the Red Bulls will need to explore similar options this week. Gideon Baah and Ronald Zubar remain doubtful with hamstring injuries, while forward Gonzalo Veron looks set to miss out with the same ailment. The Red Bulls will also be without midfield stalwart Felipe due to a red card suspension.
Sporting KC is a team looking for a bounce-back win after seeing its three-game win streak snapped against a shorthanded Real Salt Lake team. Matt Besler is set to miss out once again due to a concussion, but Benny Feilhaber continues to push towards full fitness after making his return last week.
FC DALLAS vs. SAN JOSE EARTHQUAKES (Saturday, 9 p.m., MLS Live)
In the already tight Western Conference, clashes like Saturday's between FC Dallas and the Earthquakes could go a long way towards playoff positioning.
FC Dallas currently sits atop of the Western Conference table with 10 points through five games, while the Earthquakes are all the way in seventh despite being just three points behind. In the wake of a vicious 5-0 beatdown at the hands of the Dynamo, FC Dallas has bounced back admirably in earning seven points against three of last season's playoff teams.
Mauro Diaz is set to return to the lineup on Saturday after missing FC Dallas' draw with the Crew last week. On the other end, the Earthquakes will be hoping for the returns of Clarence Goodson and Anibal Godoy, who both missed the last match due to injury.
REAL SALT LAKE vs. COLORADO RAPIDS (Saturday, 9:30 p.m., MLS Live)
Real Salt Lake are riding high after a statement victory last time out.
Kyle Beckerman, Jamison Olave and Burrito Martinez are all set to return to action for RSL, who toppled Sporting KC last match despite a shorthanded lineup. With the win, RSL has collected eight points through four games while firing home a whopping eight goals.
The Colorado Rapids are also playing quite well, earning two wins and a draw following an opening week defeat. With just two games remaining on Jermaine Jones' suspension, the Rapids have themselves in a position to defend ahead of the U.S. Men's National Team midfielder's return.
HOUSTON DYNAMO vs. SEATTLE SOUNDERS (Sunday, 4 p.m., ESPN)
The Sounders usually count themselves among the league's most dynamic attacks, but their opponents on Sunday have asserted themselves as the league's best goal-scoring team to start the season.
Entering Sunday's action, the Dynamo have scored 11 goals in just four games, three more than any other team in MLS. However, the Dynamo have also conceded eight times, making Sunday's clash a potential breakout game for a sputtering Sounders attack.
Currently at the bottom of the Western Conference, the Sounders have struggled more than any could have expected, but Clint Dempsey's goal last time out proved enough to earn the club their first win.
NEW YORK CITY FC vs. CHICAGO FIRE (Sunday, 7 p.m., Fox Sports 1)
New York City FC got the best of the Chicago Fire in Week 1, and Veljko Paunovic's team will have a chance to get revenge on fellow newcomer Patrick Vieira on Sunday evening.
NYCFC has struggled to protect its home field in recent weeks, collecting just two of a possible nine points at Yankee Stadium. Frank Lampard is set to miss out yet again for the hosts, who enter with fresh legs following a bye week.
The Fire are riding a victory over the Union, with the club now sitting on five points through four games. The NYCFC defeat remains the team's only loss to date, as Paunovic has his new club playing solid soccer to start the campaign.
LA GALAXY vs. PORTLAND TIMBERS (Sunday, 9:30 p.m, Fox Sports 1)
The Timbers looked flat out bad last time out, and the reigning MLS Cup champions face yet another difficult road game with a visit to the Galaxy.
After being thrashed, 4-1, by Orlando City last week, the Timbers will look for a bounce-back performance against the Galaxy. A defeat of the Galaxy served as a kickstart for last season's MLS Cup run, and Caleb Porter's team will surely need another one having gone winless since opening day.
Helping the Timbers' case are the current injury woes of the Galaxy. Steven Gerrard has yet to return to full training, while Robbie Keane will be out for an extended period of time. Add in the questionable status of Giovanni Dos Santos and the Galaxy could have trouble on the attacking end.