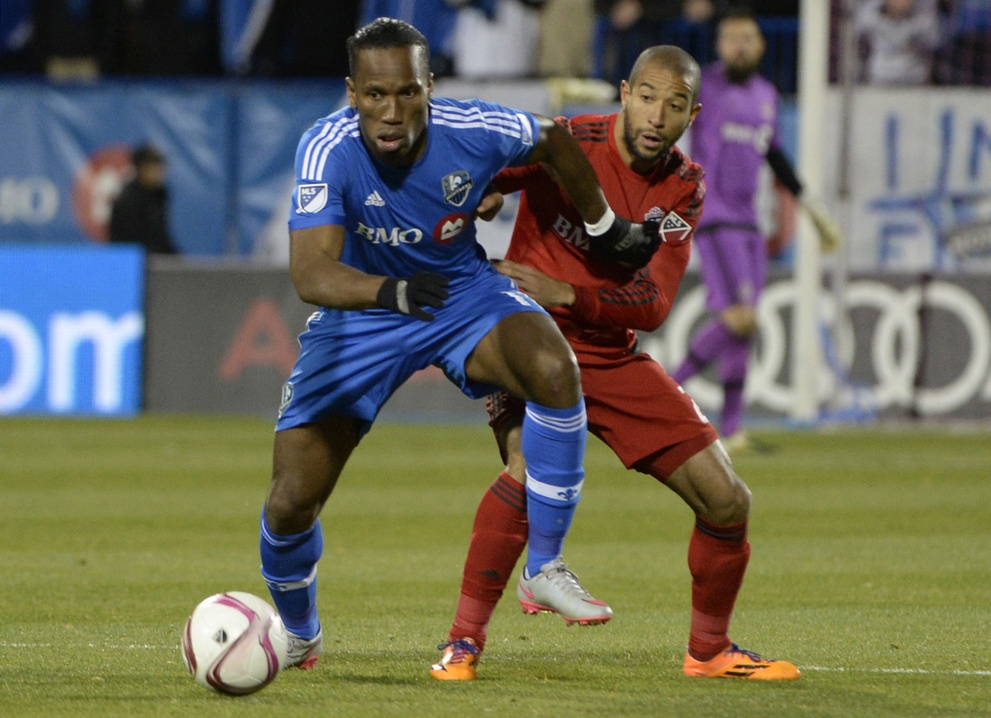 Both Real Salt Lake and the Montreal Impact have emerged as contenders in their respective conferences, but the two sides will face stiff tests this weekend.
RSL, the league's last remaining unbeaten, travels to StubHub Center to take on the LA Galaxy, while the Impact host Canadian rivals Toronto FC in a match-up that should pit superstars Didier Drogba and Sebastian Giovinco against one another..
Elsewhere, FC Dallas, the Western Conference leader, is bound for Vancouver for a clash with the struggling Whitecaps. The Colorado Rapids, meanwhile, will battle the Seattle Sounders.
This round of action will also see the Philadelphia Union host New York City FC, Orlando City taking on the New York Red Bulls, and Sporting Kansas City visiting the San Jose Earthquakes in a big-time Western Conference clash.
Here's a closer look at this weekend's MLS action:
MONTREAL IMPACT vs. TORONTO FC (Saturday, 4 p.m., MLS Live)
Didier Drogba is back in goal-scoring form ahead of a clash with Sebastian Giovinco and Toronto FC.
The Ivorian star netted his first goal of the season last weekend, flicking home a back heel to lead the way in a 2-1 defeat of the Chicago Fire. The Montreal Impact could be without Victor Cabrera, making defending a tough task against an always-potent Toronto FC team.
Giovinco has been in solid form, by his standards, with four goals and two assists through six appearances. Entering the weekend, Toronto FC sits four points behind its Canadian rival in the Eastern Conference table and with just two games remaining on its season-opening road swing.
PHILADELPHIA UNION vs. NEW YORK CITY FC (Saturday, 4 p.m., MLS Live)
The Philadelphia Union are sightly banged up, but will be hoping to bounce back from last week's defeat when struggling New York City FC come into town.
The Union could be without Ken Tribbett and Ilsinho, while Roland Alberg will miss out after being sent off last week. At centerback, rookie Josh Yaro got the start in last week's defeat to the Sounders, and looked more than good enough to warrant inclusion for a second time.
NYCFC is still playing without Frank Lampard and rookie Jack Harrison, while defender Ethan White's hamstring issues have provided problems to the backline in recent weeks. A 3-2 loss to the Columbus Crew last time out served as a setback after a series of promising performances, but NYCFC has not won since an opening day defeat of the Chicago Fire.
D.C. UNITED vs. NEW ENGLAND REVOLUTION (Saturday, 5:30 p.m., MLS Live)
D.C. United played the New England Revolution to a lackluster 0-0 draw last month, and both sides will be looking for a much better performance in Saturday's rematch.
Both teams have produced just one win to this point, although the Revolution have fared significantly better due to their league-leading five draws. Adding to the club's push for three points will be the returns of Jose Goncalves and Juan Agudelo, who missed last week's controversial 2-2 draw with Orlando City.
D.C. United have an absence of their own in the form of head coach Ben Olsen, who is suspended for Saturday's game.
COLUMBUS CREW vs. HOUSTON DYNAMO (Saturday, 7:30 p.m., MLS Live)
After winning their first game of the season last week, the Columbus Crew will aim to continue their climb back into the Eastern Conference race.
The Crew started the season winless through five, but a 3-2 victory over NYCFC should finally ease some of the pressure on the MLS Cup runner-up. Centerback Gaston Sauro is set to miss out due to a hamstring injury, but the Crew backline could have some protection via the return of defensive midfielder Tony Tchani.
On the other side, the Houston Dynamo have proven to be both electric and poor. Owen Coyle's side have scored 13 goals, but also conceded just as many, giving Saturday's clash the potential to be a breakout game for what was previously a struggling Crew attack.
COLORADO RAPIDS vs. SEATTLE SOUNDERS (Saturday, 9 p.m., MLS Live)
The Colorado Rapids have shocked many observers with their form in recent weeks and, with Jermaine Jones now firmly in the lineup, will have a chance to make a further statement with a win over a perennial contender.
Saturday sees the Rapids host the Seattle Sounders, who have experienced an upswing recently with two wins and a draw in their past three games. What is even more good news for the Sounders is that Jordan Morris will enter the weekend with a bit of momentum after scoring his first MLS goal last time out.
The Rapids enter with momentum of their own after posting a pair of consecutive 2-1 wins over Sporting Kansas City and the New York Red Bulls last week. Jones' inclusion in his second game or the club will be a major one, as the Rapids will be without Marco Pappa while and Dillon Powers, Axel Sjoberg, Jared Watts, and Marlon Hairston all remain questionable.
LA GALAXY vs. REAL SALT LAKE (Saturday, 10:30 p.m., MLS Live)
Real Salt Lake's unbeaten record will be put on the line on Saturday at StubHub Center.
Through six games, RSL has won four and drawn two to remain the league's lone undefeated side. However, Saturday may pose RSL's most significant test of the season, as the team will be without star forward Joao Plata due to a hip injury.
The LA Galaxy have injury issues of their own, with Robbie Keane, Robbie Rogers and Dan Kennedy all set to miss out. The Galaxy will also be without Nigel de Jong, who continues to serve his suspension. Steven Gerrard and Giovani dos Santos stepped up mightily last week in the wake of the absences, and the Galaxy will need the Designated Player duo to continue its hot form on Saturday night.
VANCOUVER WHITECAPS vs. FC DALLAS (Saturday, 10:30 p.m., MLS Live)
The Vancouver Whitecaps have been lackluster on the attacking end to this point, but may need to engage in a shootout this weekend against an FC Dallas side that remains as vicious as any in the league.
FC Dallas sits atop the overall standings through eight games and is expecting to see the return of Mauro Diaz after a month-long injury lay-off. Even without Diaz, the Western Conference contender has shined with a league-leading 15 goals to this point.
The Whitecaps have been nowhere near as prolific, netting just six times on their way to ninth in the Western Conference standings. Playmaker Pedro Morales looks likely to miss out due to a hip strain, as the 'Caps face a tough task following a run of three without a win.
SAN JOSE EARTHQUAKES vs. SPORTING KANSAS CITY (Sunday, 3:30 p.m., ESPN)
Both the San Jose Earthquakes and Sporting Kansas City will be in search of a bounce-back result after losing to conference foes last time out.
The Earthquakes enter on the heels of a 3-1 defeat to the Portland Timbers, while Sporting KC has now dropped two straight after starting the season by going unbeaten through the first four games. Sporting KC's last two matches, defeats to the Colorado Rapids and FC Dallas, have produced identical 2-1 scorelines.
Through the first month-and-a-half of the season, the Earthquakes have yet to lose at home, but currently have six players listed as injured ahead of Sunday's game. Sporting KC will be missing several contributors as well, including Justin Mapp, Kevin Ellis and Chance Myers.
NEW YORK RED BULLS vs. ORLANDO CITY (Sunday, 7:30 p.m., Fox Sports 1)
The New York Red Bulls' struggles have been highly-publicized, but it won't get easier for the reigning Supporters' Shield winners.
Entering the weekend, the Red Bulls have lost six of seven, including four straight. Goals have been hard to come by, while the team's defense has been equally porous. The team ranks dead last in both categories.
Their opponent, Orlando City, had been playing well, but is now winless in two straight following a controversial draw with the Revolution last week. The Lions could see the return of Cristian Higuita, who has been missed mightily in the central midfield.