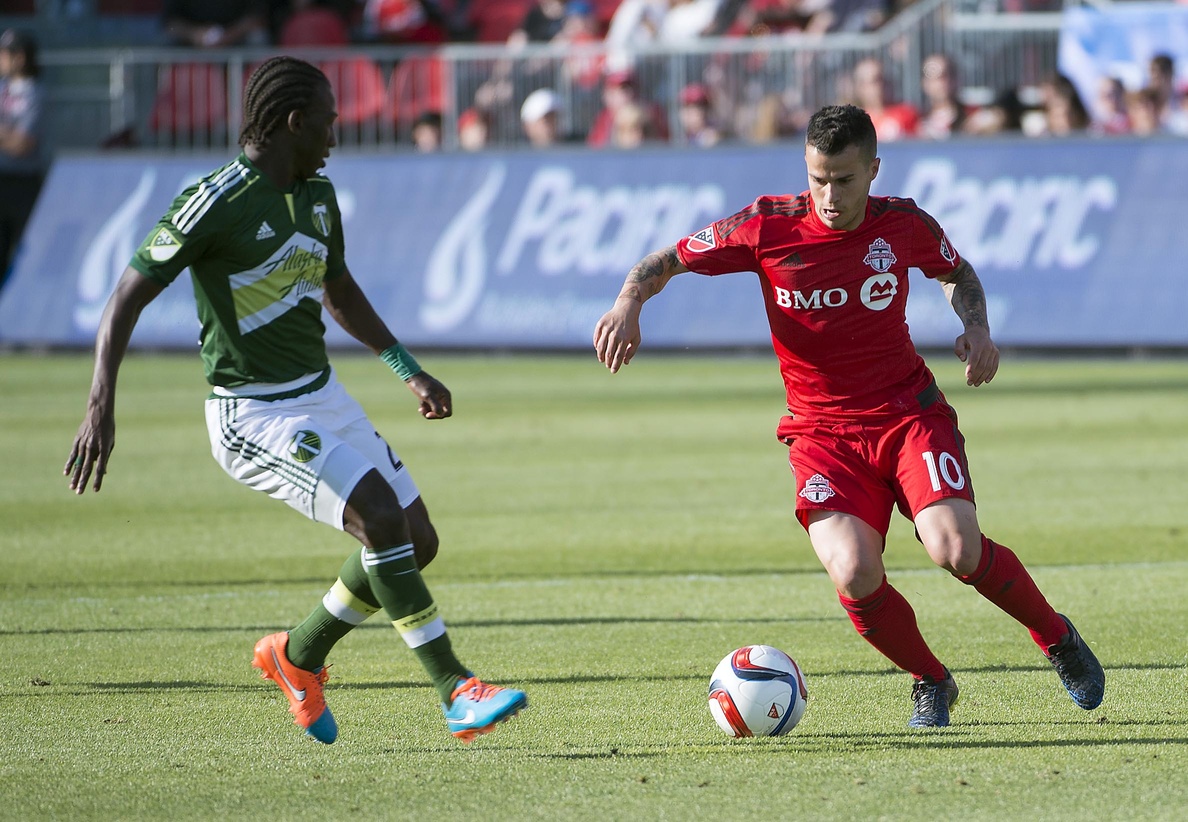 Following a trio of midweek games, MLS returns with a full schedule and some intriguing matchups to headline the weekend.
Sunday's action features two marquee clashes as the Portland Timbers host Toronto FC, while the red-hot LA Galaxy take on a fellow Western Conference contender in Sporting KC.
In a clash of contenders from opposing conferences, the Colorado Rapids take on Didier Drogba and the Montreal Impact. The Rapids are riding a three-game winning streak, while the Impact will be on a slight high following a late draw against NYCFC midweek.
Elsewhere, the New York Red Bulls look to continue their rebound against FC Dallas, the Seattle Sounders host the Columbus Crew, and the New England Revolution and Orlando City collide two weeks after their controversy-filled draw.
Here's a closer look at this weekend's MLS action:
NEW YORK RED BULLS vs. FC DALLAS (Friday, 7 p.m., UniMas)
The New York Red Bulls are riding high after breaking their winless streak last time out, but a tough task awaits in the form of FC Dallas.
Following four straight losses, the Red Bulls broke loose last week with a 3-2 victory over Orlando City. After being held scoreless prior to their meeting with Orlando, Bradley Wright-Phillips finally etched his name on the scoresheet with a pair of slump-busting goals.
Making Wright-Phillips' task a bit easier on Friday will be the absence of Matt Hedges, who remains sidelined for FC Dallas. The Texas club, who will look to bounce back from a defeat last time out, currently sits atop the Western Conference table through nine games.
MONTREAL IMPACT vs. COLORADO RAPIDS (Saturday, 4 p.m., MLS Live)
After salvaging a draw midweek, the Montreal Impact return home to face a Western Conference contender.
Didier Drogba was quiet for a majority of Wednesday's draw against NYCFC before assisting on the game-tying goal in stoppage time. However, since Drogba's introduction, the Impact have struggled to recapture the form that made them look so strong throughout the first few weeks of the season.
Their opponents, the Colorado Rapids, are as hot as ever. Led by Jermaine Jones and Kevin Doyle, the Rapids sit just one point FC Dallas in the West while also possessing a game in hand. Marco Pappa will register as a major absence, though, as the veteran recovers from a sprained knee.
PHILADELPHIA UNION vs. SAN JOSE EARTHQUAKES (Saturday, 4 p.m. MLS Live)
The Philadelphia Union and San Jose Earthquakes have surprised many so far this season,  and now the two sides are set to collide in an inter-conference matchup.
Both sides possess an in-form striker in C.J. Sapong and Chris Wondolowski, who have netted four and seven goals, respectively. Sapong will have a slight advantage in shortening the scoring gap against an Earthquakes defense that will be shorthanded at centerback.
The Union have yet to lose at Talen Energy Stadium this season, while the Earthquakes have yet to earn a victory away from Avaya Stadium this season.
NEW YORK CITY FC vs. VANCOUVER WHITECAPS (Saturday, 4 p.m. MLS Live)
NYCFC will look to bounce back from yet another squandered lead in the second match of a double gameweek.
Dominic Oduro's 90th minute header saw NYCFC drop two points against the Impact in the latest in a long line of dropped points. To date, NYCFC has won just once this season, and expect to enter Saturday's clash without Frank Lampard and RJ Allen this weekend.
The Vancouver Whitecaps enter on much more of a high after claiming four points from their last two games.
SEATTLE SOUNDERS vs. COLUMBUS CREW (Saturday, 4 p.m., MLS Live)
Two sides looking to rebound from poor starts are set to collide at CenturyLink Field.
The Seattle Sounders and Columbus Crew both dug themselves holes to start the season, and are currently in the midst of a turnaround. The Crew enter on a two-game winning streak, while the Sounders saw a three-game unbeaten run snapped last week in a loss to the Rapids.
Making matters more difficult will be a series of Sounders absences. Clint Dempsey and Nelson Valdez are both battling injuries, while Brad Evans will be suspended after being sent off last week.
CHICAGO FIRE vs. D.C. UNITED (Saturday, 5 p.m., MLS Live)
D.C. United's banged-up forward unit will go against a Chicago Fire team that has proven as strong in defense as any in the league.
Fabian Espindola will miss out for D.C. United, opening the door fo Ben Olsen to utilize the in-form tandem of Luciano Acosta and Alvaro Saborio. Add in the absence of Marcelo Sarvas, and D.C. United will face difficulties in pushing on for a 3-0 victory last time out.
Former Fire midfielder Patrick Nyarko will make his return to Toyota Park after eight seasons, while current Fire forward David Accam is likely set to miss out due to injury.
NEW ENGLAND REVOLUTION vs. ORLANDO CITY (Saturday, 7:30 p.m., MLS Live)
Following a controversy-filled draw a few weeks back, the New England Revolution and Orlando City will look to settle the score on Saturday night.
Two weeks ago, both sides were impacted by questionable refereeing in a game that ended as a 2-2 draw. The clash has proven to be the poster for many calling for MLS refereeing reform, and both sides failed to rebound by settling for losses last time out.
Injuries to Teal Bunbury and Charlie Davies leave the Revs in need of a shuffle up top, while Orlando City star Kaka remains questionable after missing last week's loss to the Red Bulls.
REAL SALT LAKE vs. HOUSTON DYNAMO (Saturday, 9:30 p.m., MLS Live)
The Houston Dynamo have been struggling in a major way ahead of a clash with a banged-up Real Salt Lake.
RSL, who enters fourth in the Western Conference, will be without Burrito Martinez and Joao Plata, while Sunday Stephen and Javier Morales are also nursing injuries.
The Dynamo may be a bit healthier, but their performances over the past few weeks have been lackluster. With an 0-4-1 record in the past five games, the Dynamo now face an RSL team that lost their first game of the season last time out.
PORTLAND TIMBERS vs. TORONTO FC (Sunday, 3:30 p.m. MLS Live)
The final stop of Toronto FC's eight-game road run is arguably the most intimidating.
Forced to start the season with a long-term road swing, TFC now travels to Providence Park to take on the defending MLS Cup champion Portland Timbers. Featuring former Timbers midfielder Will Johnson, TFC has emerged as the league's top defensive team to date.
The Timbers, meanwhile, have struggled a bit but are now on a two-game unbeaten run. The return of Darlington Nagbe headlined the team's midweek clash with the Revs, a game that ended in a 1-1 draw on a late Timbers own goal.
SPORTING KANSAS CITY vs. LA GALAXY (Sunday, 8:00 p.m., MLS Live)
After toppling RSL's unbeaten run, the LA Galaxy face another Western Conference contender in Sporting Kansas City.
In the absence of Robbie Keane and Nigel de Jong, the Galaxy have thrived as Steven Gerrard, Giovani dos Santos and Emmanuel Boateng have stepped up in a major way. The midfield unit will face a tough task in containing Benny Feilhaber, but the duo of Gerrard and Baggio Husidic have looked strong as a defensive pairing over the past several weeks.
Dom Dwyer, Graham Zusi and Brad Davis were limited to substitute roles midweek, leaving the trio fresh for a clash with the surging Galaxy.