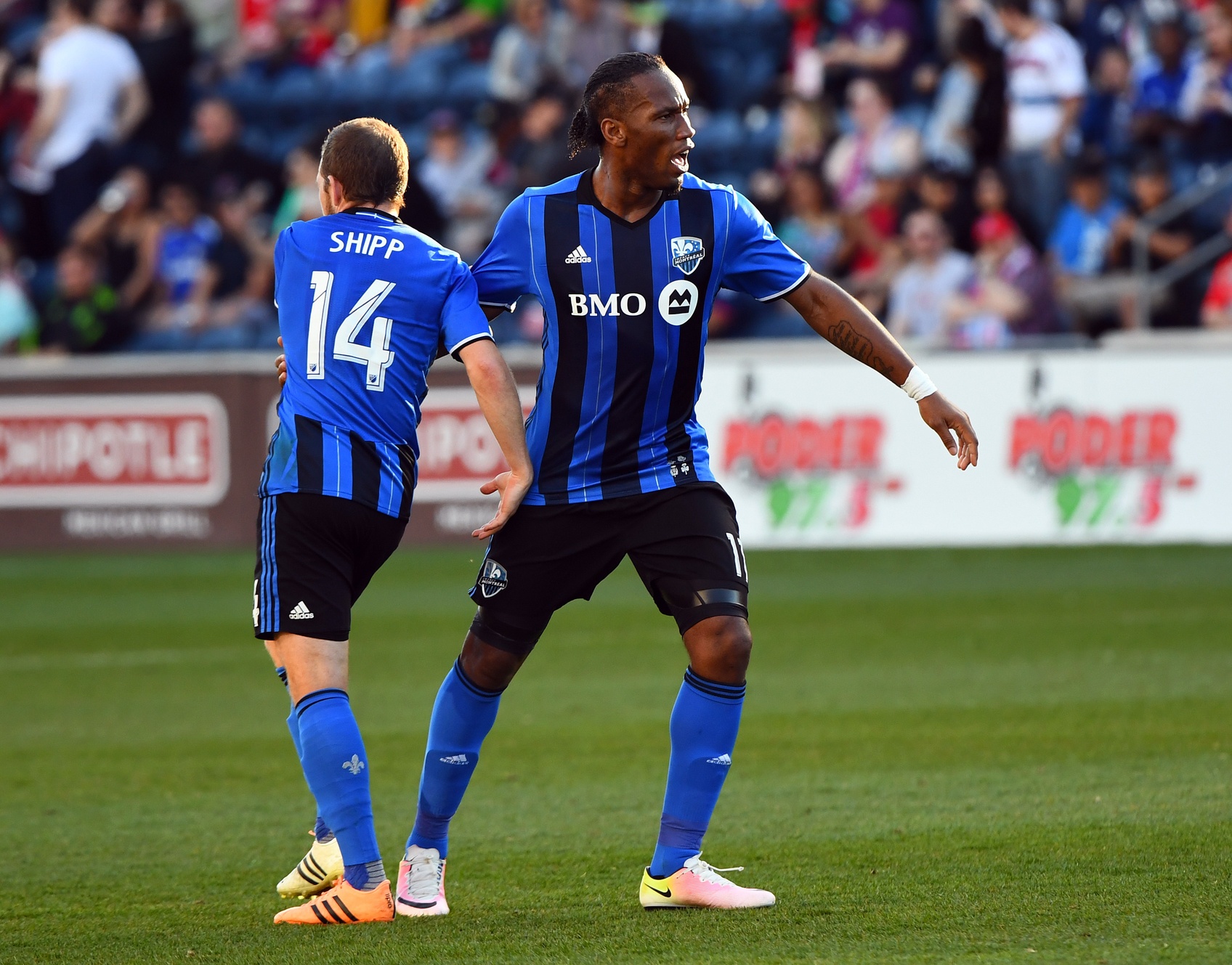 A trio of games are set to provide a midweek slate of MLS action headlined by some of the league's biggest stars.
Starting Wednesday's action is a clash that pits David Villa against Didier Drogba, as New York City FC plays host to the Montreal Impact in a battle of Eastern Conference foes. Out West, the Vancouver Whitecaps will hope to continue their goalscoring form in a match against a Sporting Kansas City team in need of some momentum.
Finally, a pair of contenders collide in an inter-conference matchup when the reigning MLS Cup champion Portland Timbers visit the New England Revolution.
Here's a closer look at Wednesday's action:
NEW YORK CITY FC vs. MONTREAL IMPACT (Wednesday, 7 p.m., MLS Live)
The sight of Didier Drogba is not an ideal one for struggling NYCFC.
NYCFC and Wednesday's opponent, the Montreal Impact, find themselves on opposite ends of the Eastern Conference table entering Wednesday's clash at Yankee Stadium. Despite falling to TFC last time out, the Impact are tied for the conference lead in points, while NYCFC has yet to win since a season-opening defeat of the Chicago Fire.
NYCFC will be looking to contain the duo of Drogba and Ignacio Piatti, the latter of whom has four goals and two assists this season. Defensively, though, the Impact enter significantly weakened due to the absences of Donny Toia and Hassoun Camara.
NEW ENGLAND REVOLUTION vs. PORTLAND TIMBERS (Wednesday, 7:30 p.m., MLS Live)
Both the New England Revolution and Portland Timbers have called themselves MLS Cup finalists over the past two seasons, but both sides ave yet to live up to expectations in 2016.
The Revs have picked up just one win to this point while amassing a league-leading five draws. The Timbers, who ended a five-game winless streak with a defeat of the Earthquakes last week, currently sit eighth in the West with just eight points through seven games.
Helping aid the Timbers' cause could be the returns of several key contributors. Both Liam Ridgewell and Darlington Nagbe could return to the lineup, allowing the Timbers' to recover some of the team's spine that has been missing for the past several weeks.
VANCOUVER WHITECAPS vs. SPORTING KANSAS CITY (Wednesday, 10:30 p.m., MLS Live)
The Vancouver Whitecaps are coming off the team's best performance of the season, but even a struggling Sporting KC team should prove a legitimate threat.
Heading into Wednesday's contest, Sporting KC is riding a three-game losing streak after starting the season 3-0. One of those wins, conveniently, came against the Whitecaps, who were thwarted, 2-1, in the two sides' season-opening clash.
Since, the Whitecaps have struggled, but seemingly broke out of a rough patch with a 3-0 victory over FC Dallas last time out. Adding to the Whitecaps' hopes will be the probably return of Pedro Morales, while Sporting KC contributors Justin Mapp, Chance Myers and Paulo Nagamura remain questionable.