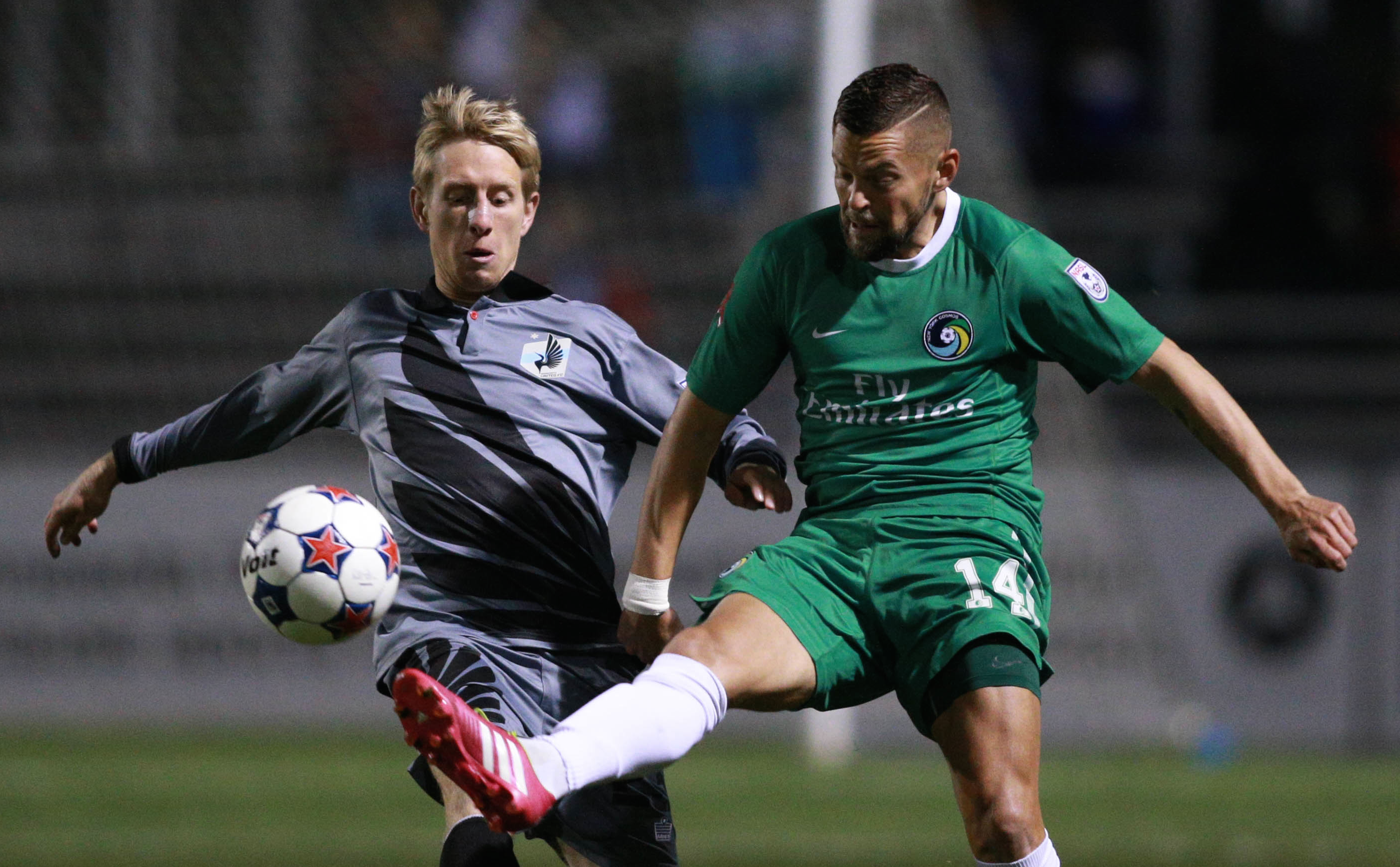 In NASL action this weekend, two stalwarts of recent seasons face off in Minnesota while new standouts match up in Tampa Bay.
Perennial heavy-hitters in the New York Cosmos and Minnesota United FC will take the field on Saturday night with plenty on the line. Minnesota United has started to bounce back from an underwhelming opening display, but the Cosmos are now coming off a late breakdown on the road in Indy.
Elsewhere, Tampa Bay Rowdies fans have yet to be treated to an appearance from Freddy Adu, but new signings Tom Heinemann and Eric Avila have gotten the ball rolling at Al Lang Stadium. But now, a surprisingly good Carolina Railhawks team will look to continue their fine start to the year on the road.
Here's a closer look at all of this weekend's NASL action:
MIAMI FC VS. RAYO OKC (FRIDAY, 8 P.M., ESPN3)
NASL's two newest teams go head to head on Friday in south Florida.
Miami FC has salvaged two draws in their first two matches before dropping all three points to Tony Meola's Jacksonville Armada last weekend. Dario Cvitanich has been a revelation for Alessandro Nesta's side, scoring three goals in three matches.
Rayo OKC has been less active, only managing a scoreless draw against an unimpressive FC Edmonton side in their opening game. They showed a bit more life in a devastating stoppage time loss against the RailHawks in week two, with MLS veterans Ryan Johnson and Michel performing alongside Marvin Chavez.
FORT LAUDERDALE STRIKERS VS. JACKSONVILLE ARMADA (SATURDAY, 7 P.M., ESPN3)
The Fort Lauderdale Strikers were lucky to salvage a point in Week One thanks a to a penalty at the death, but things got worse their second time out.
Last weekend, Minnesota United finally got their offense on track against the Strikers, pummeling the Strikers side 3-0 up north. Caio Zanardi's men will now face another stiff test against the Armada.
Meola's team found confidence against Miami FC last week, and will now have a chance to stake their relevance in Florida against another southern team from the Sunshine State. Pascal Millien and Junior Sandoval are already catching form, and if Matthew Fondy or Alhassane Keita get going, it will be quite the show in Jacksonville.
TAMPA BAY ROWDIES VS. CAROLINA RAILHAWKS (SATURDAY, 7:30 P.M., beIN SPORTS)
The Tampa Bay Rowdies were always a team to look out for this season after the talent they picked up, but Coach Stuart Campbell also has the side already playing as a cohesive unit.
They've only given up one goal in three matches, and are still playing without Freddy Adu. But Michael Nanchoff, Heinemann, Avila and company will face a rougher test as they host shocking league-leaders the Carolina RailHawks.
Superb play from Tiyi Shipalane, Nazmi Albadawi, and Austin Da Luz last week saw the RailHawks take three points for the third straight game to start the season. It won't be quite so easy against a Rowdies backline with Neill Collins and Tamika Mkandawire, though.
MINNESOTA UNITED VS. NEW YORK COSMOS (SATURDAY, 8 P.M., ONE World Sports)
Two league stalwarts from the past several years are facing off on Saturday with something to prove.
Gio Savarese's men looked all set to take home three points in Indianapolis before Eamon Zayed scored a brace in stoppage time. The Cosmos are stacked with attacking talent this season, with Michael Lahoud, Jairo Arrieta, Niko Kranjcar and Juan Arango coming into an already gifted squad.
It may have taken the Loons some time to get things together, but Minnesota United are now firing on all cylinders after a dynamic 3-0 victory over the Strikers last weekend. Ben Speas has been a revelation as a withheld striker, and stability provided by Jeb Brovsky has allowed the team's attacking men to roam free.
FC EDMONTON VS. OTTAWA FURY (SUNDAY, 4 P.M., ESPN3)
An all-Canadian match up caps off this weekend's action in Edmonton on Sunday.
FC Edmonton has not yet shown well in their three opening matches, as Colin Miller's men haven't yet scored a goal. Some magic will be needed from Daryl Fordyce or Tomi Ameobi up front if the team is to open the floodgates against the Ottawa Fury.
That completely dismantled Fury team hasn't been any better, though, and will need a similar unlikely spark to jump start their Spring. Reigning Goalkeeper of the Year Romuald Peiser and his solid backline are likely to be the stars in this match up.