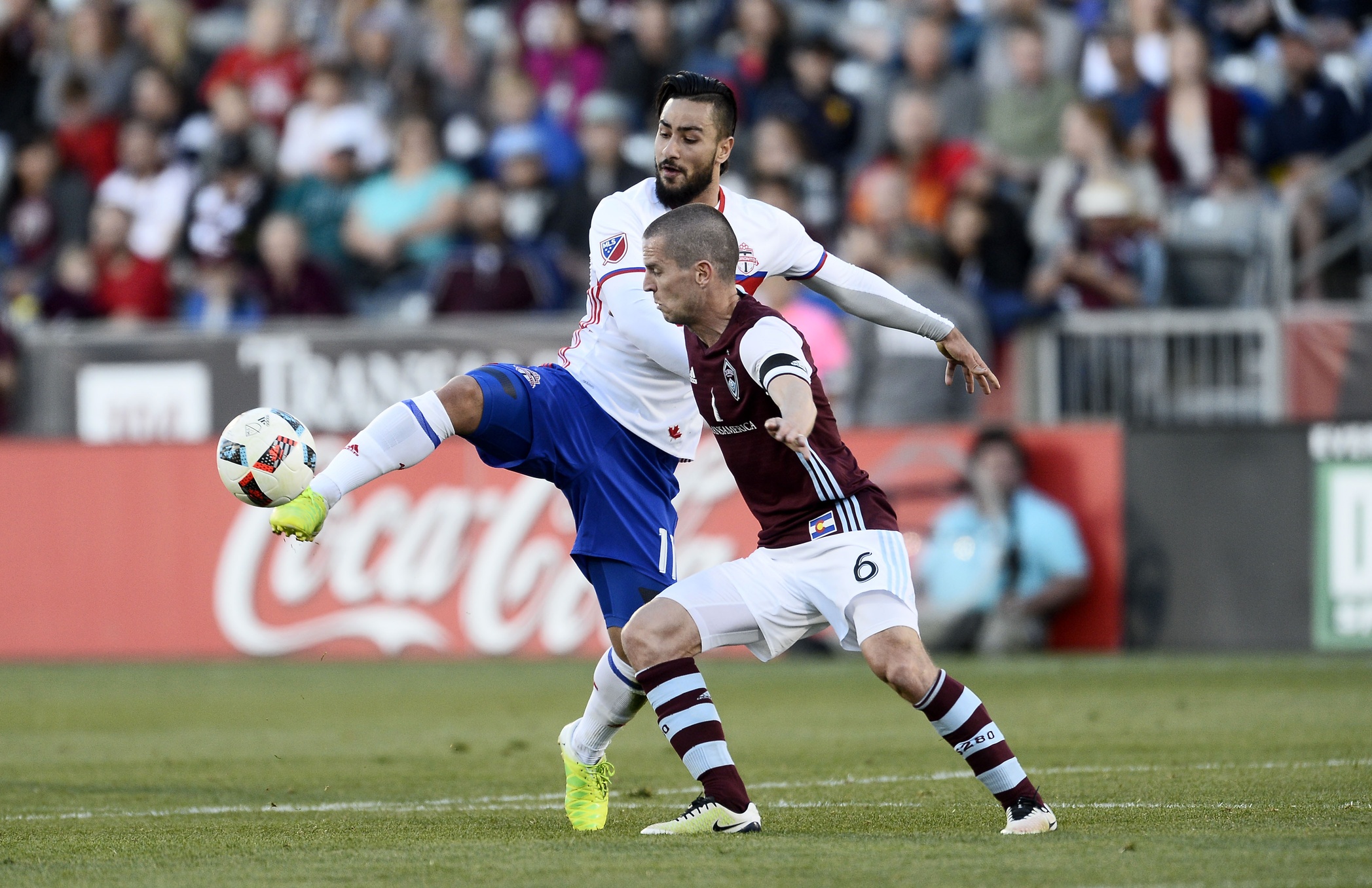 An early red card doomed Toronto FC to defeat against the Colorado Rapids.
A finish from Rapids forward Luis Solignac separated the two sides, leading the Rapids to a 1-0 win over 10-man TFC on Saturday night at Dick's Sporting Goods Park.
Solignac's goal came in the 18th minute as the Rapids forward was played in over the top by Marco Pappa. While Toronto FC defenders raised their hands to protest for an offside call, Solignac trotted into the box and calmly slotted past Clint Irwin to score the lone goal needed to earn the Rapids all three points.
From the game's opening minutes, TFC was facing an uphill battle due to the dismissal of midfielder Benout Cheyrou.
The Toronto FC midfielder was awarded a yellow card 11 minutes into the game, and Cheyrou received his marching orders just two minutes later. Rising for a header in the midfield, Cheyrou's elbow swung into the face of Bobby Burling, prompting referee Ismail Elfath to send the midfielder to the locker room while limiting the visitor to just 10 men.
TFC's best opportunity of the day was undone by a diving Zach MacMath, whose two-handed stop of a Sebastian Giovinco free kick kept Toronto FC off the board. MacMath's counterpart, Irwin, proved the busier of the two goalkeepers, stopping four Rapids shots on the evening.
Even the introduction of Jozy Altidore, who came off the bench in the 60th minute, didn't make the difference for a TFC team that hasn't picked up a win since Week 1.
With the win, the Rapids now sit on seven points through four games, while TFC remains on just four through as many matches. The Rapids, who are now unbeaten in three games, return to action next Saturday against Real Salt Lake. TFC will look to bounce back that same day as the team continues its early-season road trip against the New England Revolution
MAN OF THE MATCH
Despite ending up on the losing end, Clint Irwin was the only player preventing Saturday's contest from being a blowout. The TFC goalkeeper made several crucial saves to keep his club alive, even if his side was never able to take advantage of his performance in net.
MOMENT OF THE MATCH
Playing up a man, Luis Solignac took full advantage by firing home the game's lone goal. Although his side maintained a bulk of the possession, Solignac was the only one able to find the back of the net.
MATCH TO FORGET
Benoit Cheyrou wasn't on the field very long, but the TFC midfielder will be hoping to erase the 13 minutes he did spend playing from memory. Cheyrou was reckless, leading his team into a hole that it could never climb out of.